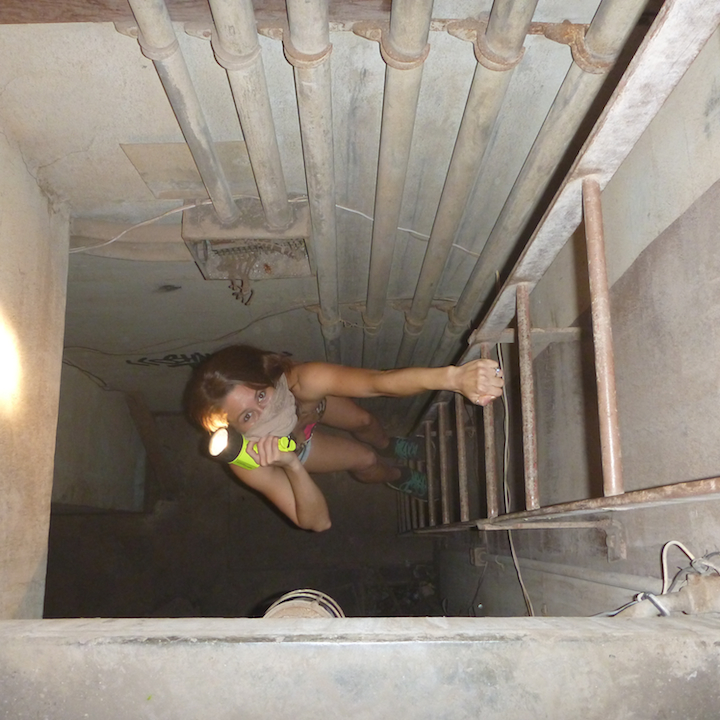 After a ton of research, I finally found the holy grail of World War II bunkers here on Oahu!  As it remains a relatively unspoiled historical monument, many people have worked to keep this place a secret.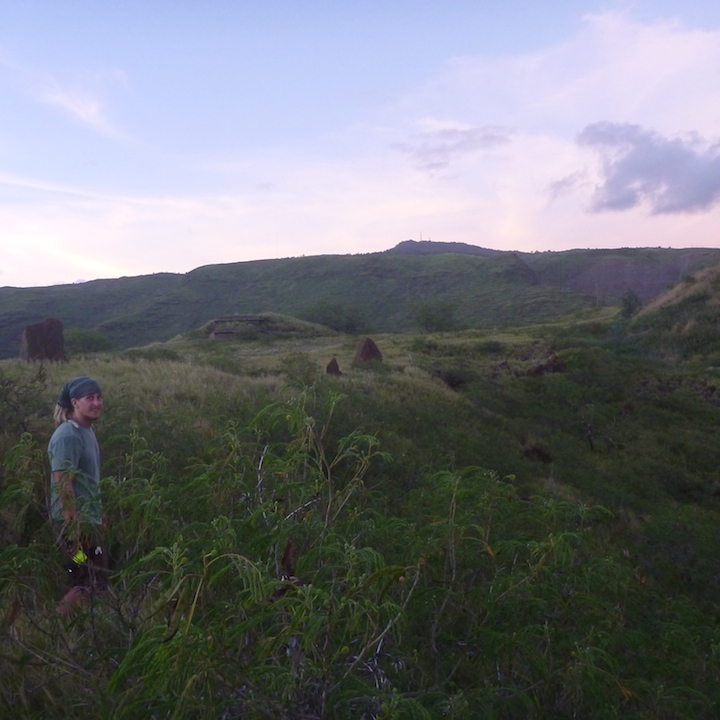 Let me start by saying that I completely underestimated the difficulty of this hike.  Also, it should be known that this location is on private property.  Maybe we just went the wrong way, but we never found a path or a trail.  We had to scale the hillside through thorny bushes and shoulder-high California Grass.  We banged our knees on half a dozen solid stones that were concealed by the undergrowth.  This is the type of hike that sure makes me glad we don't have snakes here in Hawaii…  In the above photo, you can see the upper entrance to the bunker up ahead of us.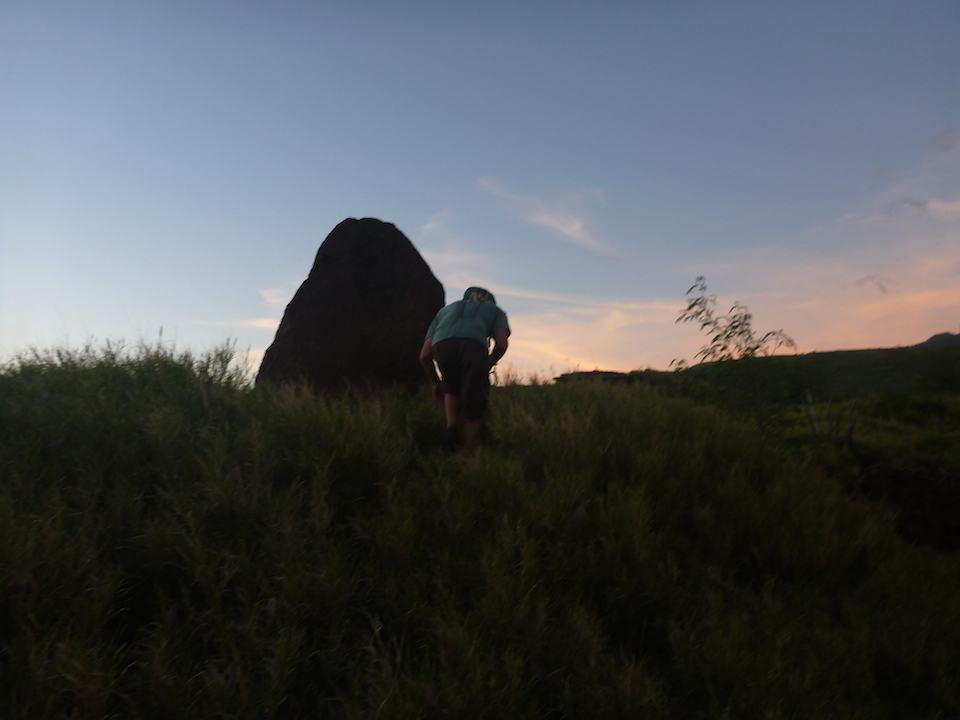 As we were approaching the bunker, I noticed two security cameras between us and the entrance. I sure had not anticipated this.  But I had hyped this bunker up so much to my wife that I could not just give up now (especially after the ridiculous trek up thorny meadow and prickly prairie).  So we retreated back down the hill till we were just out of the cameras' range, then we snuck back up.  Well bad news, someone had put a huge padlock on the steel door of the bunker and we could not get in.
Thanks for reading!
THE END
No wayzzz!!! I was not giving up. Although I must admit a nauseating feeling came over me  when I realized that we might never get in.  To make matters worse, I had brought my wife who had been listening to me ranting and raving about this ridiculous adventure for days. I had made it sound soooo dope.  She had actually gotten pretty excited about it.  However, my research had informed me that two more entrances existed at a lower level.  Unfortunately, we had no clue where they were and we were losing light fast.  Everything was very overgrown and there was no obvious direction to go in.  So I decided to head to a higher vantage point to see if anything would come into view.  As the sun was setting, I was getting a bit nervous because we knew that we could not use our flashlight outdoors as it would make us quite conspicuous to the property owners.  I could not even imagine climbing back down this hillside in the dark…  Furthermore, I had the creeping suspicion that, if the upper entrance was locked and guarded by security cameras, the lower entrances would also be blocked someway or another.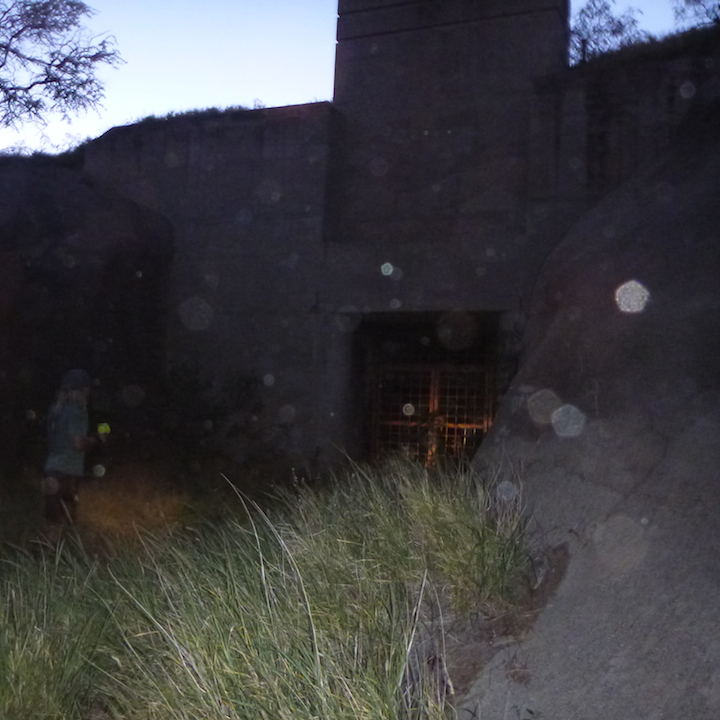 After making my way up a very artificial looking hillside, I noticed an indentation a couple hundred feet below us, on an adjacent hill.  I suspected the entire hillside had been excavated to build the battery, then "replaced" on top of it.  The hills looked too uniform and flat topped.  It's hard to explain, but there was just something about those hills that looked like they were hiding a big fat bunker.  Two entrances, like the one in the picture above, were located about 100′ from each other.  Unfortunately, the first one we spotted was welded shut (that was strike two for us).  I had read that the next gate had a hole in it and that people could slip through it.  But when we arrived to the next gate, it looked like someone had welded a few pieces of steel over the hole making it impenetrable.  Someone went through a lot of effort making this abandoned bunker adventurer proof.  In despair, I hung my head down and threw my arms up against the gate.  The barrier shifted back…  This gate was not welded shut like the other, but just chained shut.  The chain was far too tight to slip between the double gates.  But the gate moved just far enough back that a skinny person could climb up and squeeze through the gate and the door frame.  I loved it!
Bring me your fences, your gates and your fortifications!
Hope was restored!  I told my wife to climb on over while I held the gate back.  I was not sure that I would fit, so I handed her the camera and told her that if I could not make it, she had to leave me behind and explore it for me…  It was all very dramatic.  Luckily I was, just barely, able to squeeze through.  My wife and I are super skinny, so be sure to drink a couple slim-fasts before expecting to fit through that gate.  I almost didn't make it. Rusted steel was scrapping my back as I pulled myself through (very exfoliating).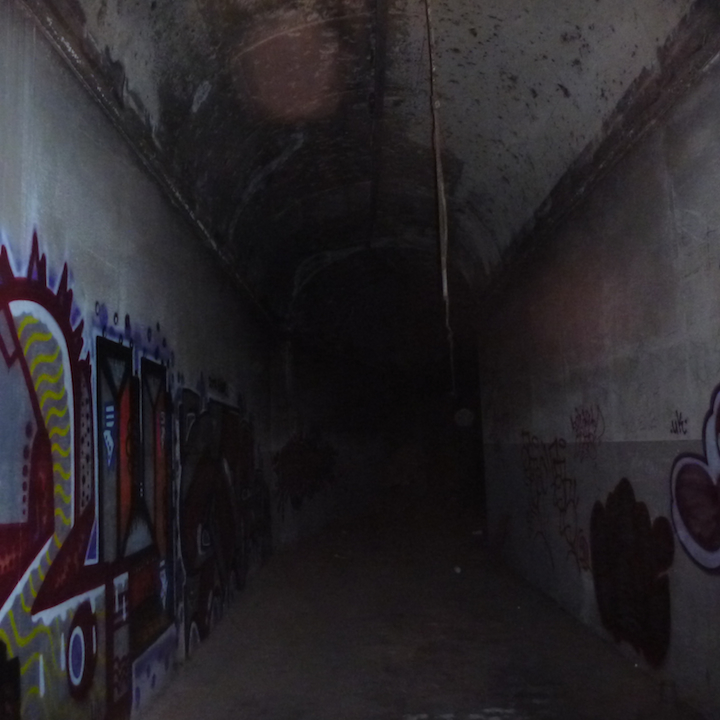 But we did.  WE GOT IN!!!!  We looked at each other with the biggest brightest eyes. Pure Stoke.  We could (should) have turned around so many times.  Perseverance was the true MVP of this adventure.  A few steps in and our excitement turned to anxiety.  It was now night and we were locked into a very big and very dark bunker.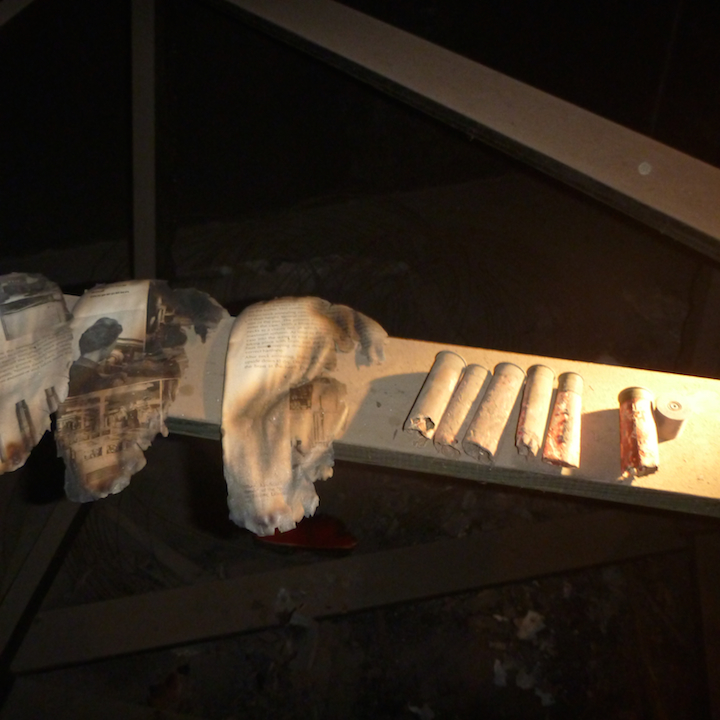 A few steps in and a room opened on the right side of the hall. Inside there was some burnt furniture and shotgun shells.  Not the most comforting sight.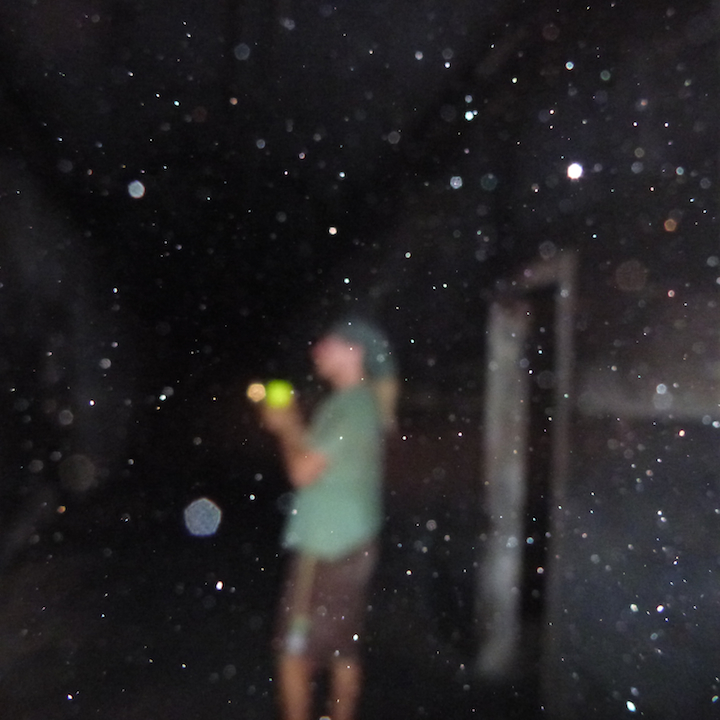 The structure was very old and a mysterious dust enveloped us as we progressed deeper in the subterranean colossus.  We both looked at each other and said "Asbestos"! We had not brought breathing masks, so we used our shirts instead (I don't even know if that does anything).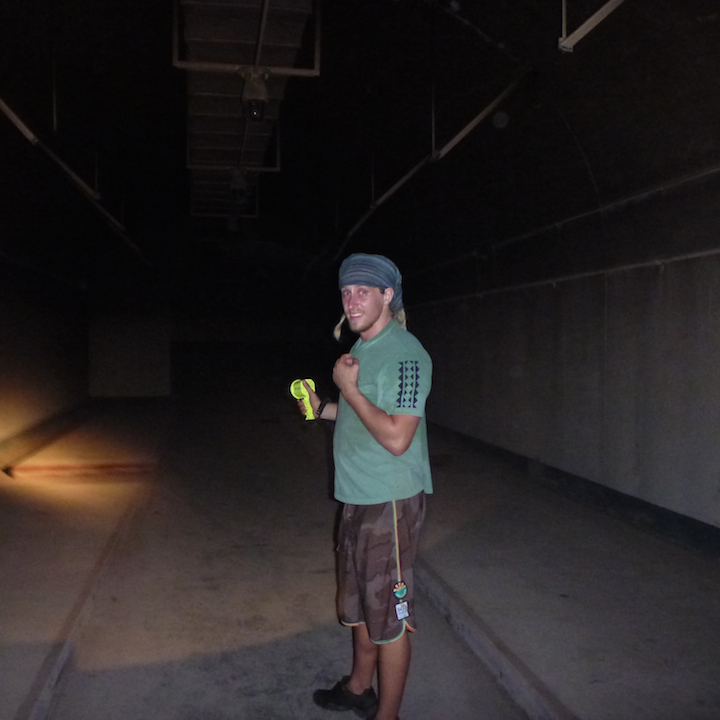 Deeper in, we found a large empty storage room.  This is believed to either be the powder or projectile magazine room.  This entire structure was build around a huge three gun turret which would have been on the surface (70′ above us).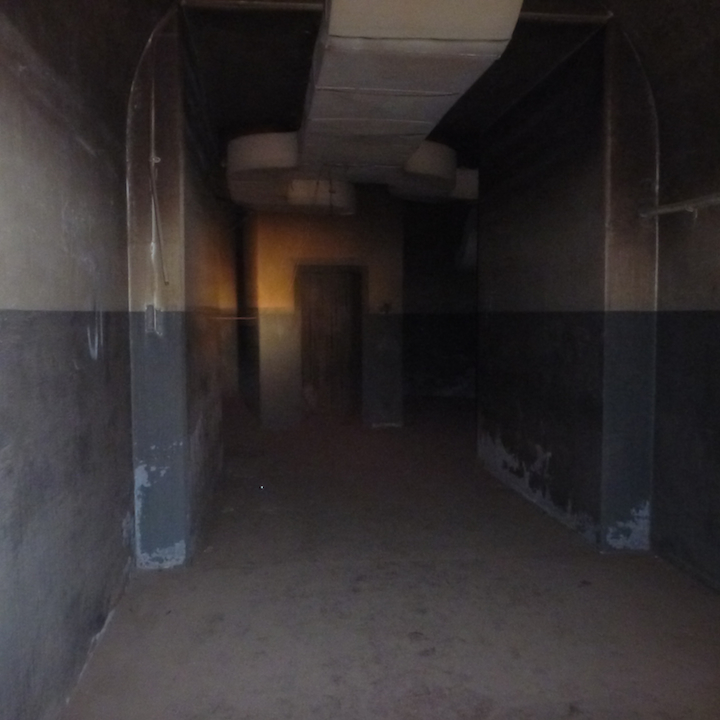 The corridor came to what resembled an elevator shaft.  This was likely used for raising artillery ammunition to the main gun.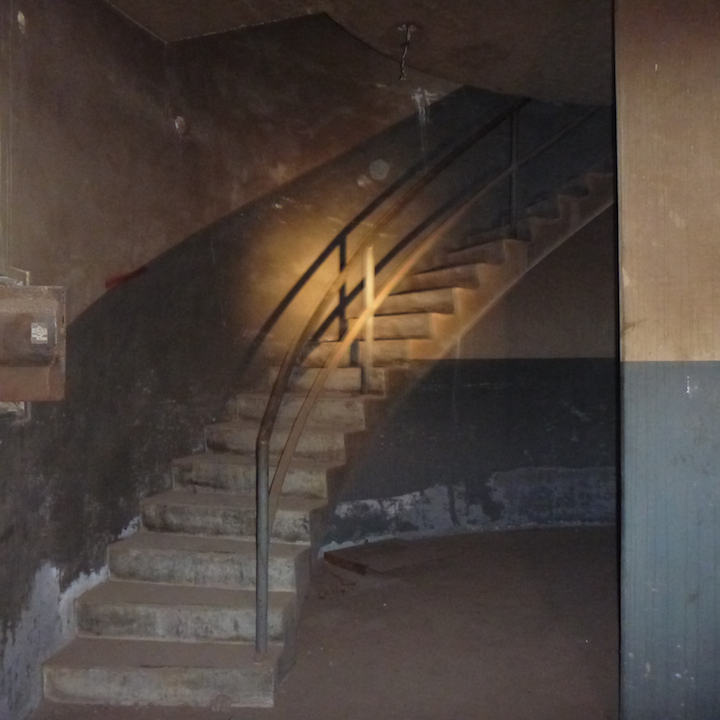 A mysterious staircase spiraled up into murky darkness. We would come back to them later.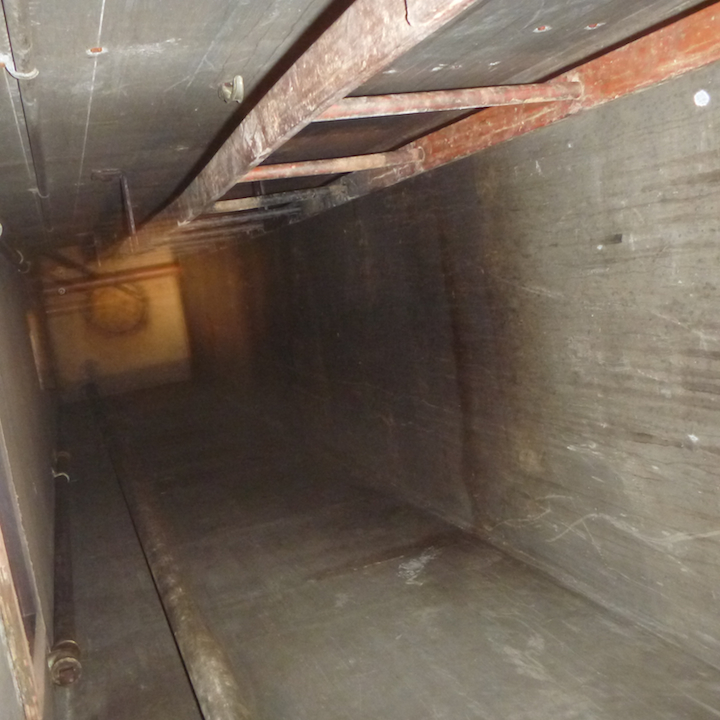 I'm actually really bummed because we saw this ladder and said that we would come back to it. But we completely forgot about it. who knows what untold wonders awaited us up there.  It was probably a chamber full gold and precious stones…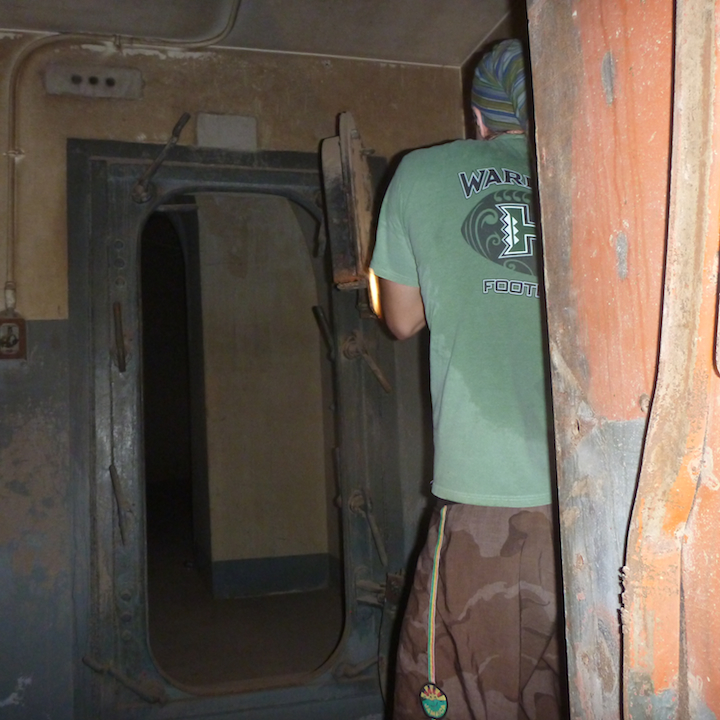 Naval-type watertight doors at the base of the barbette connected to the projectile/powder magazine.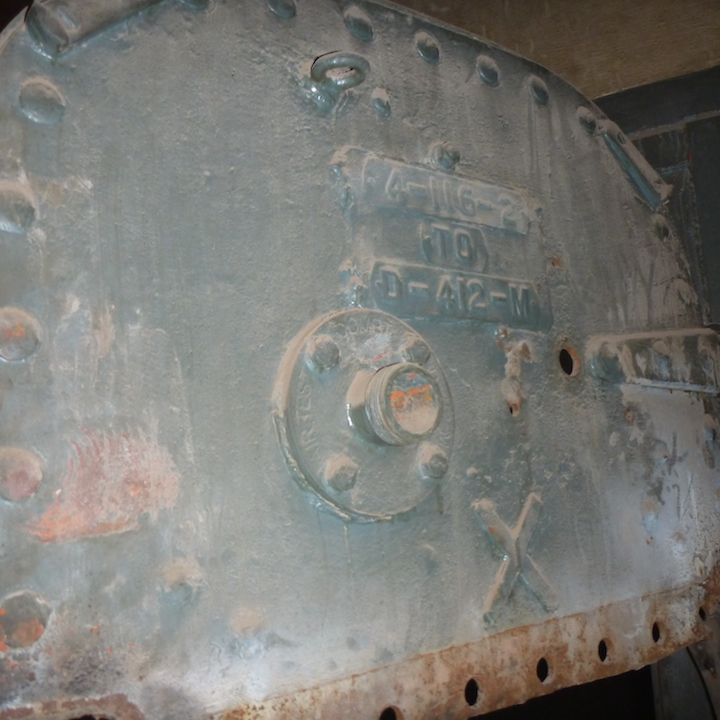 So strange of find ship doors in an underground building (at least to me it is, maybe this is standard).  Perhaps this was to protect from humidity moisture or even flooding.  I can only speculate…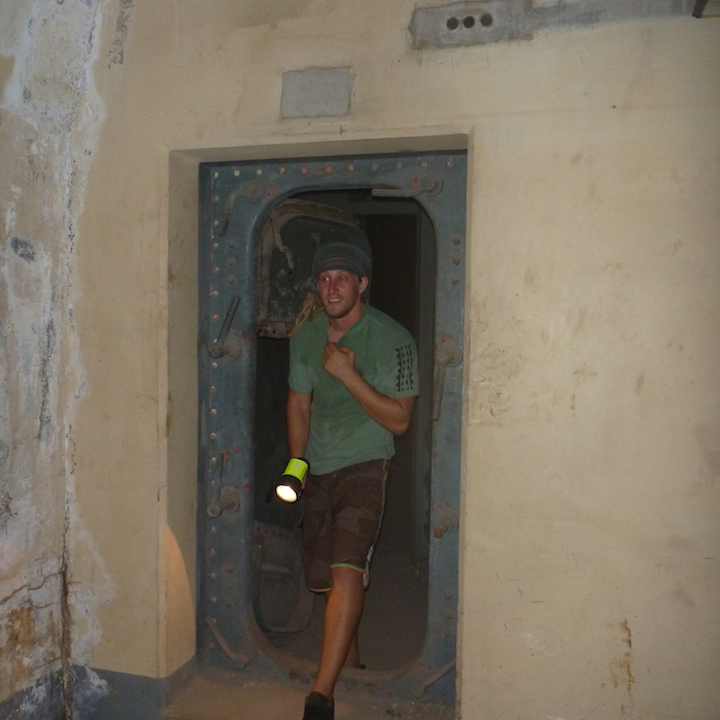 I was really surprised at the good condition this bunker was in (compared to the dilapidated condition of the more famous bunkers I've visited around the Island).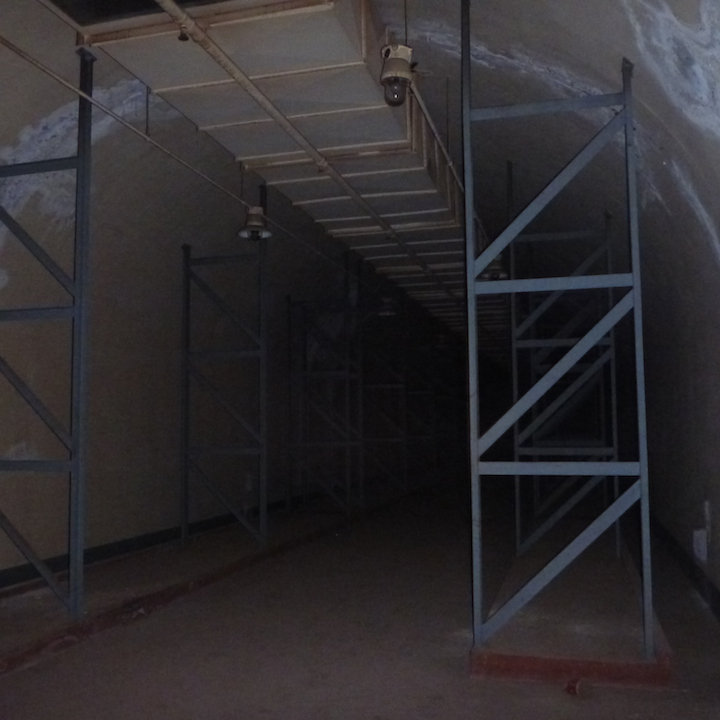 The other magazine room.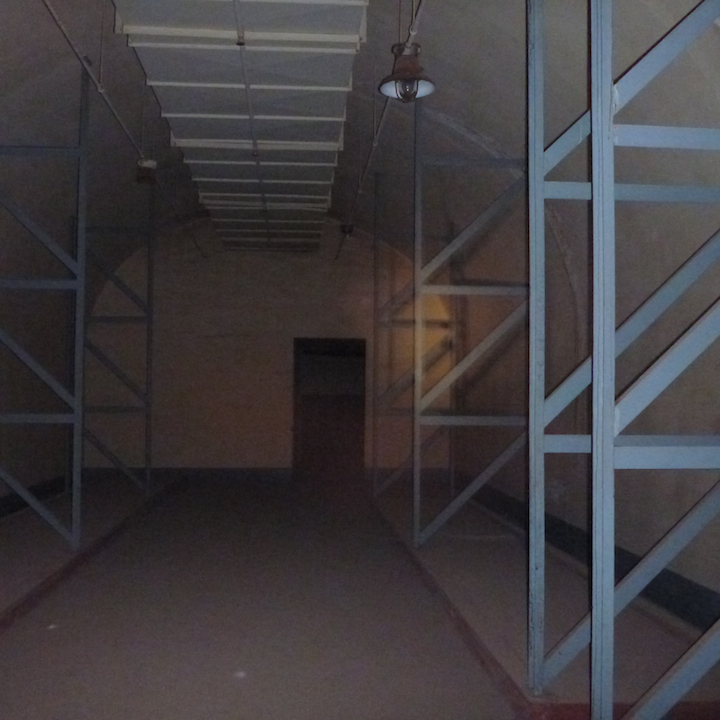 White walls, with no graffiti (now that's something you don't see in abandoned structures).  The shelves were still in pristine condition, as if the military had just moved out the day before.  There were even still bulbs in the light-fixtures.  Oooh another doorway.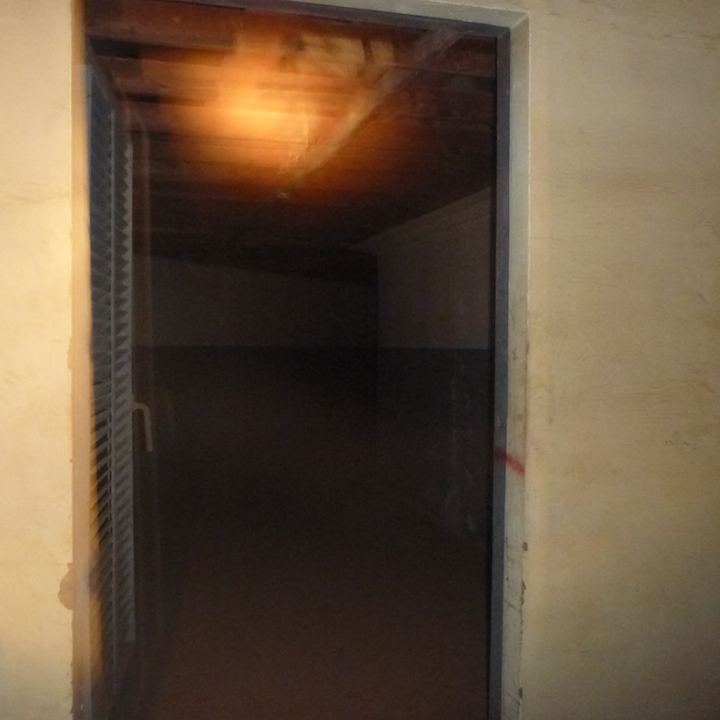 We continued ever deeper.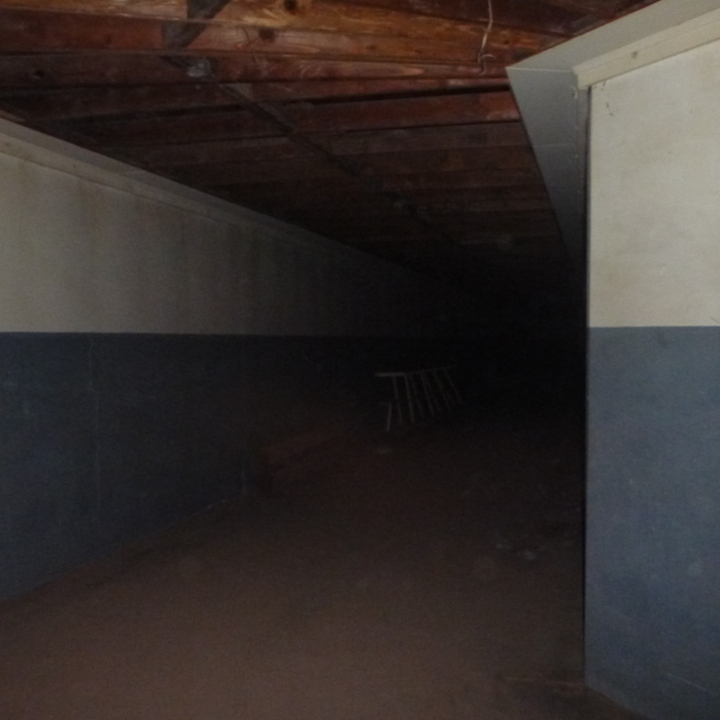 It's difficult to convey the creepiness of these hollowed halls.  Looking back at these photos I'm always freaked out I will end up seeing a face or a silhouet that we didn't notice while we were actually there…  I've been watching too many horror movies.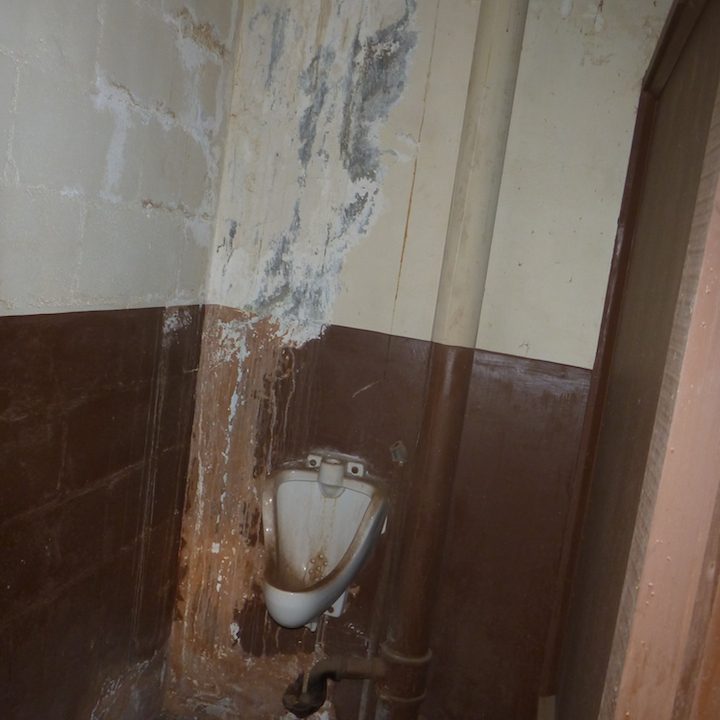 Whoooaaa a genuine 1943 uriflush 9000.  This is truly a collectors item.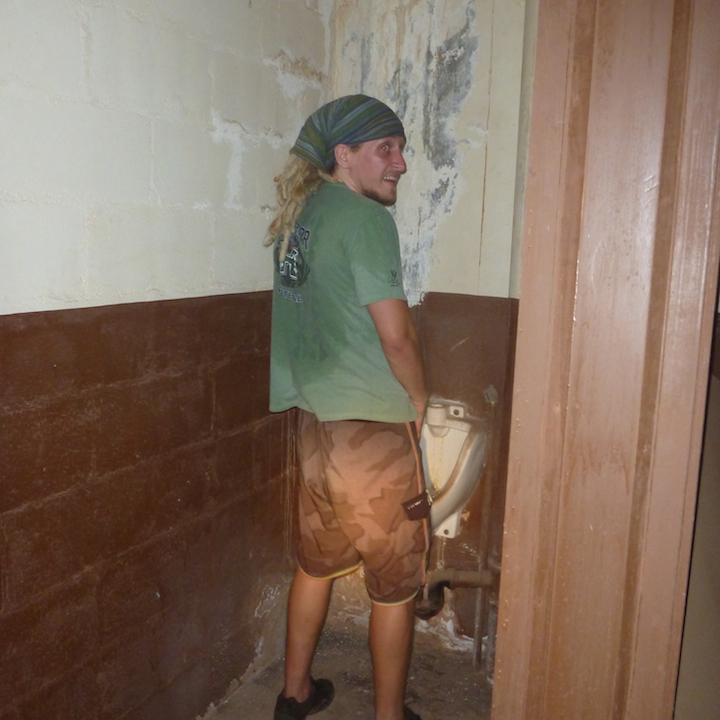 Yup it works! (JK, I wouldn't desecrate a historical monument like that).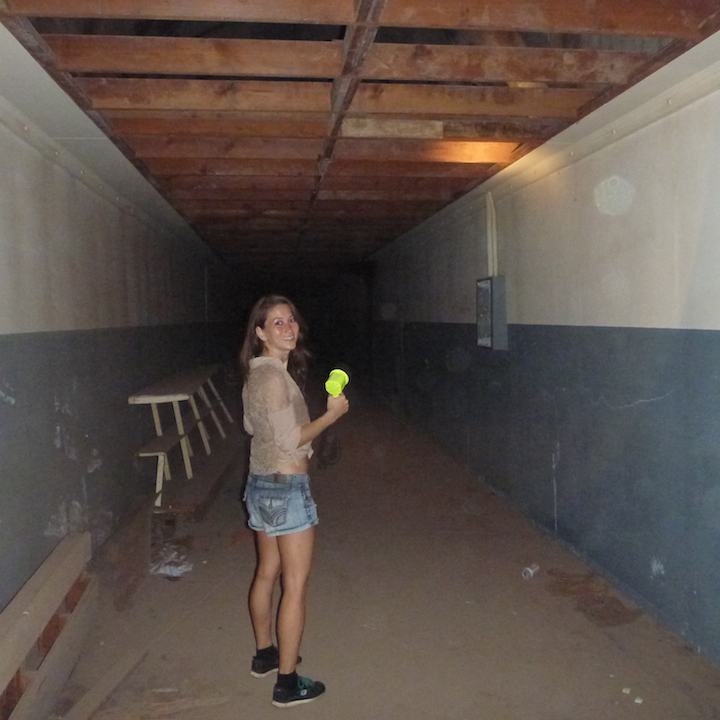 The halls just kept going deeper into the mountain.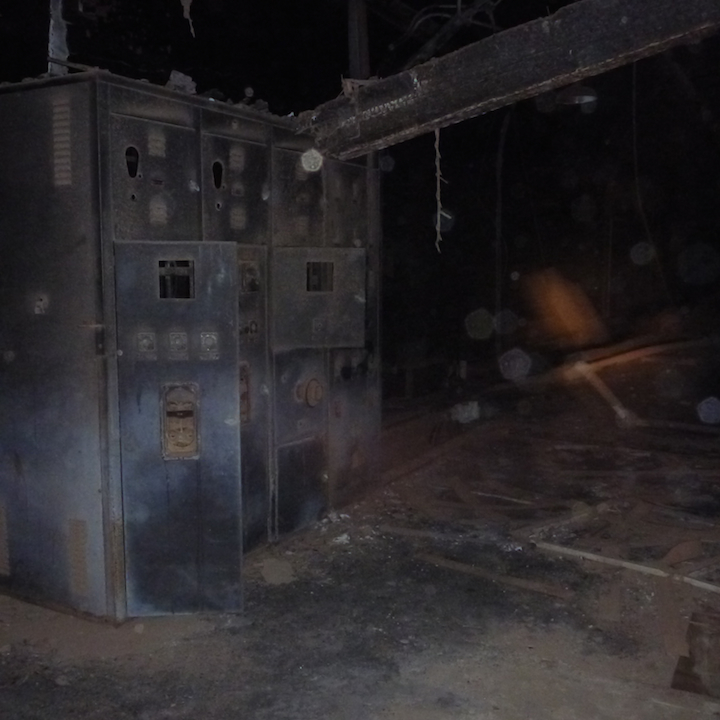 This was one of the biggest rooms (maybe 50′ x 200′).  I believe this could have been the generator room.  Some strange machine was still resting there.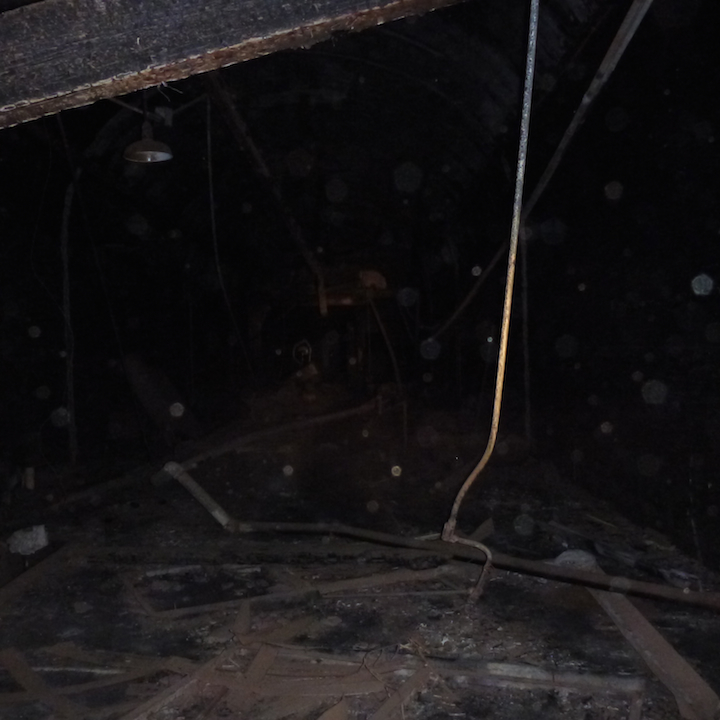 The room showed evidence of fire damage. I have no clue what happened here, but there was rubble and debris everywhere. We did not walk through the room much as the floor looked damaged and weak.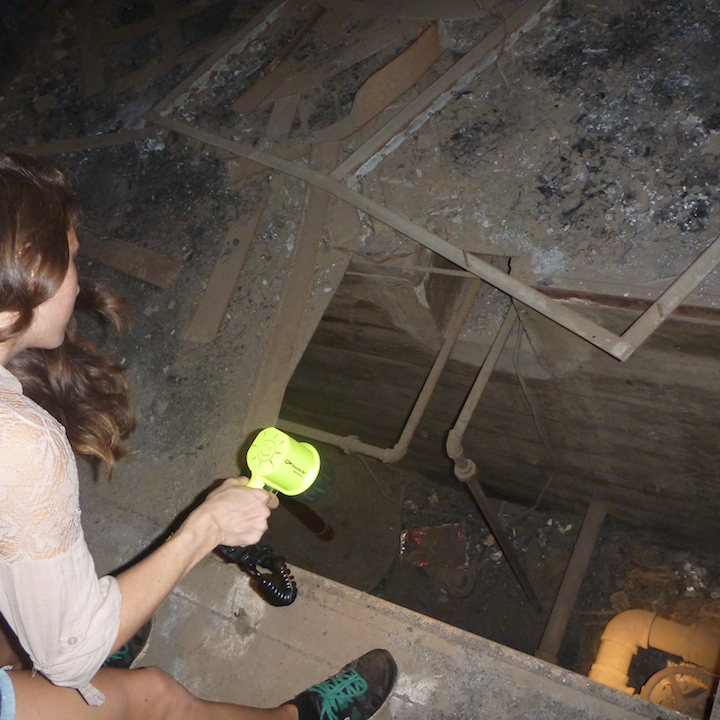 Watch your step!  The bunker was full of pitfalls throughout the ground floors.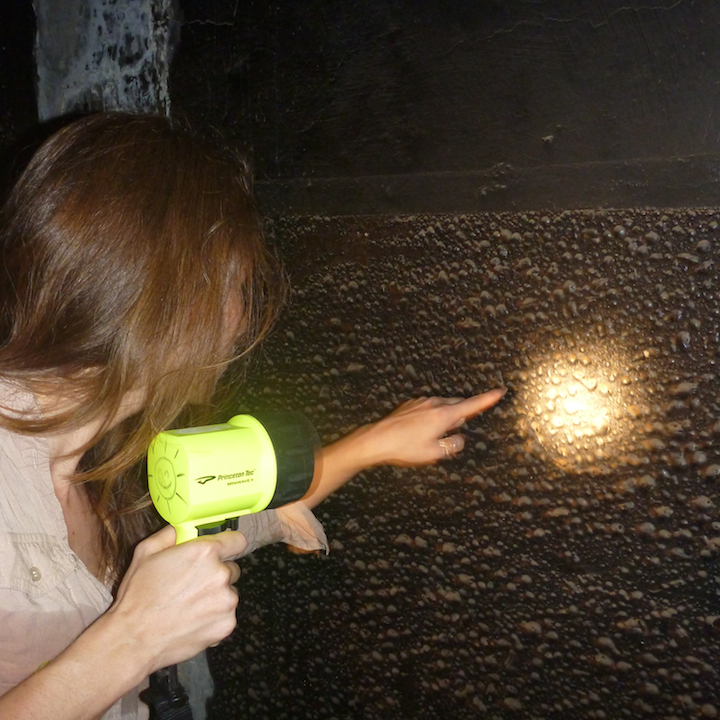 The paint on the wall showed obvious signs of fire damage (bubbled up and charred).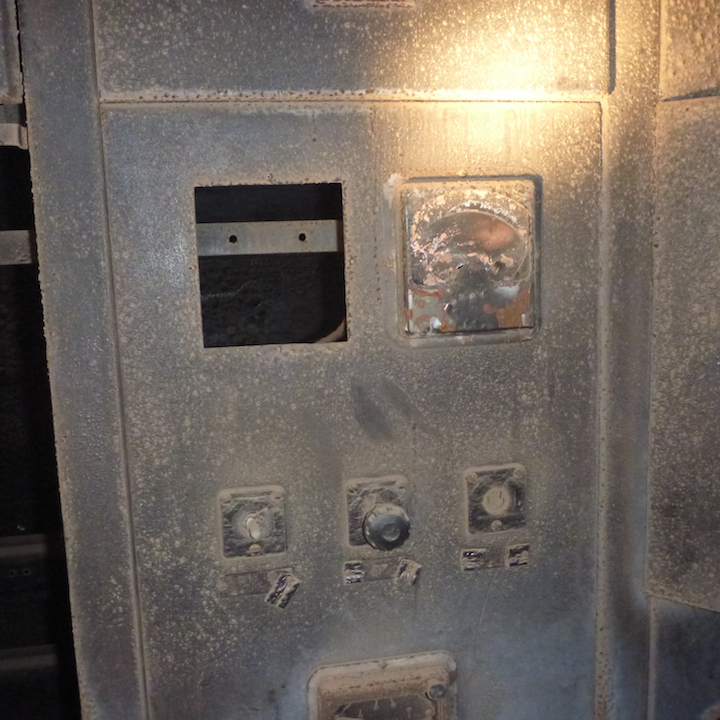 Such a strange contraption.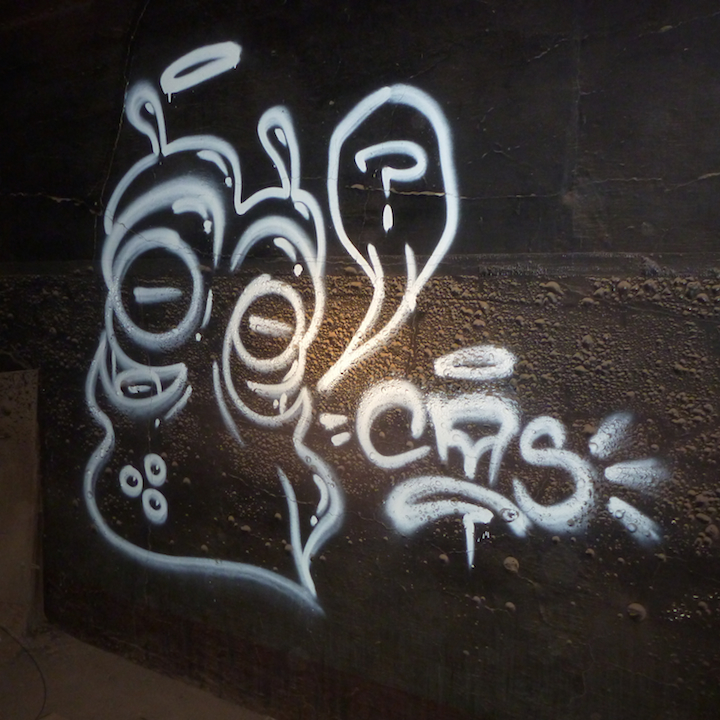 Not sure what that is supposed to be, but it appears confused as well.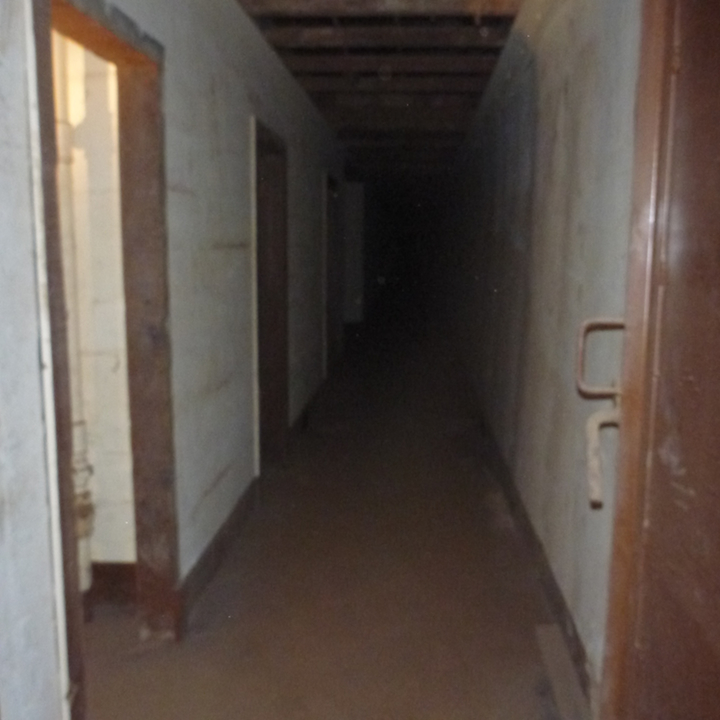 As we continued through another doorway, we came to a smaller hall lined with multiple rooms/offices.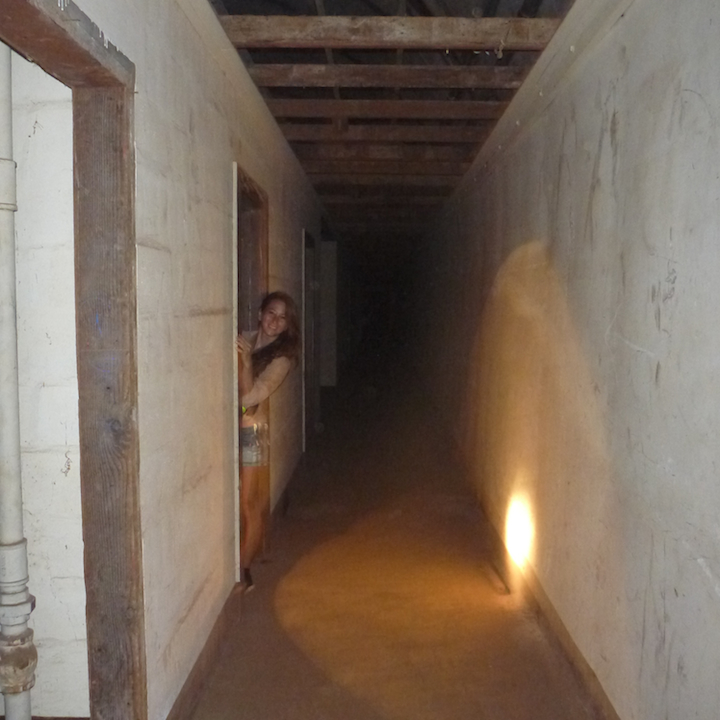 Peek-a-boo!!!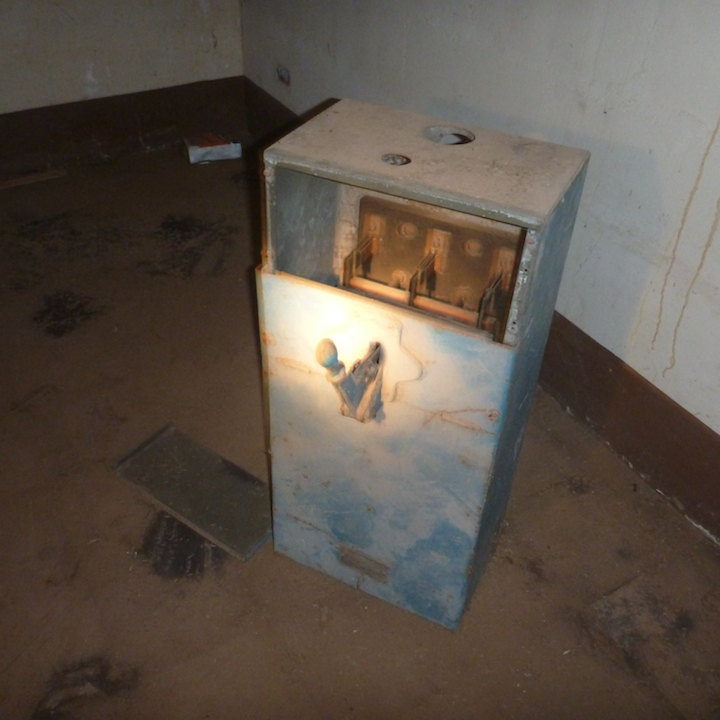 Switch for the electric chair?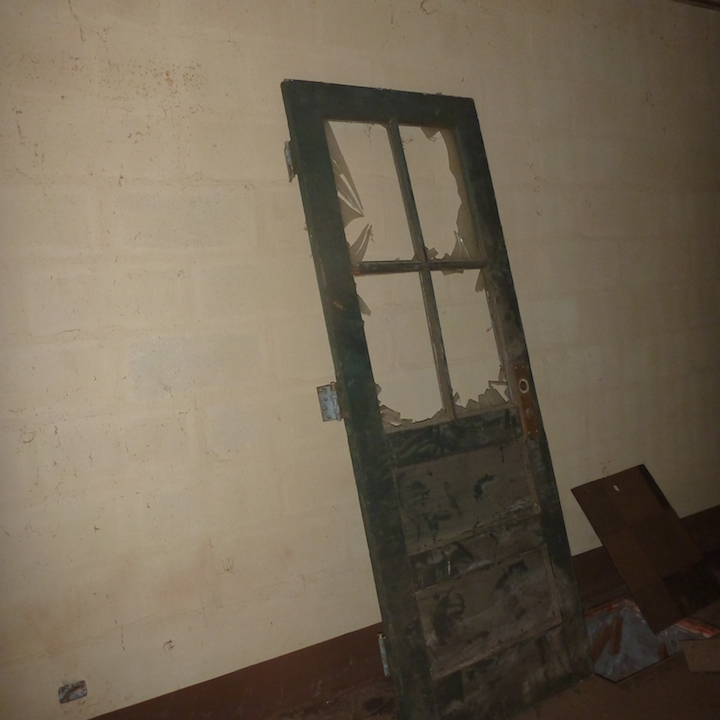 One of the few unlocked doors we came across.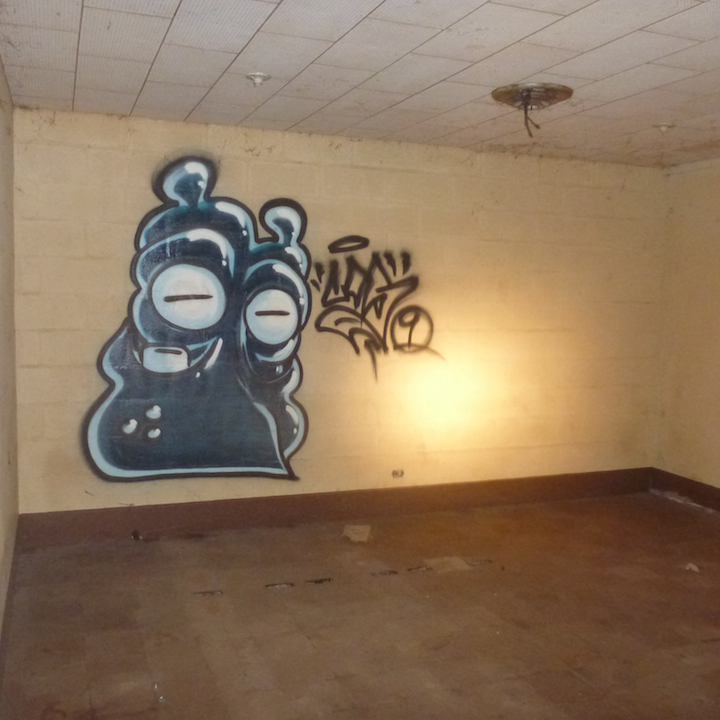 So we meet again.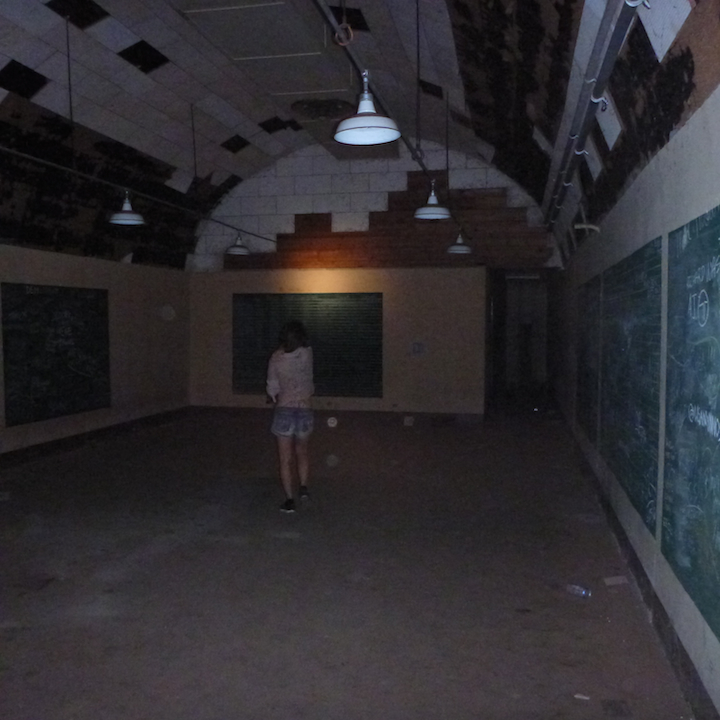 The plotting room was full of chalk boards on every wall.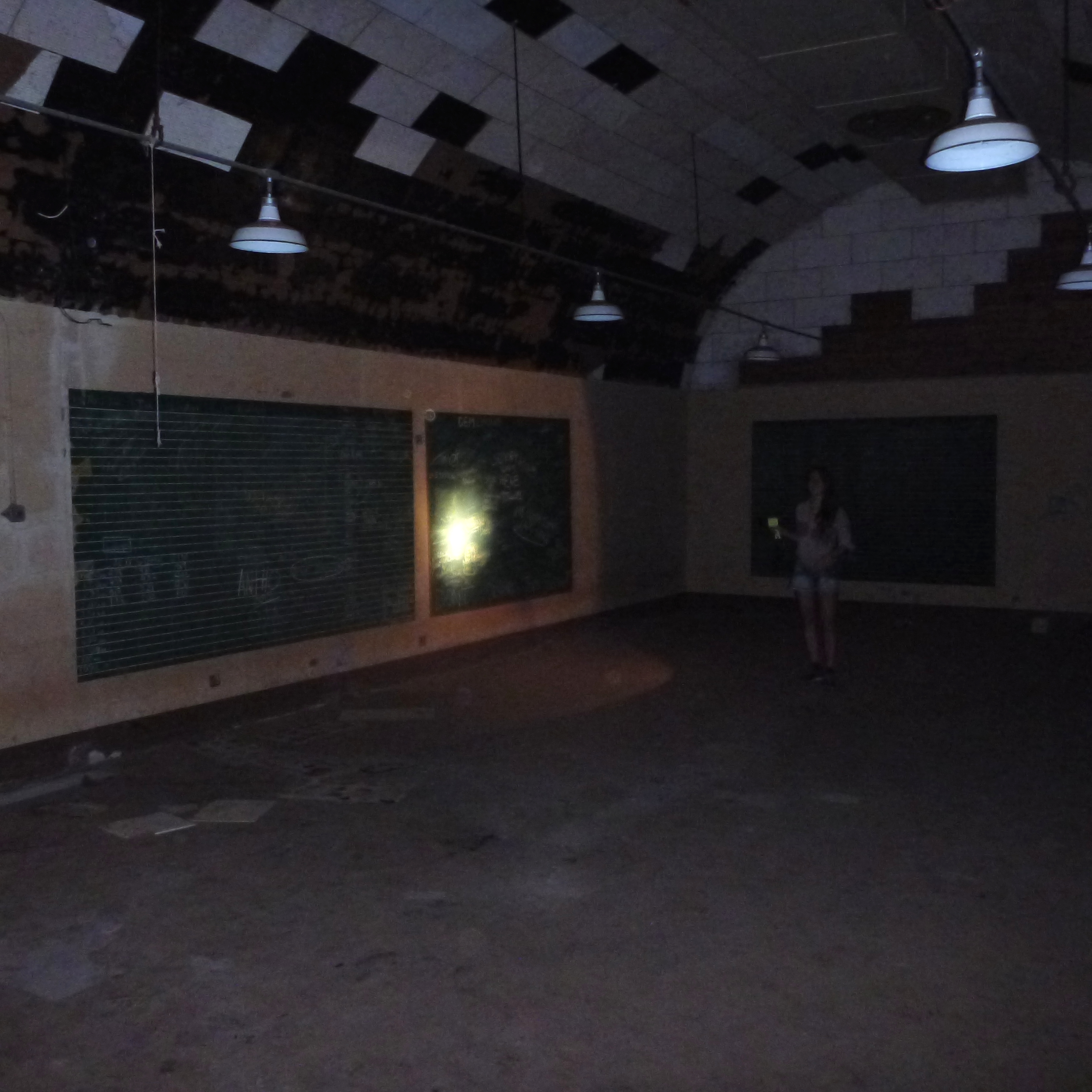 All sorts of planning could have gone on here.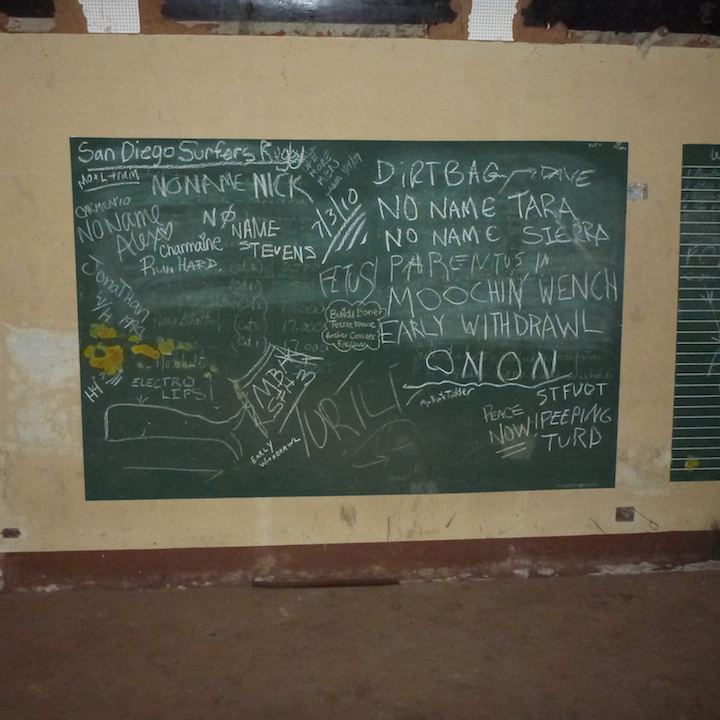 Under all the nonsense, there appeared to still be some number and calculations on the board.  What went on down here?!?!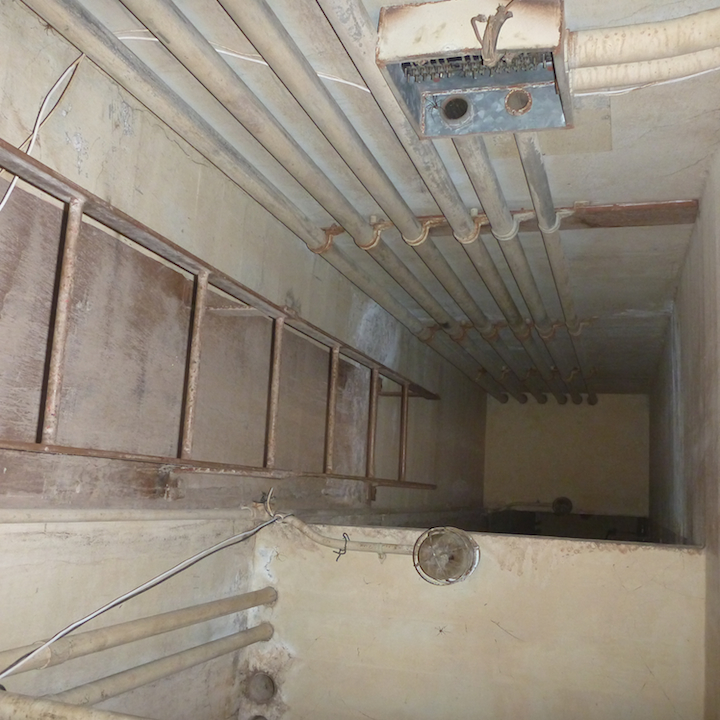 Further down the hall, we past another office and then ran into a ladder.  I suspected this is the way we would have come down if the upper entrance to the bunker had been unlocked.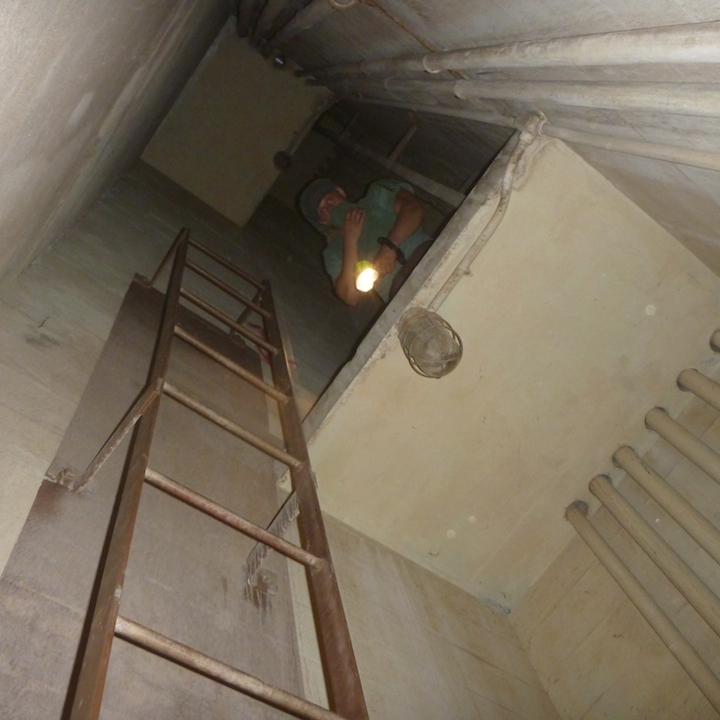 Each ladder was about 20′ tall and we had to climb up 6 of them to reach the top of the bunker.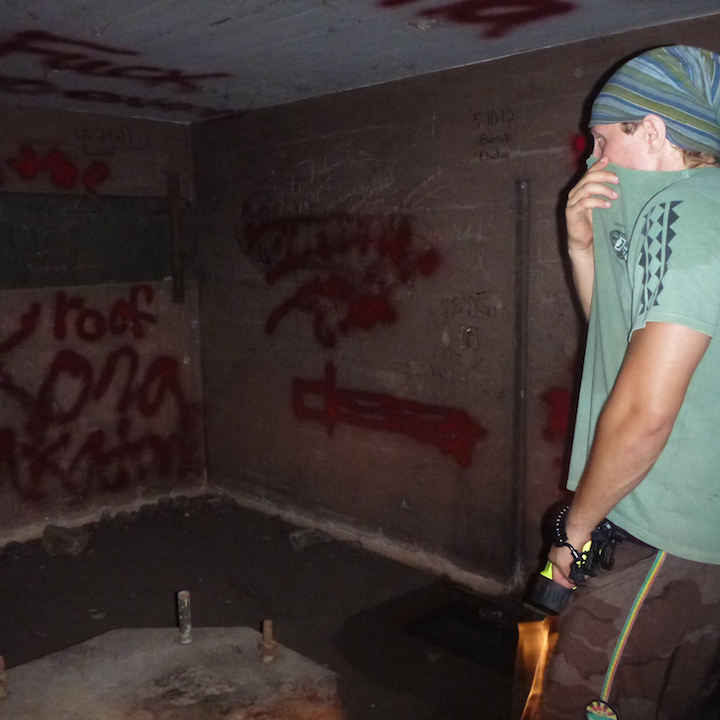 A mysterious mount sat in the dark, just waiting to bang an unsuspecting shin, as I walked by…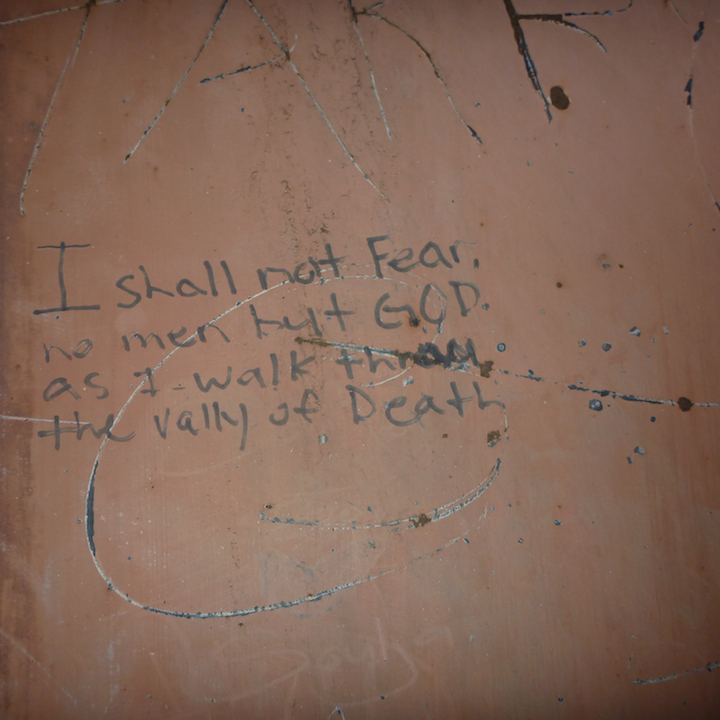 I hope this isn't the valley of death…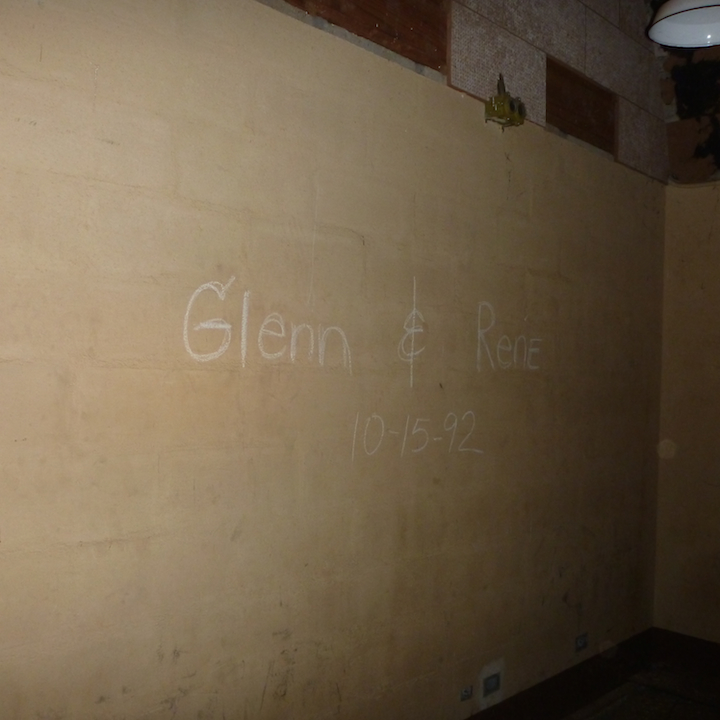 Awwww… another adventurous couple was here.  I wonder how they are doing.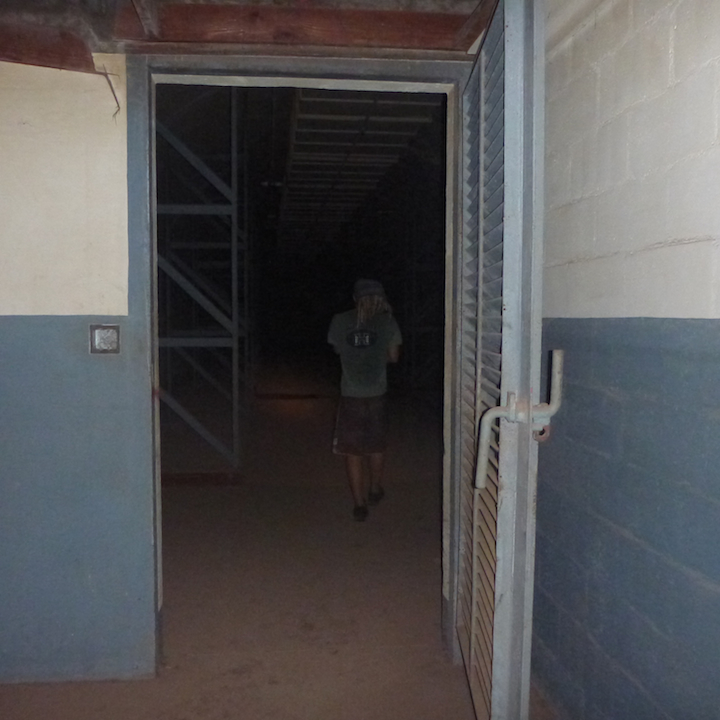 We eventually had to make our way back down the ladders and through all the creepy rooms and halls to get back towards our exit.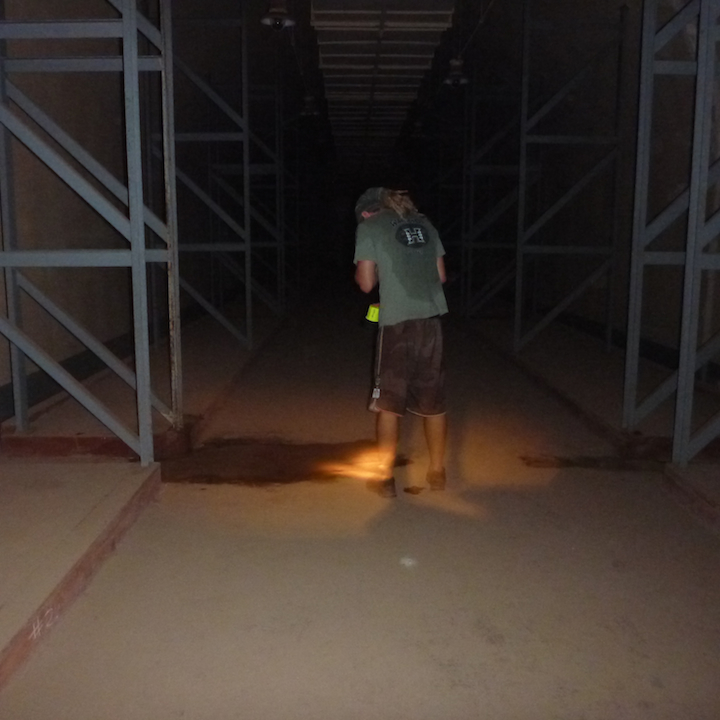 I did not remember this just puddle of blood on the way in… Time to bounce!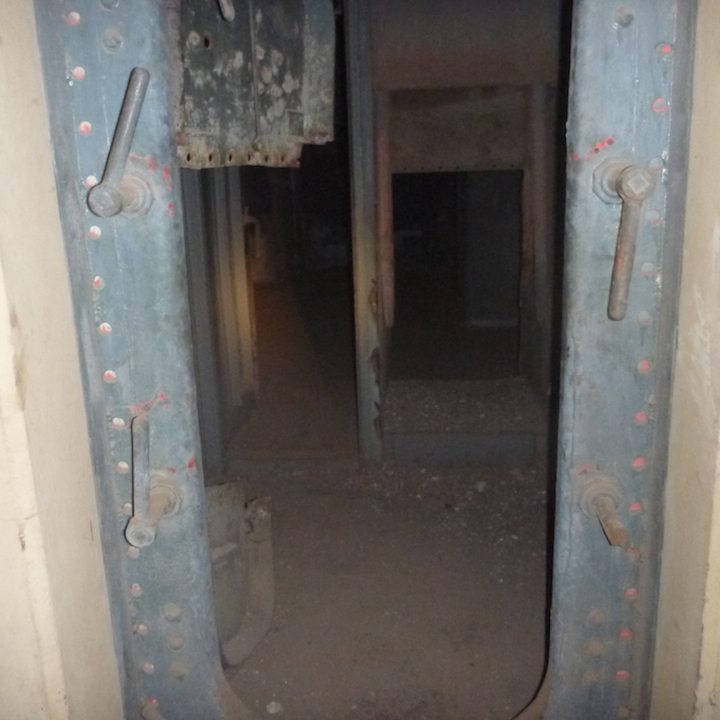 I want these kind of doors in my house.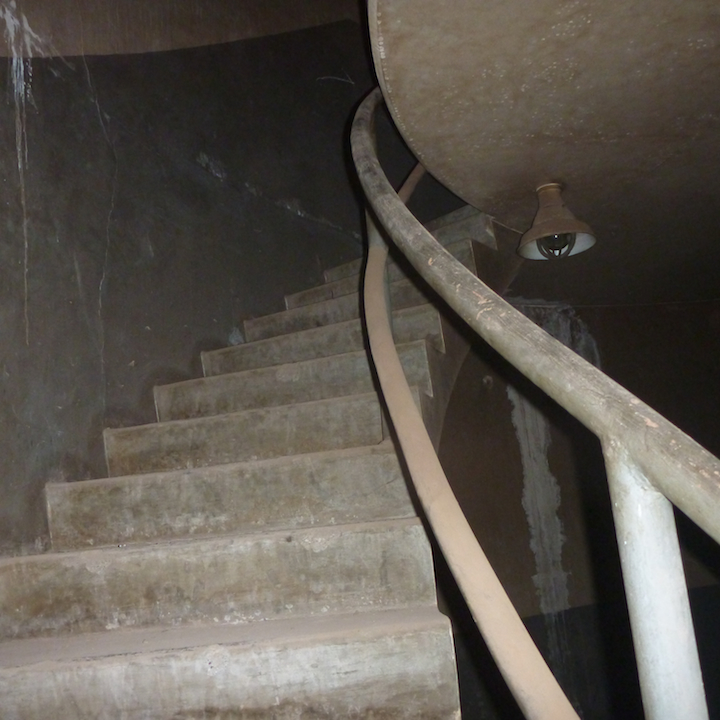 Oh snap! We had almost forgotten about the stairs. We could not pass those up.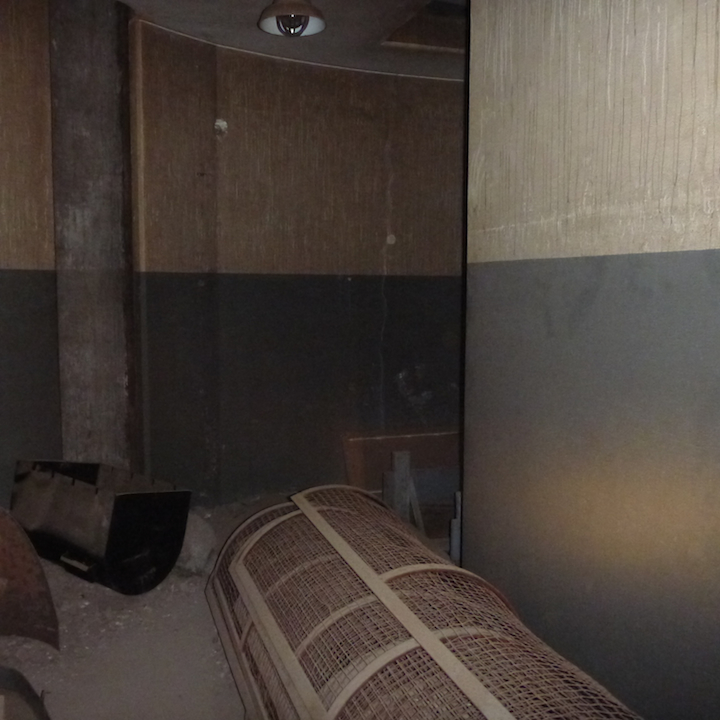 On the second floor there was some strange debris and caging on the ground.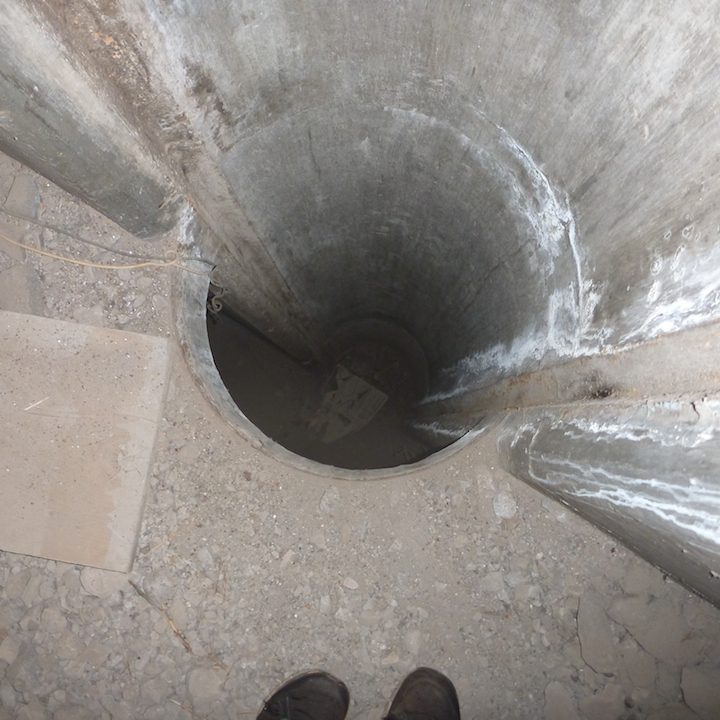 Perhaps the caging wend around this shaft to protect bystanders from falling through.  This hole connected to the ground floor beneath.  Another hole was directly above it leading to the 3rd floor. I suspect giant shells were passed through this channel to be loaded into the huge guns.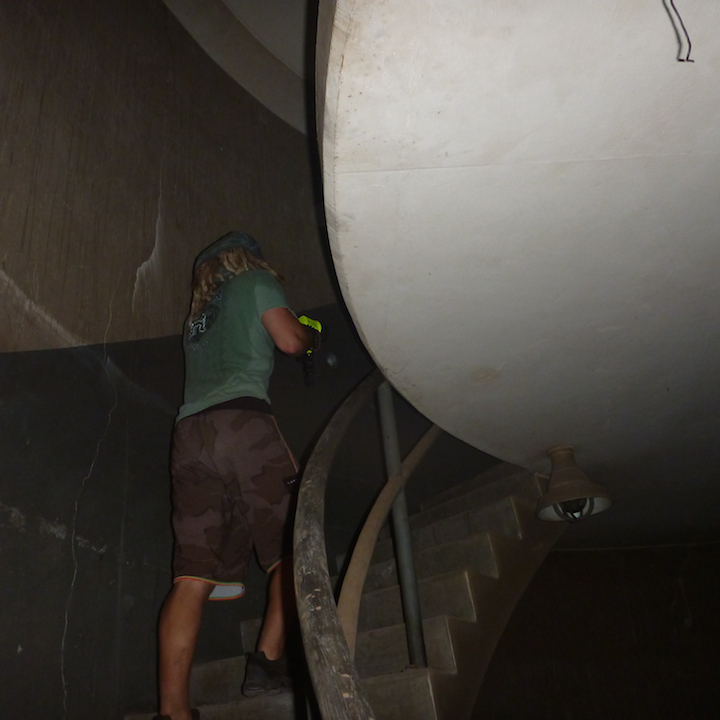 We continued our assent to the 3rd floor.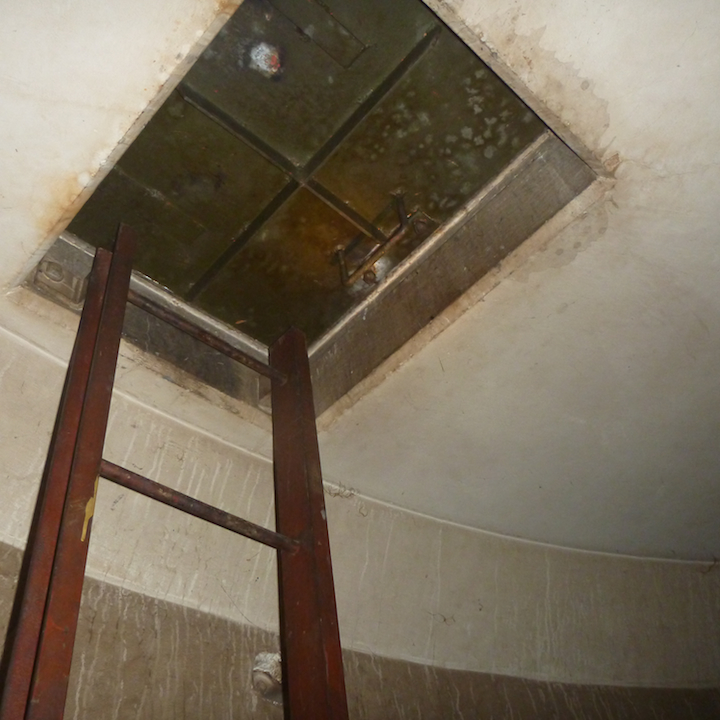 There were no more stairs, but just a ladder leading to an enigmatic hatch. It was locked, so we could could go no further.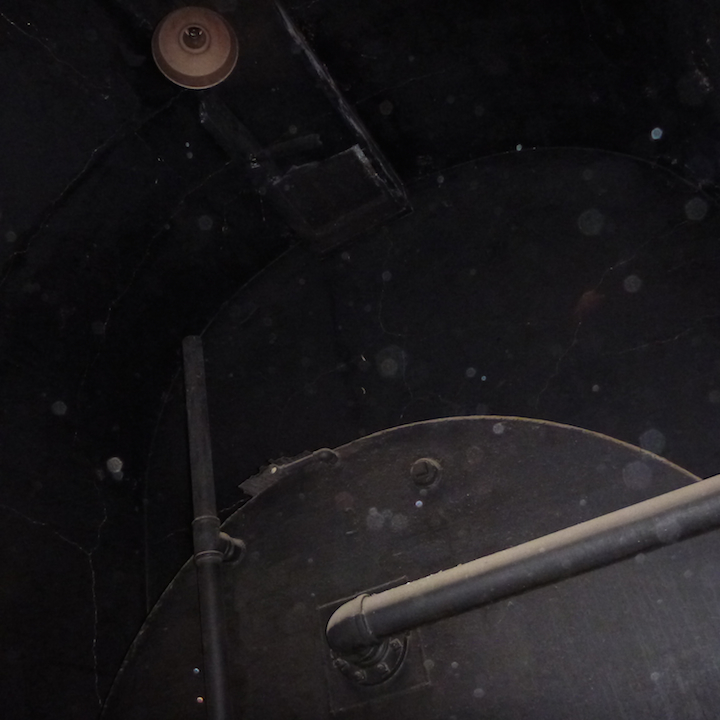 As we went back downstairs we decided to check out the other side of the generator room.  Inside we found a huge boiler (sorry, I don't have a better picture of it).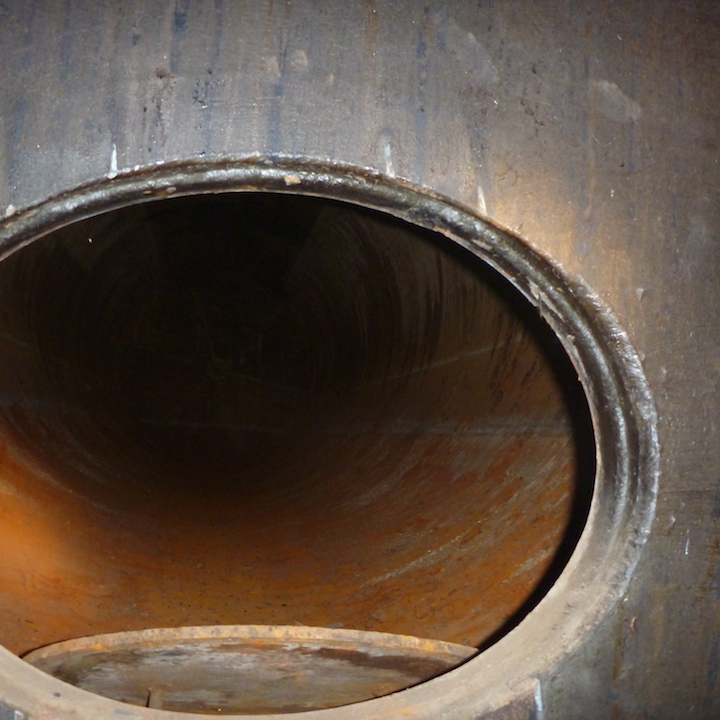 The boiler was open. We could have climbed into it, but opted not to.  It extended about 30′ back.
We climbed up another ladder to a garret where a few large fans were likely used to aerate the entire complex and keep it cool down there. I can't imagine how hot it must have gotten with  a boiler, generators and all sorts of other machinery.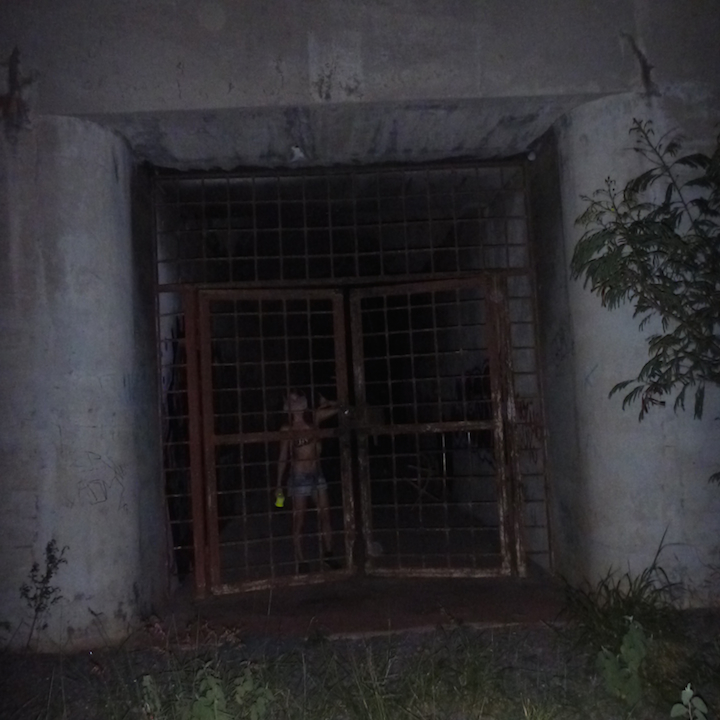 We spent about an hour exploring the massive bunker.  This was beyond a doubt the biggest bunker I had ever been in.  Getting off the property in the dark proved to be quite tricky.  Escaping the premises involved diving into some bushes to get out of the headlight beams of a passing truck, then tripping tumbling through the dark all the way to the base of the hills. Once at the bottom we were blocked by a fence with razor wire on it (which we had definitely not seen on the way in).  So we ended up using a storm drain that flushed all the way out to the ocean… I couldn't make this ridiculous adventure up if I wanted to.  So nuts!
Well I guess if you've read this far, you at least deserve to know the name of the place.  This formidable fortification was know as Battery Arizona, named after the USS Arizona.  During the devastating Pearl Harbor attack (12/7/1941), the Arizona Battleship was struck 4 times by high flying Japanese Bombers deployed from the carriers Kaga and Hiryū.  The last armor-piercing bomb to find its target on the deck of the Arizona punctured the ship's forward powder magazines and detonated.  The apocalyptic explosion that ensued killed 1,177 of the 1,512 sailors onboard and sunk the ship.  After the lost battle of Pearl Harbor, it was decided that Oahu needed to strengthen its coastal defenses.  In 1942 an agreement was struck between the Hawaii Department, US Army, and Rear Admiral William Pye (acting commander in chief of the Pacific Fleet) to transfer naval turrets in order to arm coastal batteries.  This marked the first time naval turret mounts would be used on shore as seacoast artillery for the U.S.  While most batteries were outfitted with 8-inch guns, Battery Arizona was to be equipped with the USS Arizona's three "recycled" 14-inch Mark VIII Navy guns that had been removed from the sunken ship. Guns fired at sea have enough recoil to push the entire ship several feet back in the water.  When ship mounted guns were placed on land, an elaborate concrete base had to be built around them to disperse the shockwave they produced when fired (otherwise they would literally break the ground).  Pretty dang cool!  To read more about what happened to the Japanese carriers that attacked the U.S. at Pearl Harbor, check out The Battle of Midway.