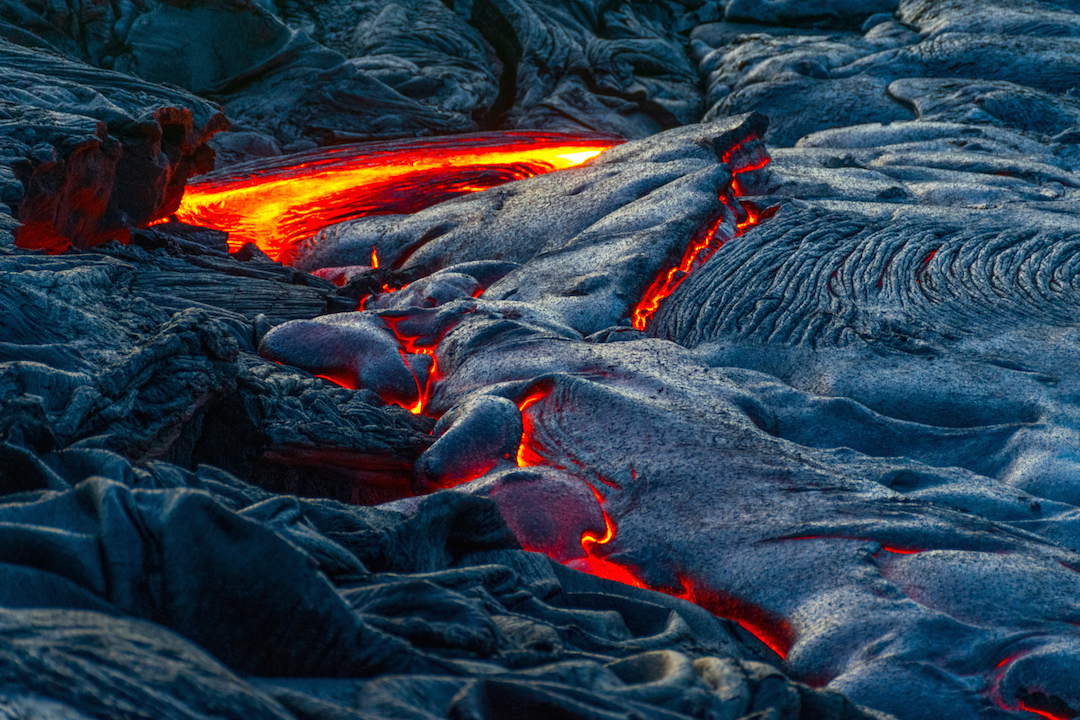 Having missed lava sightings on our last visit to the Big Island, I could not let the opportunity elude me again.  After hearing that the lava flows had resumed at Kalapana, I had to go back to Hawaii to witness this breathtaking phenomenon.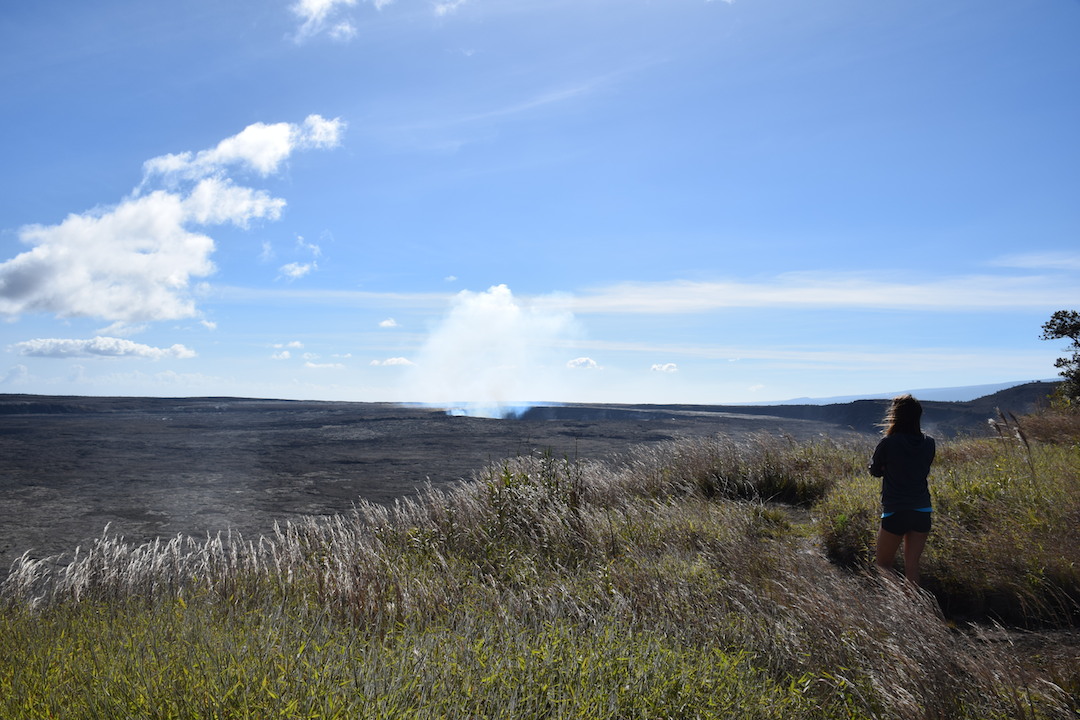 There are two ways of getting to the 61g lava flow. Either from Kalapana or from Volcanoes National Park.  Tours are available, if you prefer to go with a guide, but their price tag was a bit much for us (up to $200/person).  Although the trail from Kalapana is shorter (about 6 miles round trip to the viewing area), it is only open from 3pm to 9pm.  The trail from Volcanoes National Park is at least 10 miles roundtrip, but is open all night (I knew I wanted to get some night photos, so I didn't want to feel rushed to finish the hike).  Also, if you go through the National Park you can take a few minutes to stop by the steam vents, Kilauea Crater/Caldera (as seen above), Thurston Lava and several other sights before starting the hike.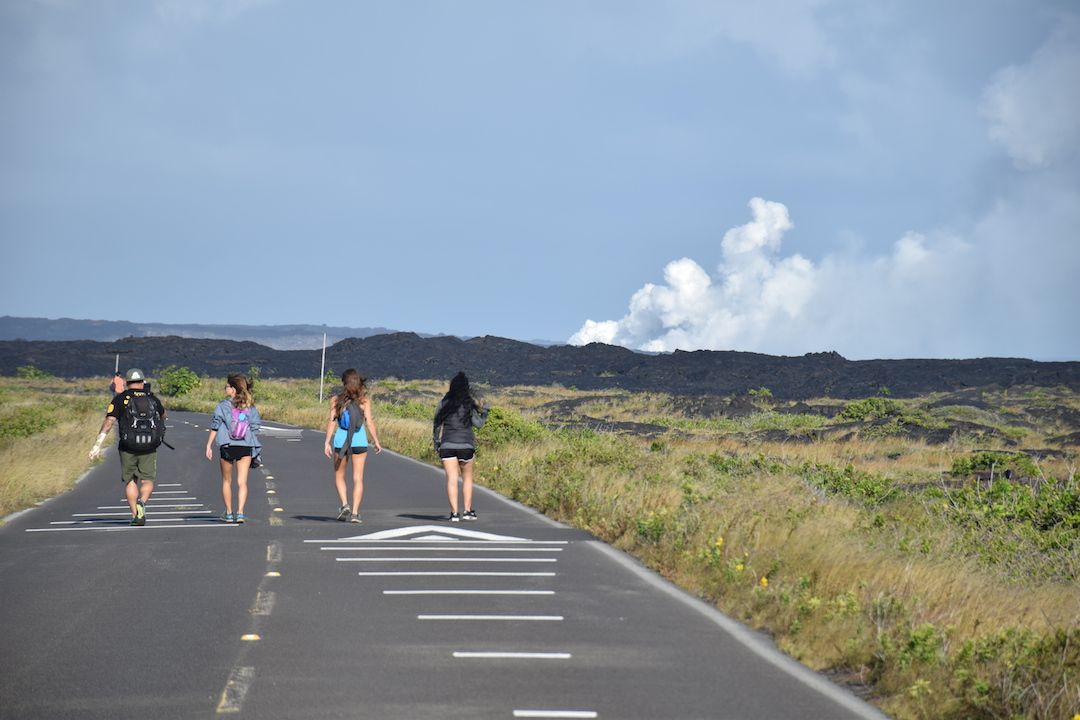 As we drove to the very end of the Chain of Craters Road, my group was surprised to find out that it would be at least a 10 mile hike, to the lava and back.  I had been told it was 4 miles to the flow a few months prior, but I guess the lava had drifted (1 mile further from us and 1 miles closer to Kalapana).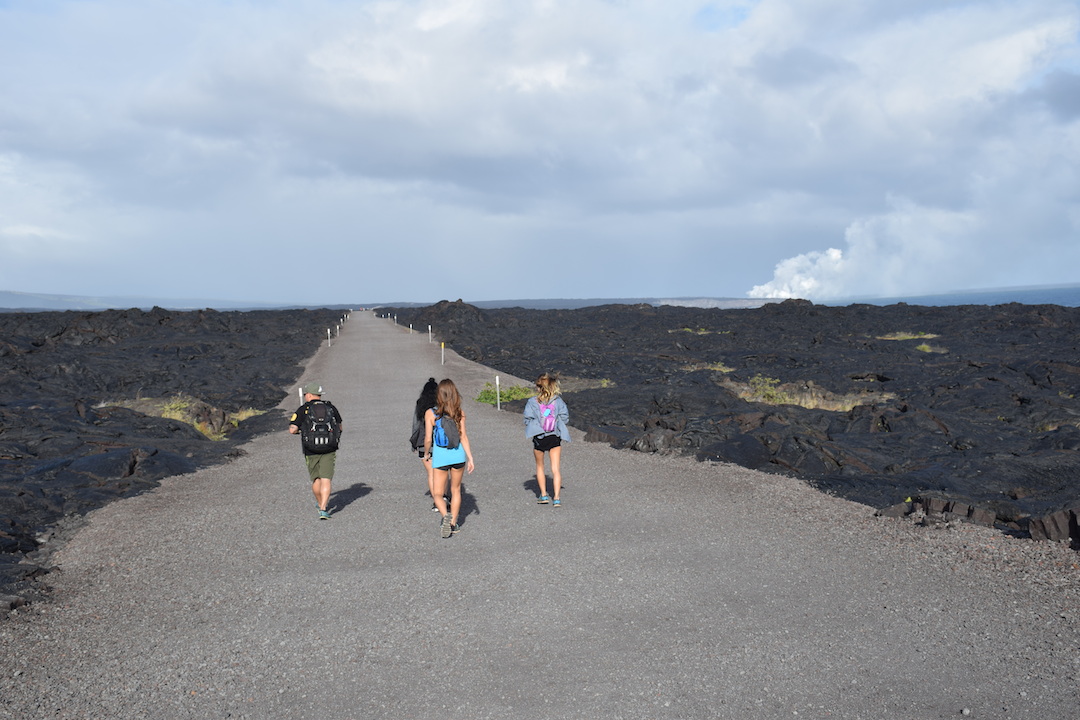 The paved road quickly turned to gravel as we trekked  towards our destination.  As dark lava-rock took over the landscape, the only landmark left to gauge our progress was the billowing steam rising from the clashing land and sea.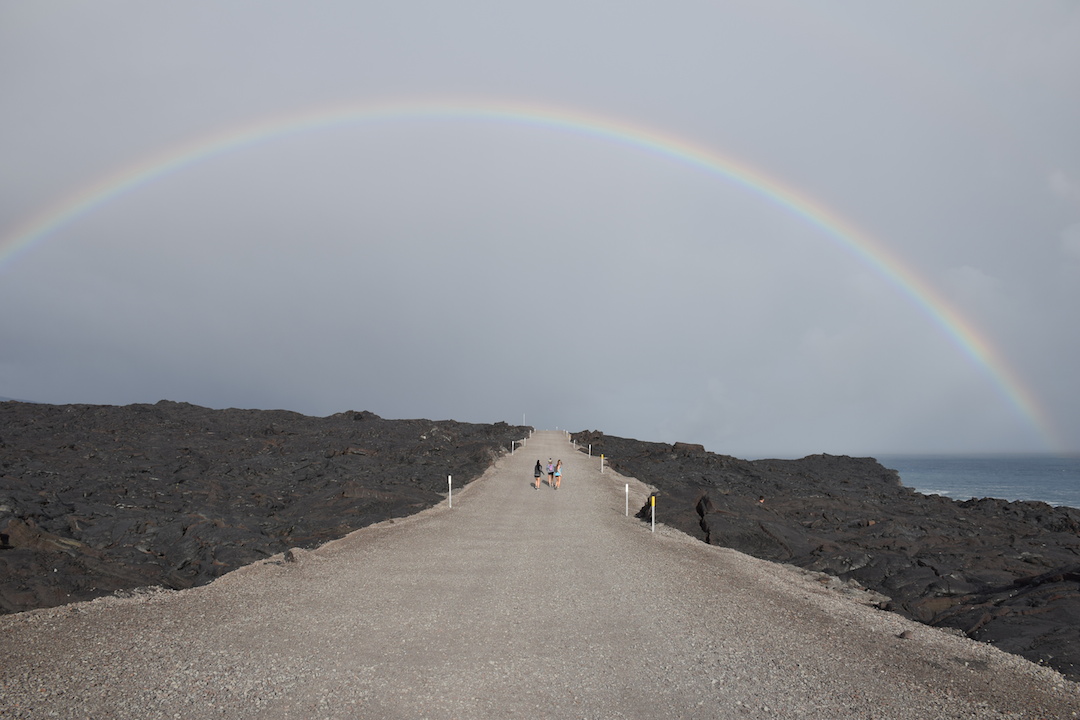 Be sure to plan for any weather.  Along our journey we were greeted by a series of rainbows followed refreshing showers.  Luckily for us, they only lasted a few minutes before dissipating.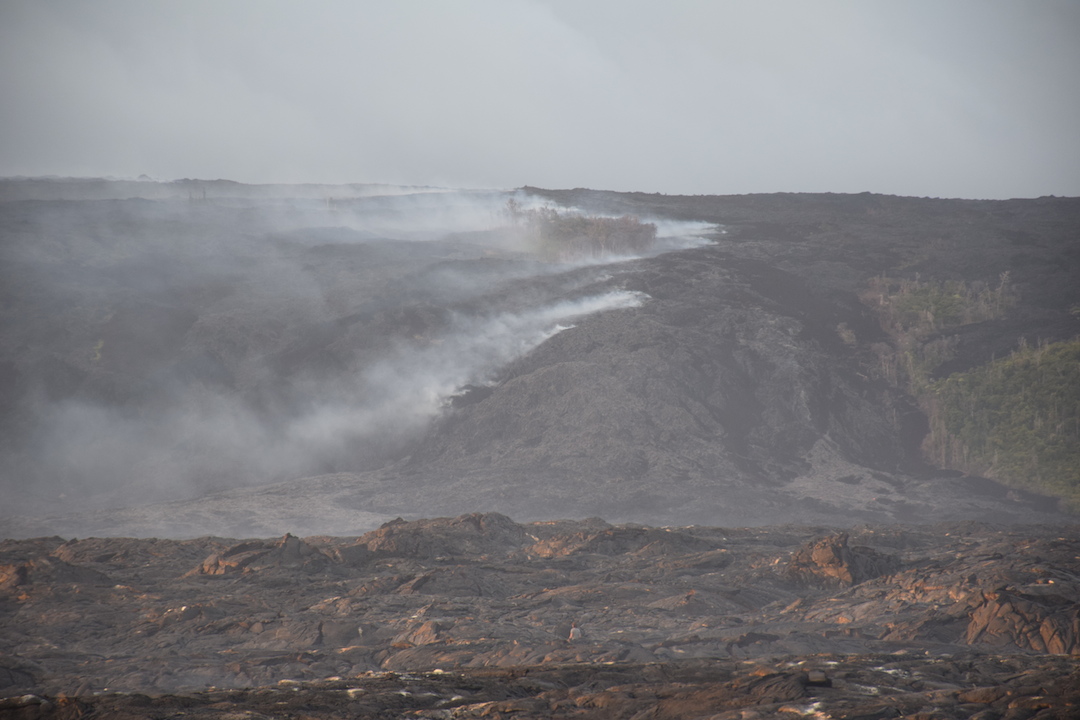 As we approached the end of the gravel road, we were able to see fumes rising along Kilauea's Eastern Rift.  Although it is possible that some of it was smoke from a few burning trees, most of it was being emitted from steam vents which were supplied by the subterranean river of magma.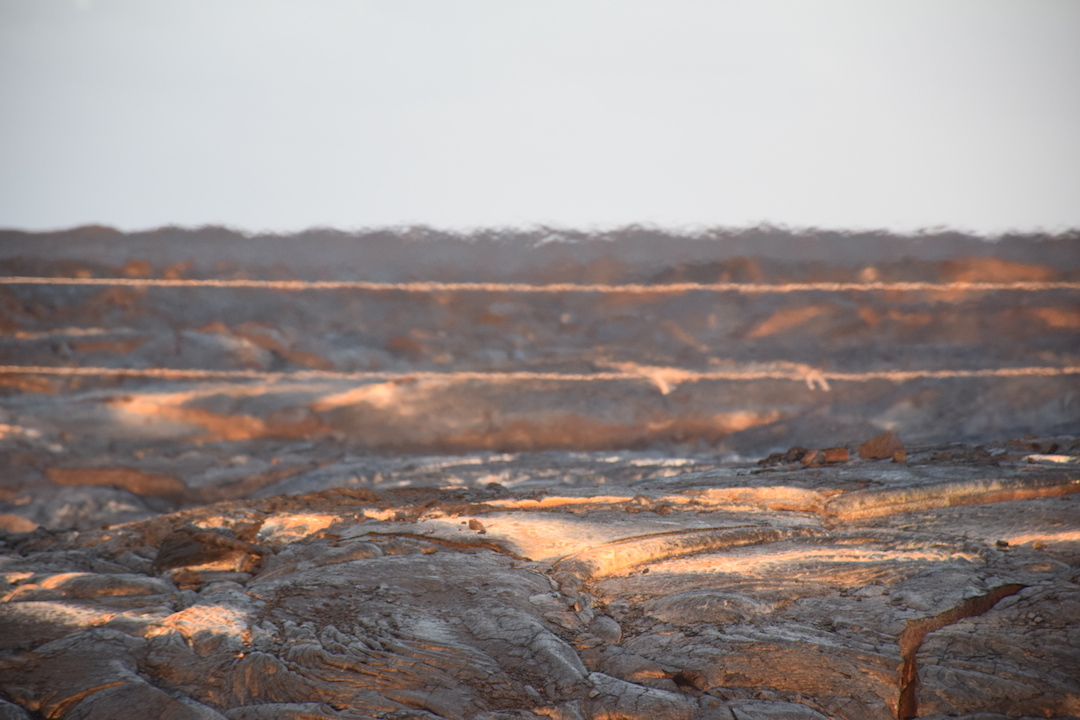 At the end of the gravel path was a rope, demarcating a safety perimeter. We continued along its length.  Beyond this point the trail became a bit more raw.  There was no trail and ground was extremely uneven.  I quickly realized that it was the first time I had been older than the earth I was walking on.  As we skipped and hoped over cracks in the lava rock, we began feeling the warm air rising through the fissures from beneath us.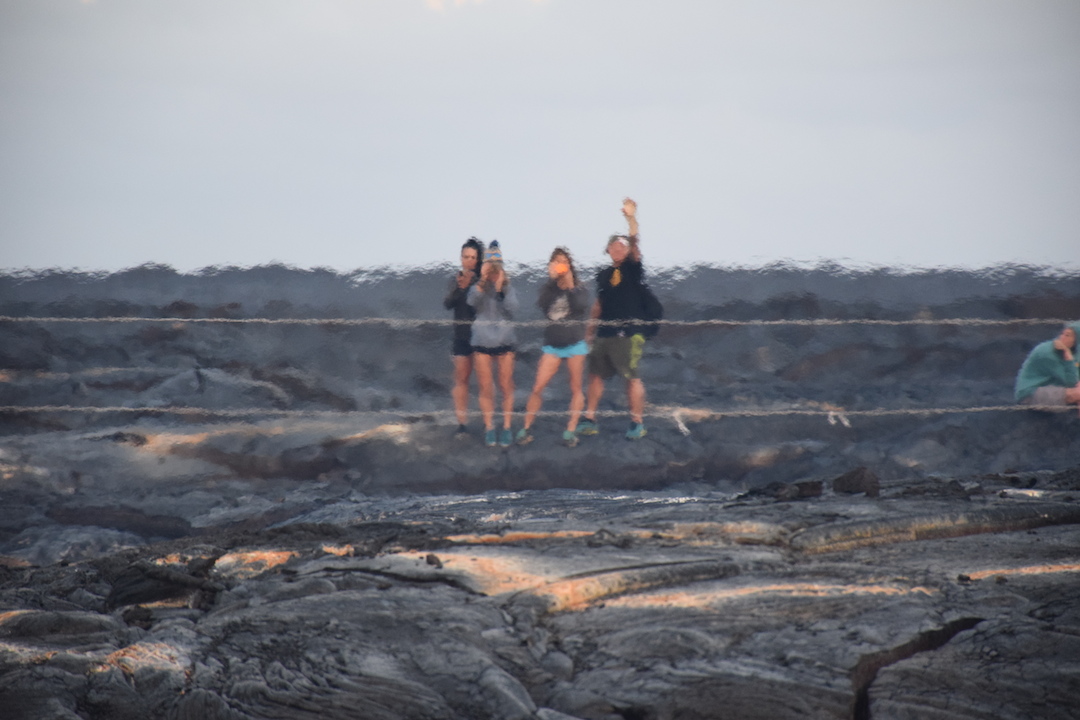 In some areas, vents were releasing extremely hot and toxic gases such as sulfur dioxide and hydrochloric acid.  Trying to capture this image of our group through the mirage of hot gases threw me into a coughing fit, as I was directly downwind from the hot fumes.  However, once I got out of it the stinging in my lungs quickly subsided.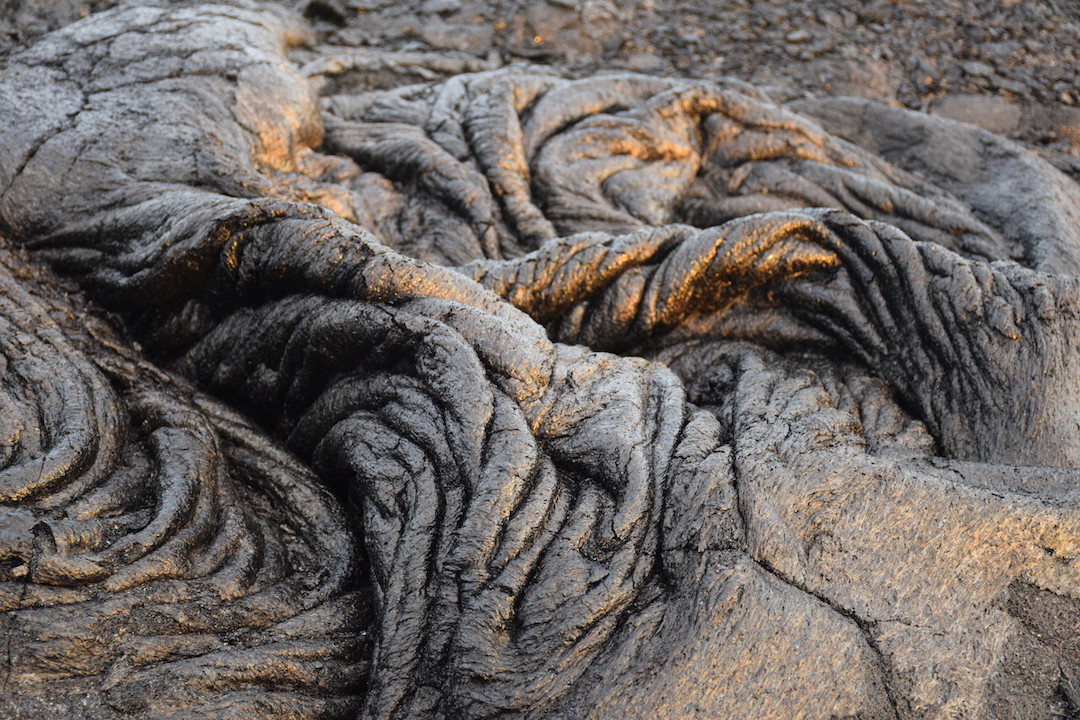 It was so interesting seeing all the different types of shapes and textures lava  had taken as it flowed and eventually dried.
This looked like a blanket to me.
This portion resembled a series of ropes.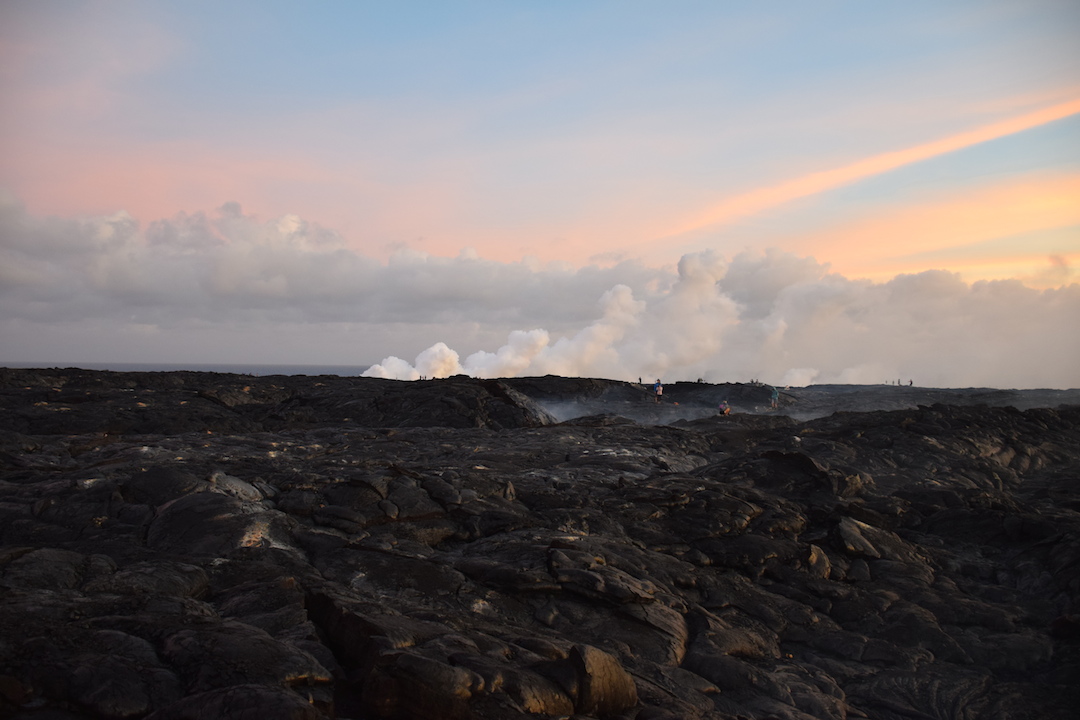 As the sunset approached, most people made their way down towards the ocean.  However, I noticed a couple of hikers further inland who had not moved the entire time we had been there.  I figured they must bee seeing something cool. So I went to check it out.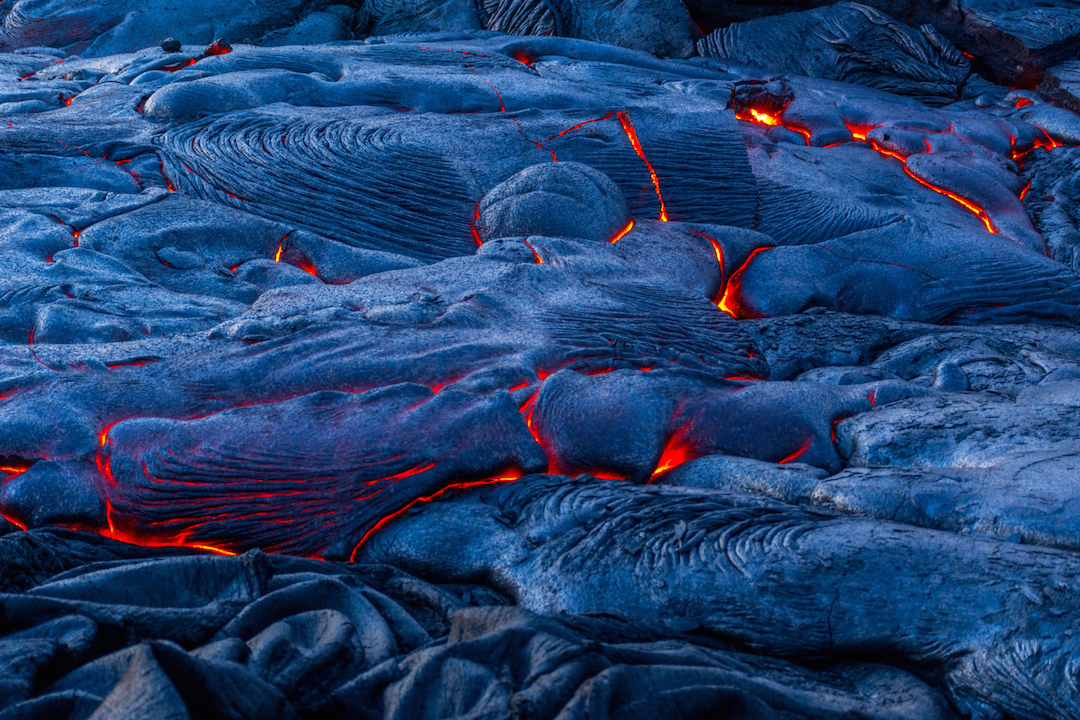 As soon as I got to them I noticed the ground in front of them glowing and was hit by a wave of warm air.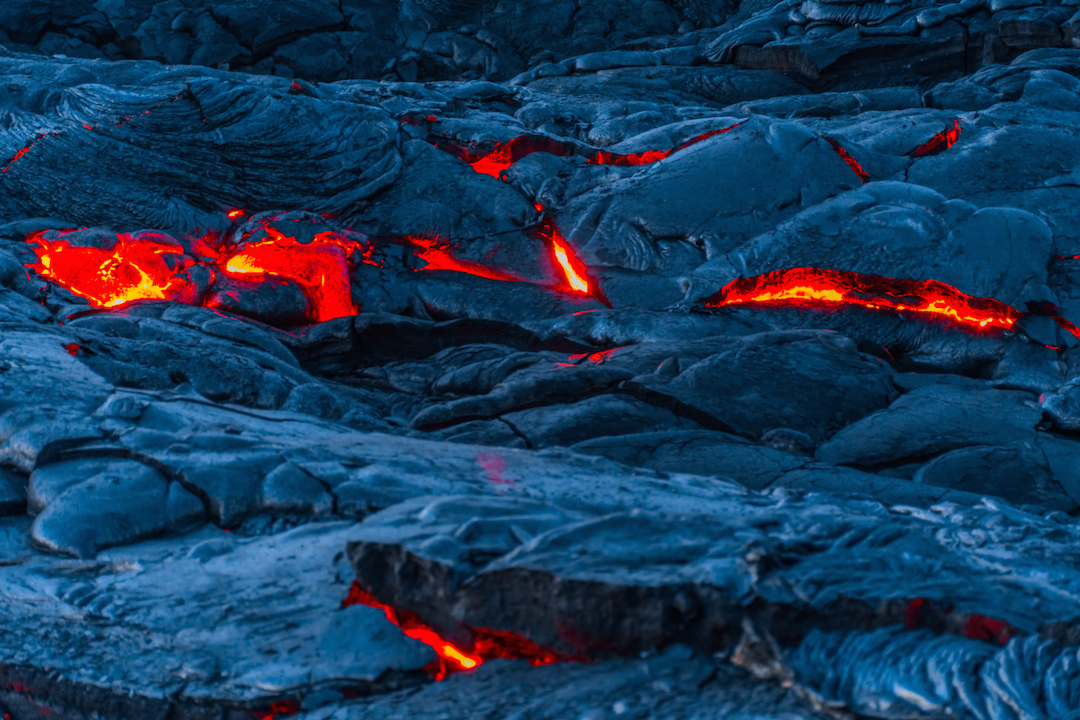 I couldn't believe I was face to face with 1600°F rock. The other hikers maintained that this surface breakout had started earlier that day. What GREAT TIMING!!!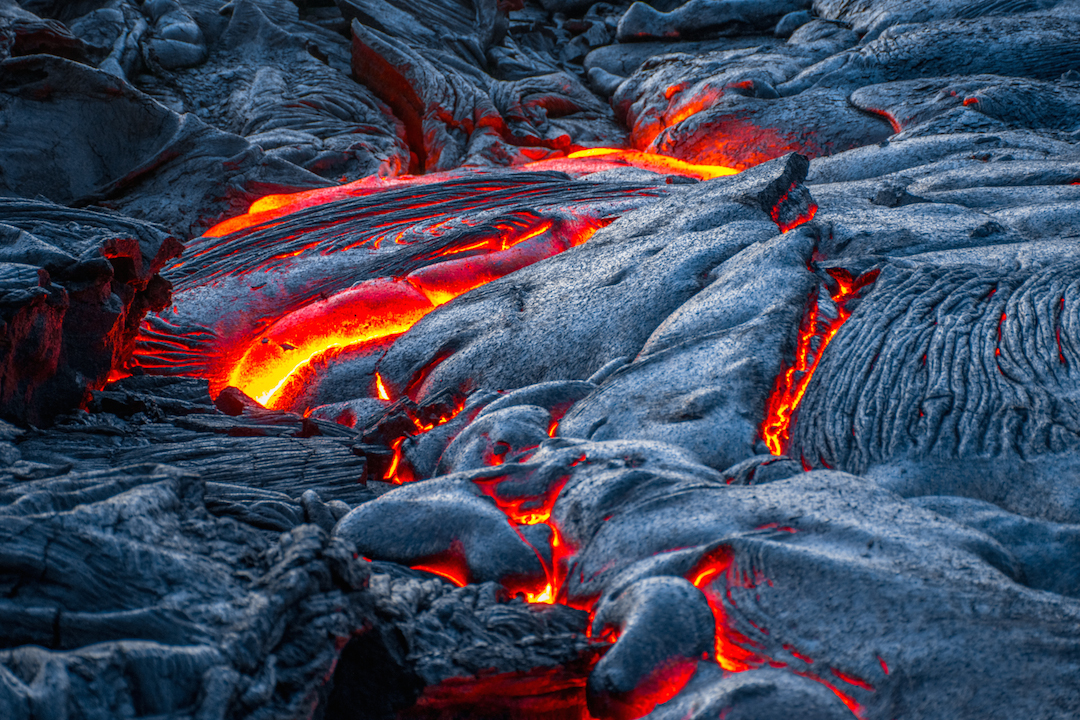 As I stood about 3 feet away from the incandescent rock, I noticed it began to swell and lift.  A fresh spring of molten lava slowly began to ooze through the crust.  At this point my heart was pounding. I was simultaneously stoked out of my mind, but a bit anxious too.  I was witnessing the most beautiful geological event I had seen in my entire life.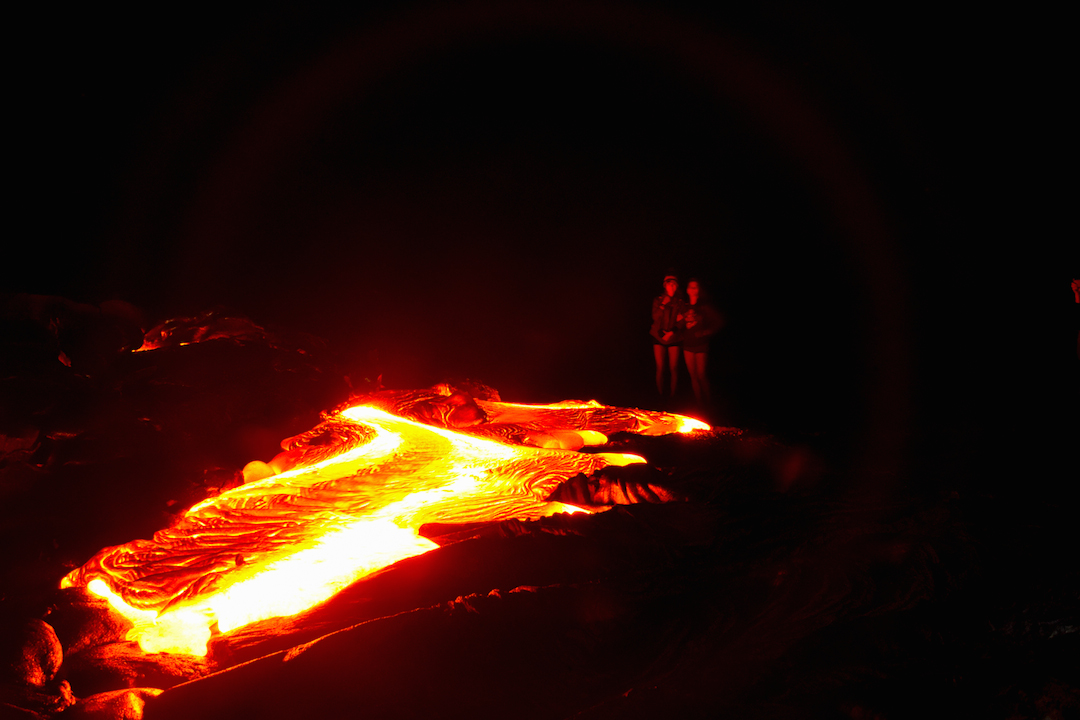 I quickly signaled to my group to hurry over here, as this would likely be the closest we would ever "safely" get to a volcanic eruption.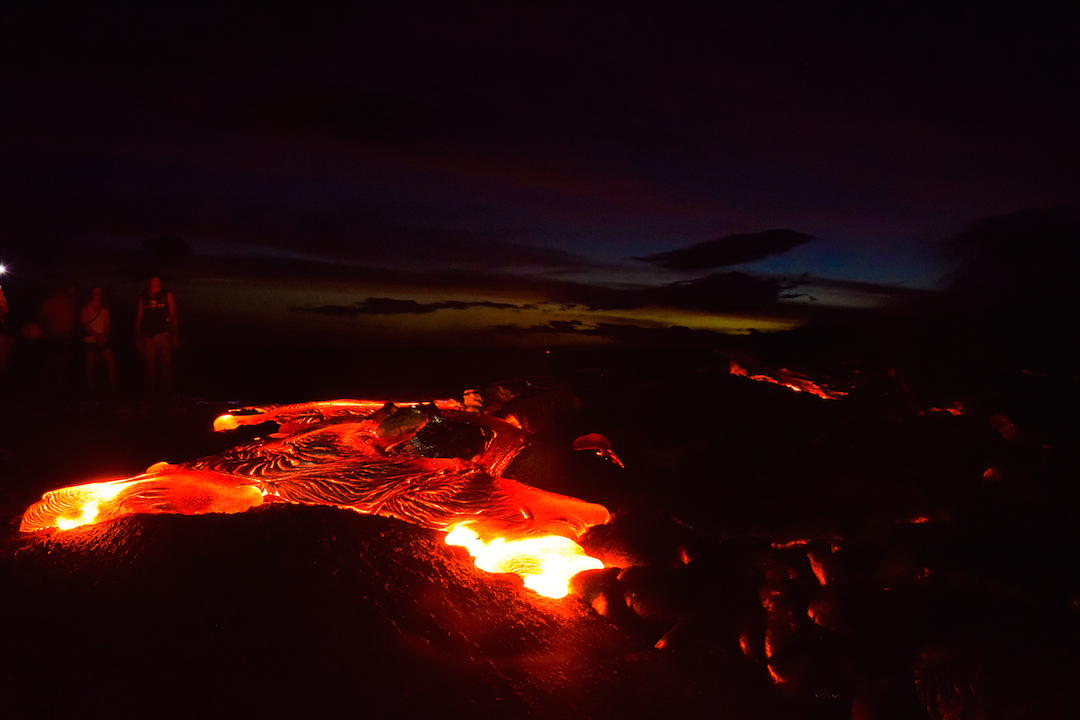 What's interesting about the flow in this image is that it completely happened in front of our eyes. Some guy was standing on an elevated igneous rock formation, when all the sudden the rock cracked in half beneath his feet (like a hatching egg).  Lava began to exude and flow from that exact location.  The ground around our feet became so hot, we could feel it through our shoes.  Within a 5 minute period we had to move backwards 3 different times to make way for the emerging lava.  The heat from the lava was much appreciated as most of us were still wearing wet clothes from the hike in.  We stayed near the surface flows until all of us had completely dried off.
Luckily I brought my tripod and was able to capture a few time-lapses while we were out there.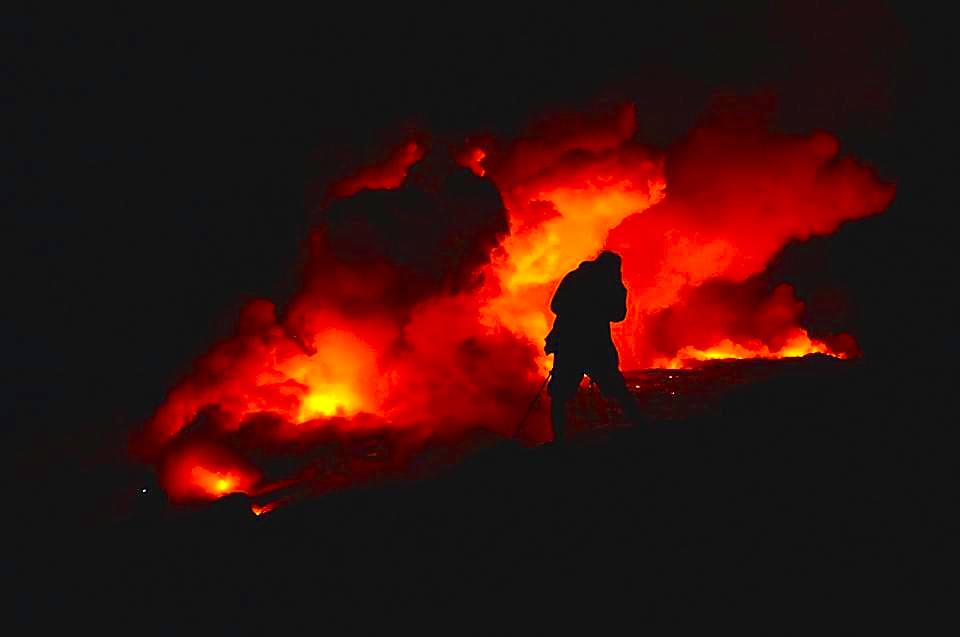 I still wanted to see the lava pouring into the ocean.  Making our way back towards the glowing pillar of smoke, we followed the safety perimeter rope around to get to the scenic lookout.  I must admit that I was terribly disappointed when we got the the end of the rope as we could not see any lava from it at all.  After all that hiking on jagged rocks in the dark, all we got was the same view we already had before leaving the gravel trail…  I must admit that I was a little confused and irritated that none of the hikers we walked by warned us that there was nothing to see by continuing.  So we took matters into our own hands and just crossed safety perimeter rope.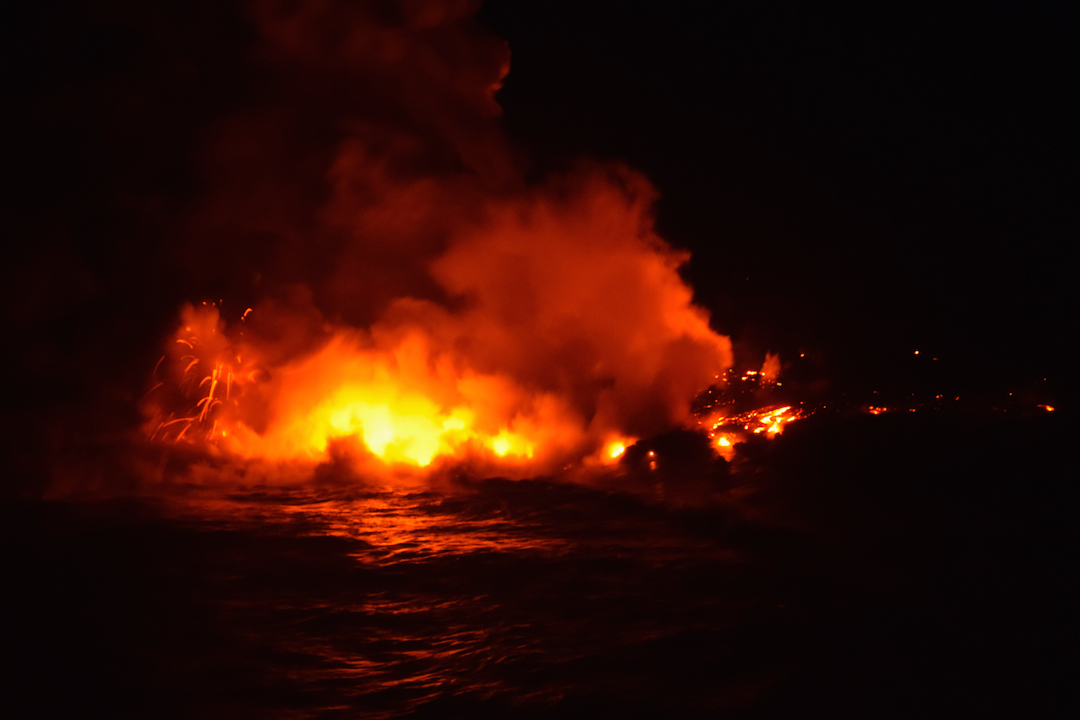 Being in the "danger zone" meant advancing with extreme caution as we approached the cliff side.  We could hear the pounding surf breaking onto the molting rocks.  With every crashing wave a swirl of glowing steam rose into the air.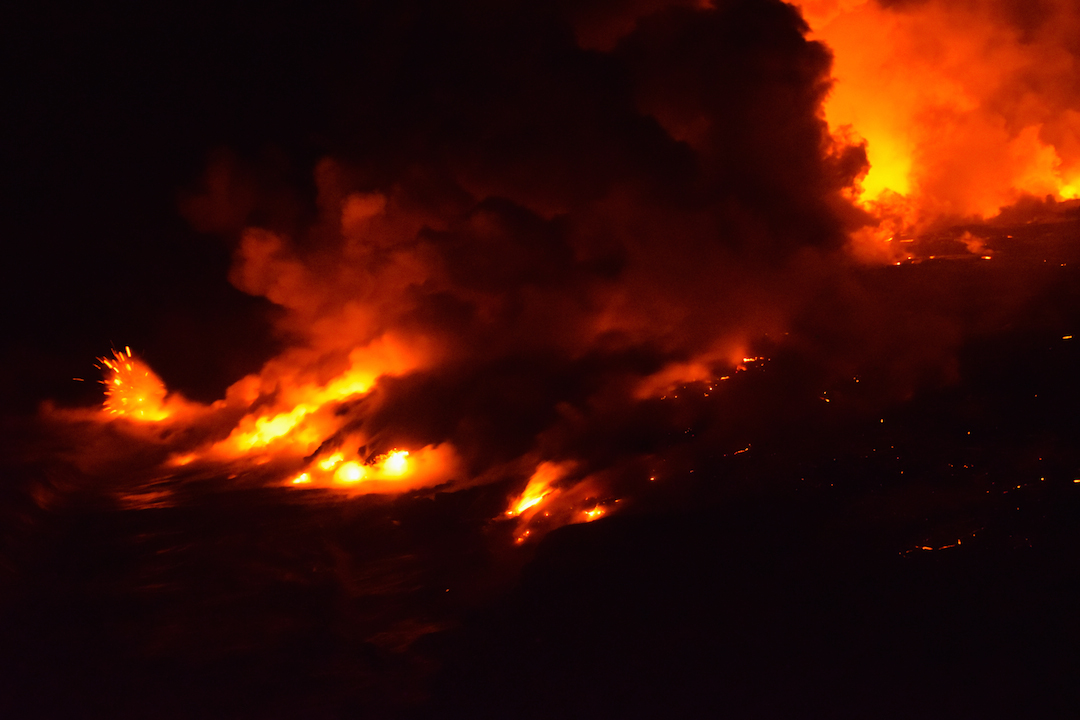 The cliff side sat about 40ft high.  From there we had an amazing vantage point to observe the dispute between land and sea over who would occupy this no man's land.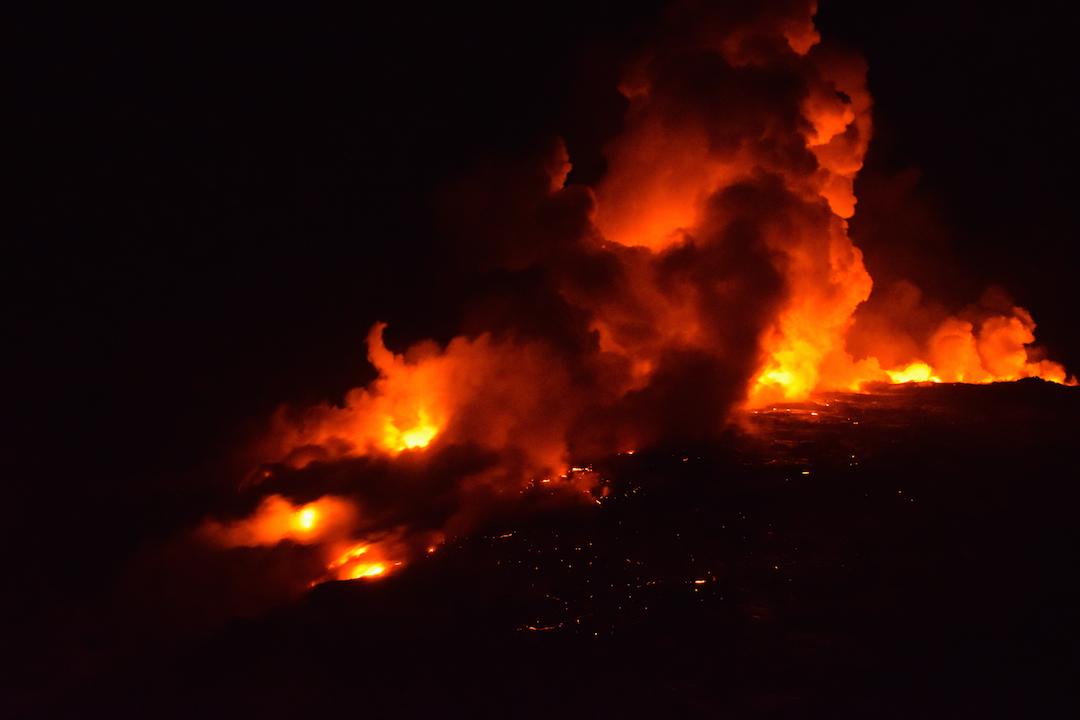 The lava front stretched about the length of a football field.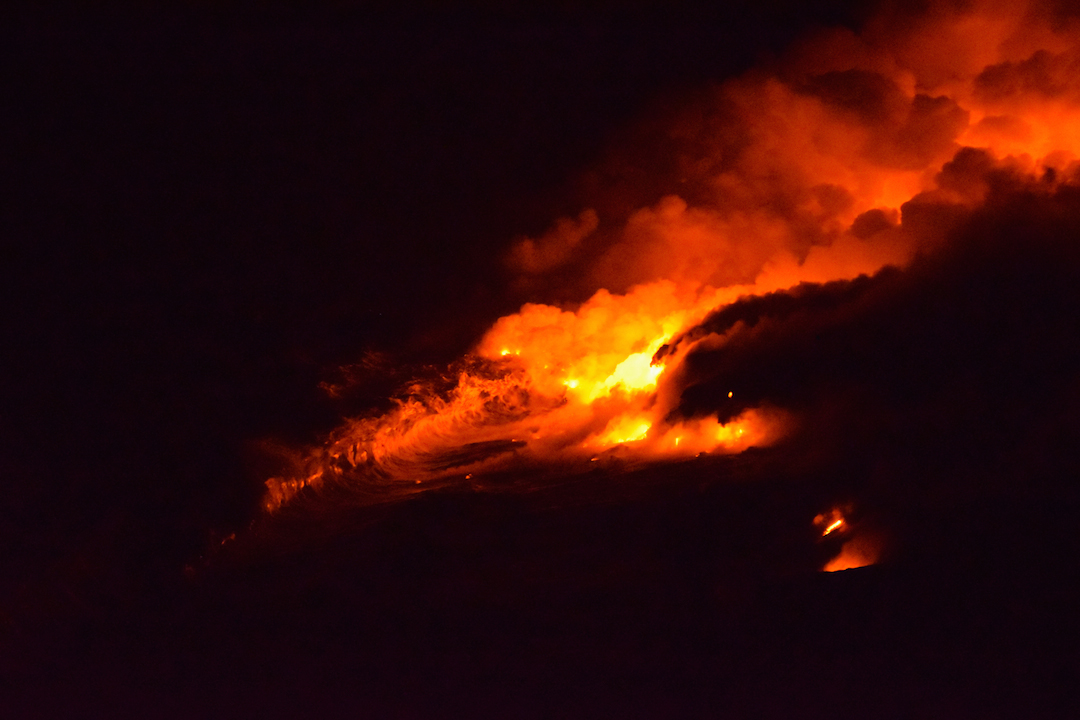 The un-surfable wave.
As the waves were quite large, I had a hard time capturing images that were not completely shrouded in smoke and steam.  But I could not detach my gaze from this scene.  I felt as though I was granted a rare opportunity to witness something primordial, an intimate view of the birth of new land.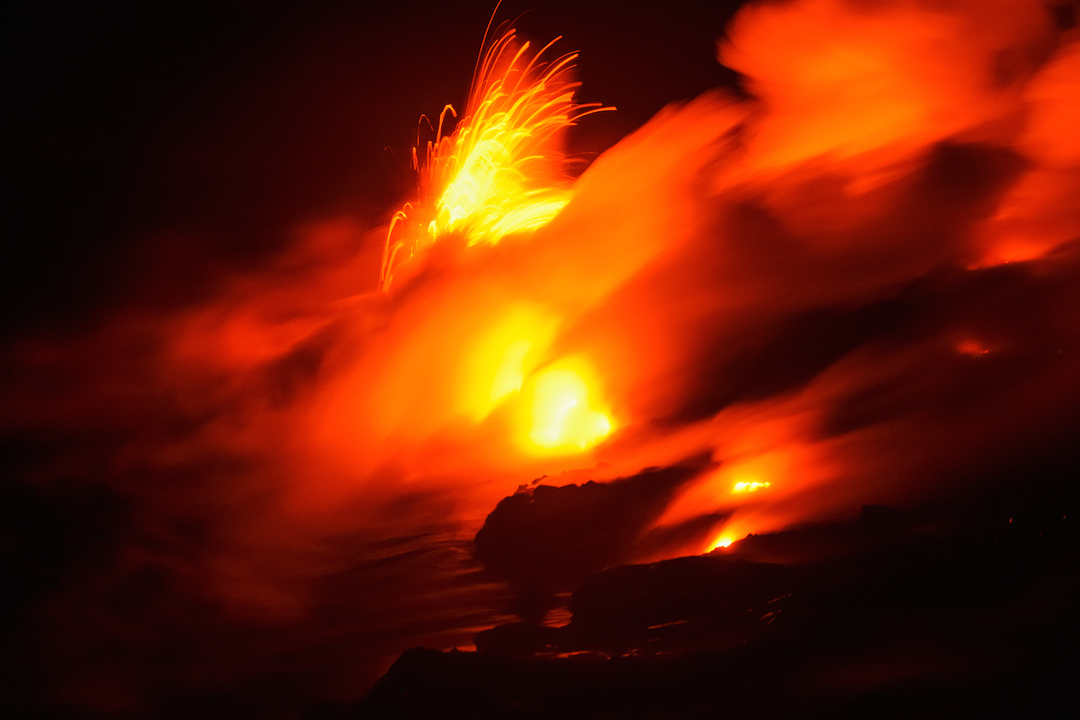 It's incredible to think that Hawaii's fragile ecosystem will one day expand and colonize something so violent and destructive.  But for the archipelago, this is the beginning of life.  I could have sat here all night staring, trying to take photos and just watching the Hawaii grow.  But someone reminded me that we still have at least a 5 miles hike back out…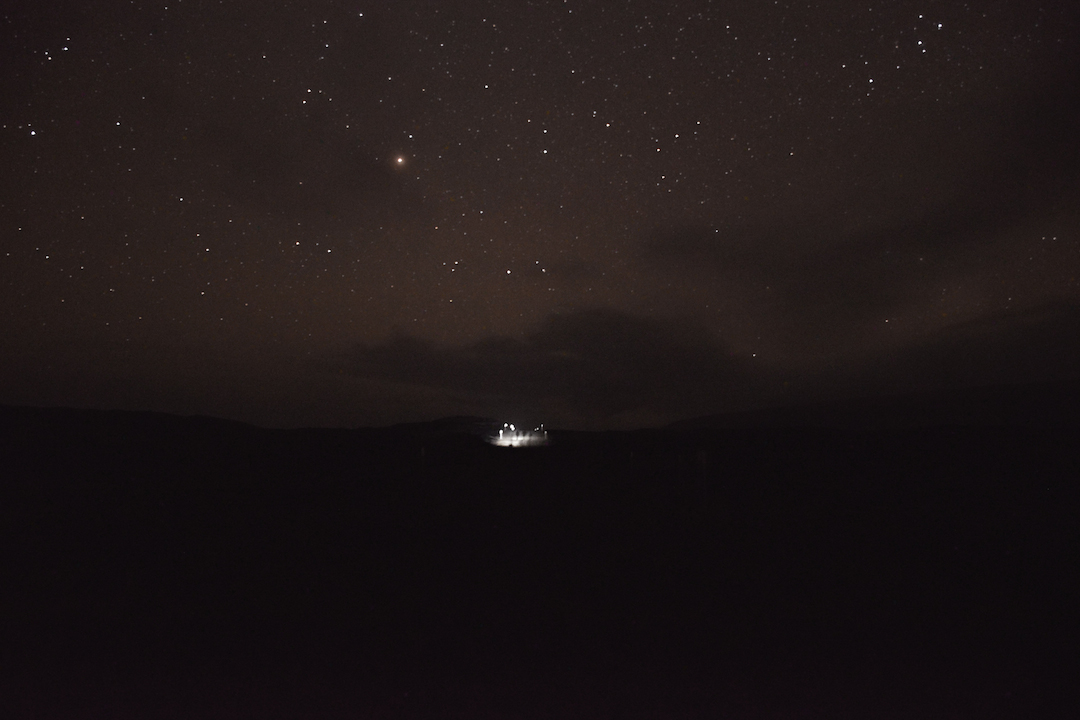 Be sure to bring a good flashlight and spare batteries.  You wouldn't want wander off into the field of lava rock and end up on the ledge of the sea cliffs.  As we made our way home, the sky cleared and we realized that we were being escorted by the most beautiful starry sky.  This would truly be a lifelong memory