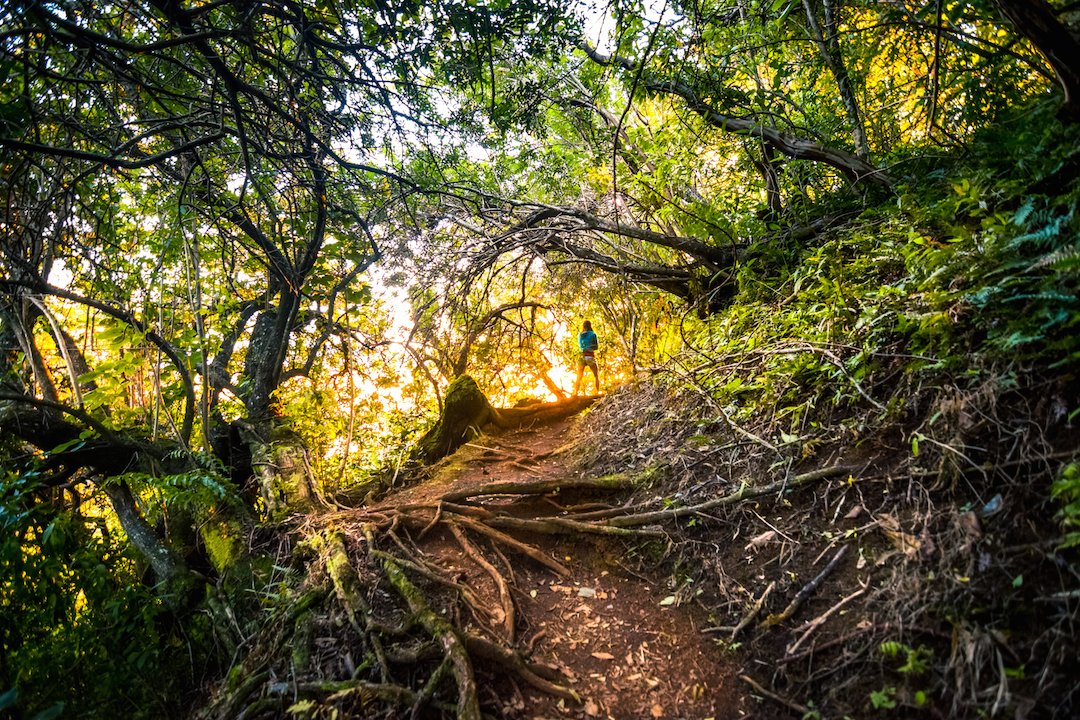 After a series of rainy days here on Oahu, the trade winds picked up and blew all the gloom away.  It felt as though I was seeing the light of day for the first time.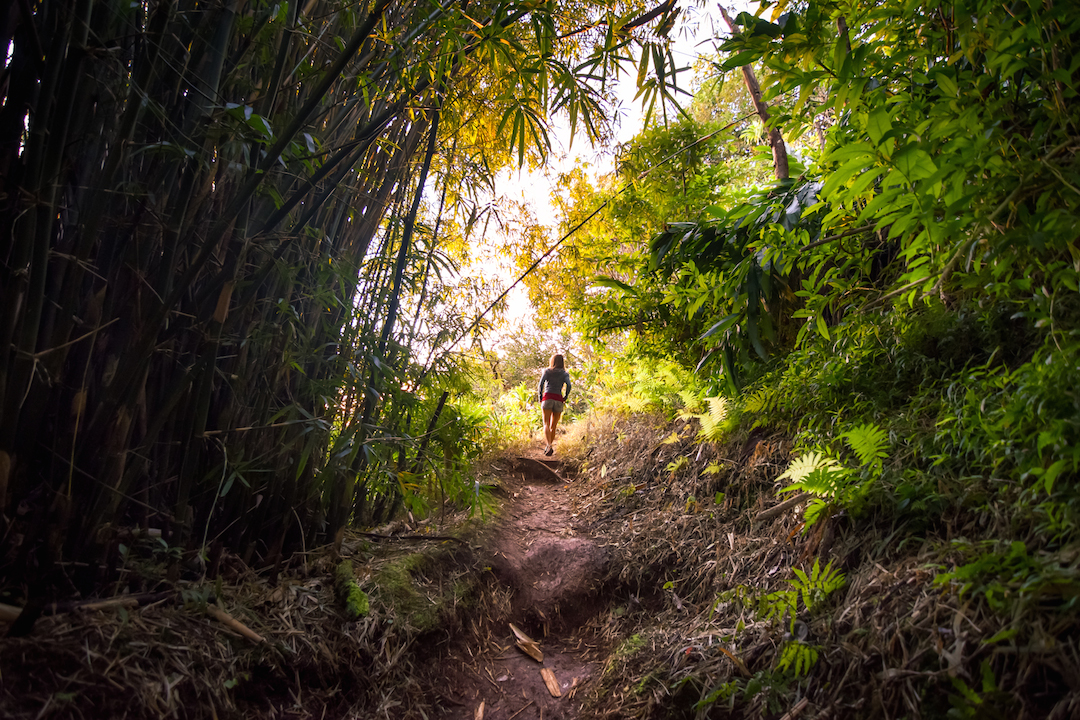 Even though it was a workday, I did not want to let this perfect weather slip away.  As soon as my lady got home from work, I told her we were chasing the sunset.  We hoped in the car and rushed up the mountain in hopes of catching a glimpse of the crisp skyline.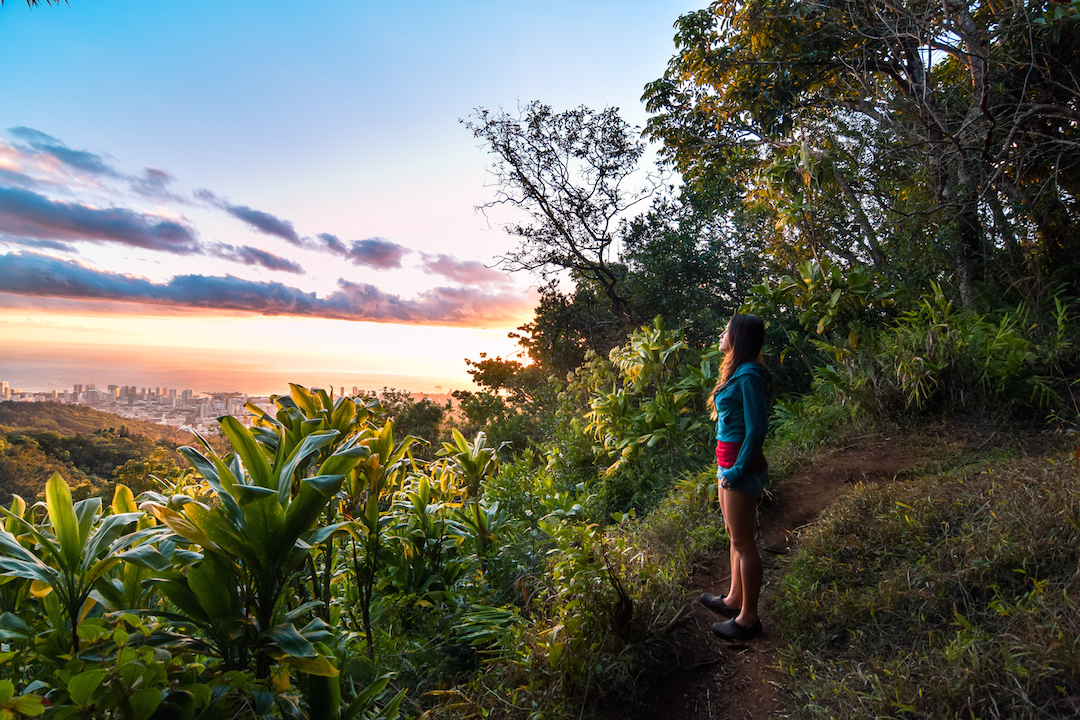 As we drove up the winding road, we nearly passed the small inconspicuous trail.  I had never been on this hike before, but I was told it had some nice vistas. The views did not disappoint!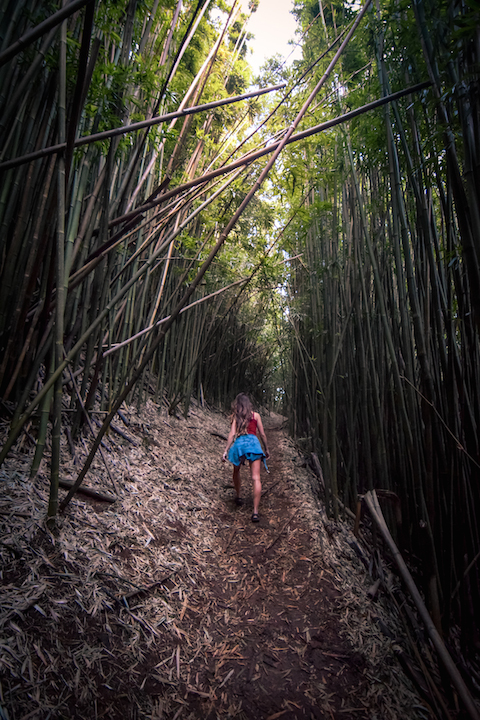 As we pushed through a thick bamboo forest, I began to wonder if we would ever catch the sunset.  The light was dropping fast and I had no clue where we were going.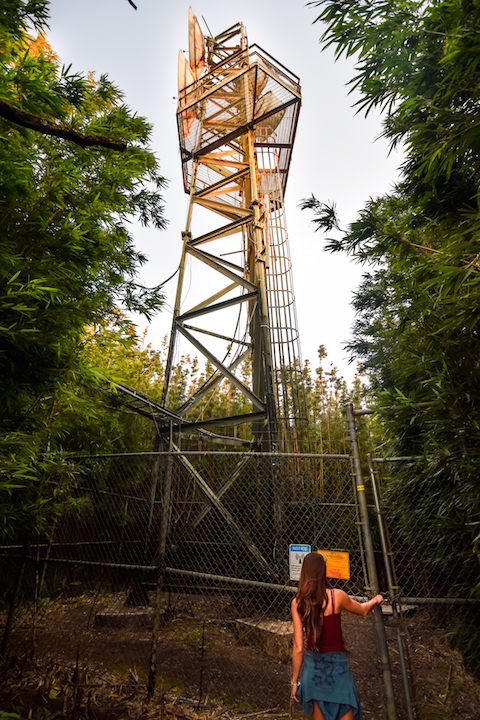 The forest eventually opened up to a group of tall telephone towers.  From the "crow's nest", a group of guys were working on something.  When they saw us, they waved us on up to join them. We could not pass up such an invitation.  Plus, we had a sunset to catch and I wasn't going to miss it!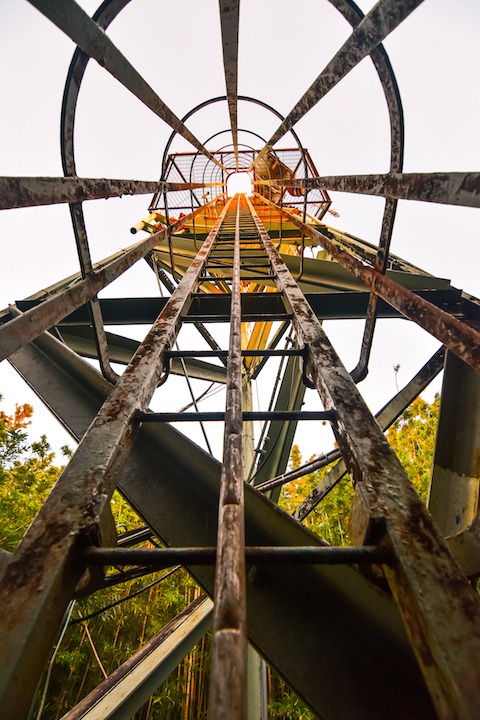 As we approached the moss covered ladder, my inner old lady kept whispering to me:" This looks sketchy sketch, don't do it".  But my stoke carried me right on up the tower.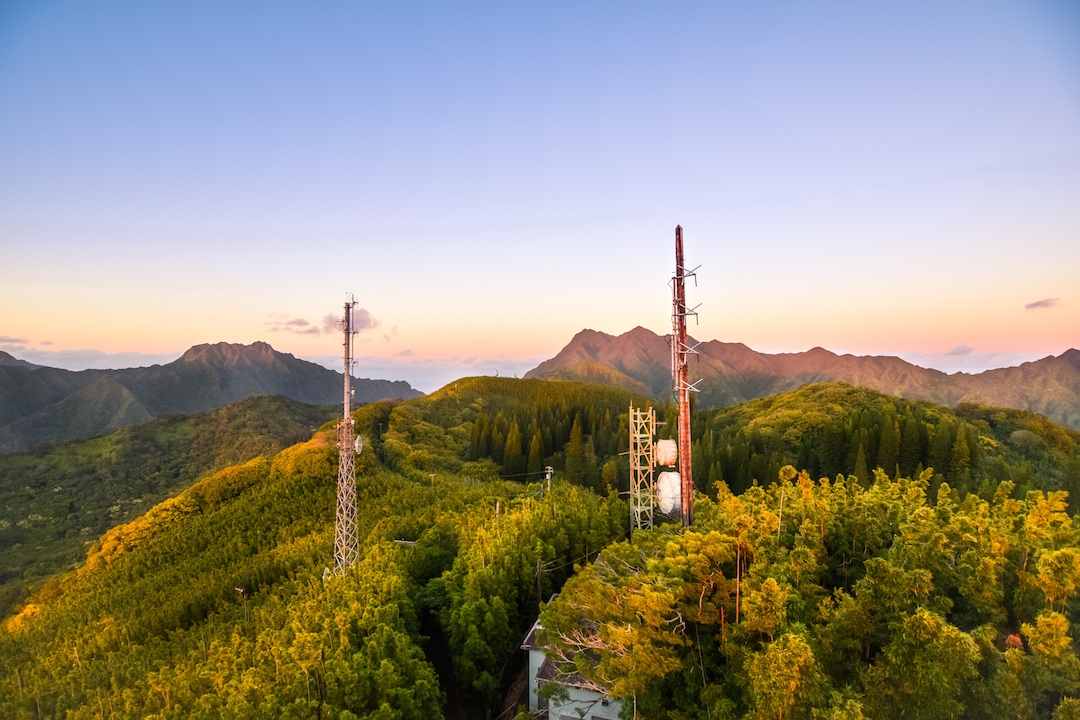 As we joined the others, I was completely blown away by how sick the view was.  Rarely are Oahu's Koolau mountains not completely covered in clouds.  To see the extent of the entire ridge-line was super dope.  The adventure gods must have been smiling upon us.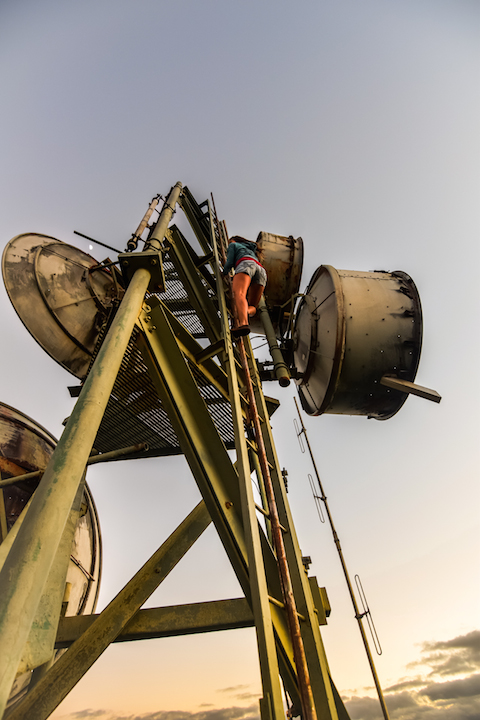 To my surprise, my P.I.C was not satisfied with sitting on the first floor.  She wanted to go all the way. So I followed.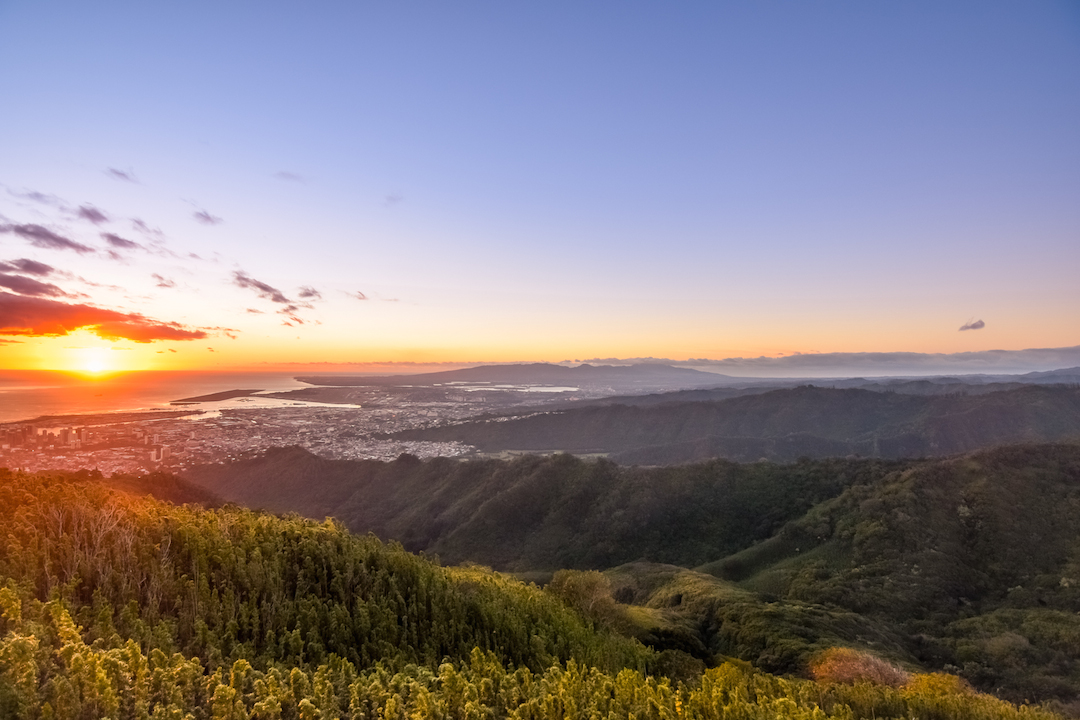 We literally made it up to the top of the tower a minute before the sun touched the horizon.  This spontaneous little hike turned out being one of the best adventures I had ever had in Honolulu.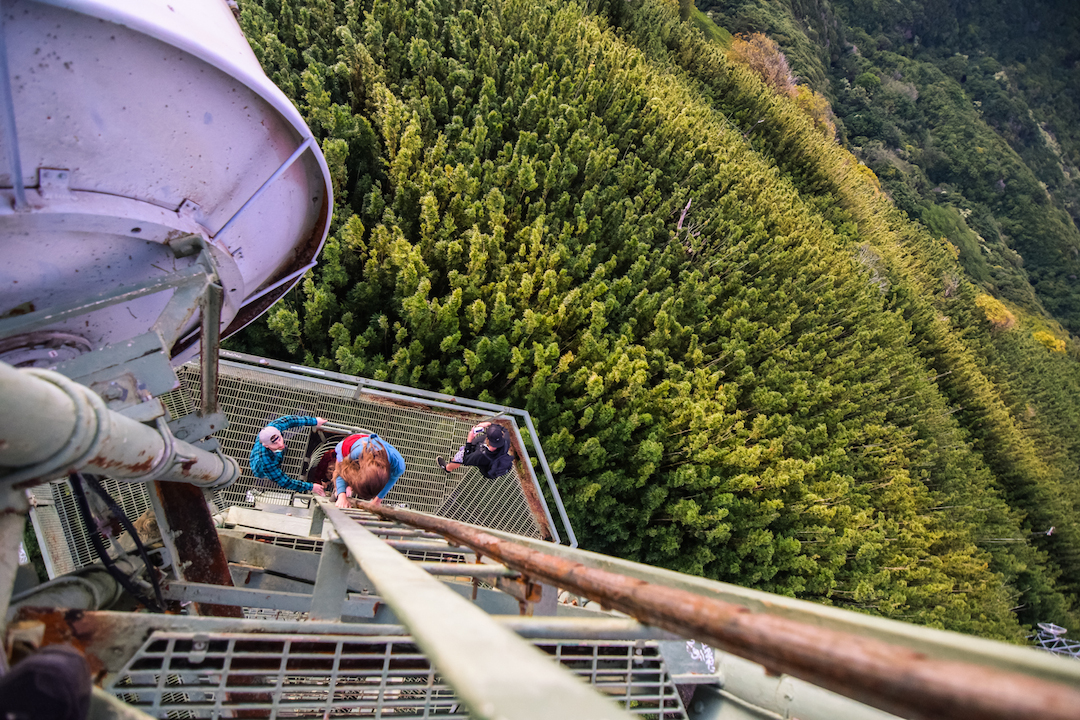 Unfortunately, what goes up must get afraid of heights and creep back down… With the clear sky, I thought it would be the perfect spot to catch some cool night photos of the city or perhaps even some star shots over the Koolau ridge.  So we set up the tripod and soaked in how lucky we were to be there.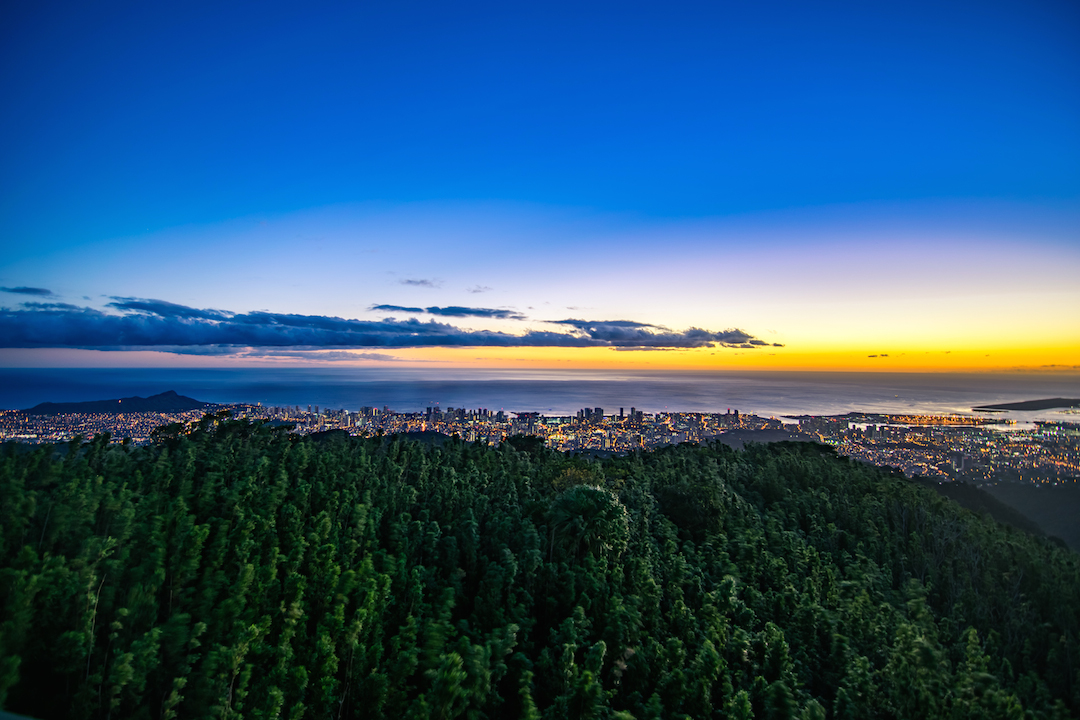 As the sun sank into the sea, it took all of its warm rays along with it.  Those chilly trade winds quickly became too much for us to bare, as our bodies began shaking uncontrollably (pretty lame how cold we think we get here in Hawaii).  I was stoked to get one last shot of Honolulu before heading back down.  It was going to be a dark hike back through the woods, but it was well worth it.
Hike at your own risk. We do not condone the safety or legality of hiking any of the trails seen on this site. Also do not rely solely on information found herein; please do your own research. Hiking in Hawaii is dangerous due to unstable surfaces. Injury or death may occur. It is also relatively easy to get lost in the dense tropical vegetation or unmarked trails if you are not careful.