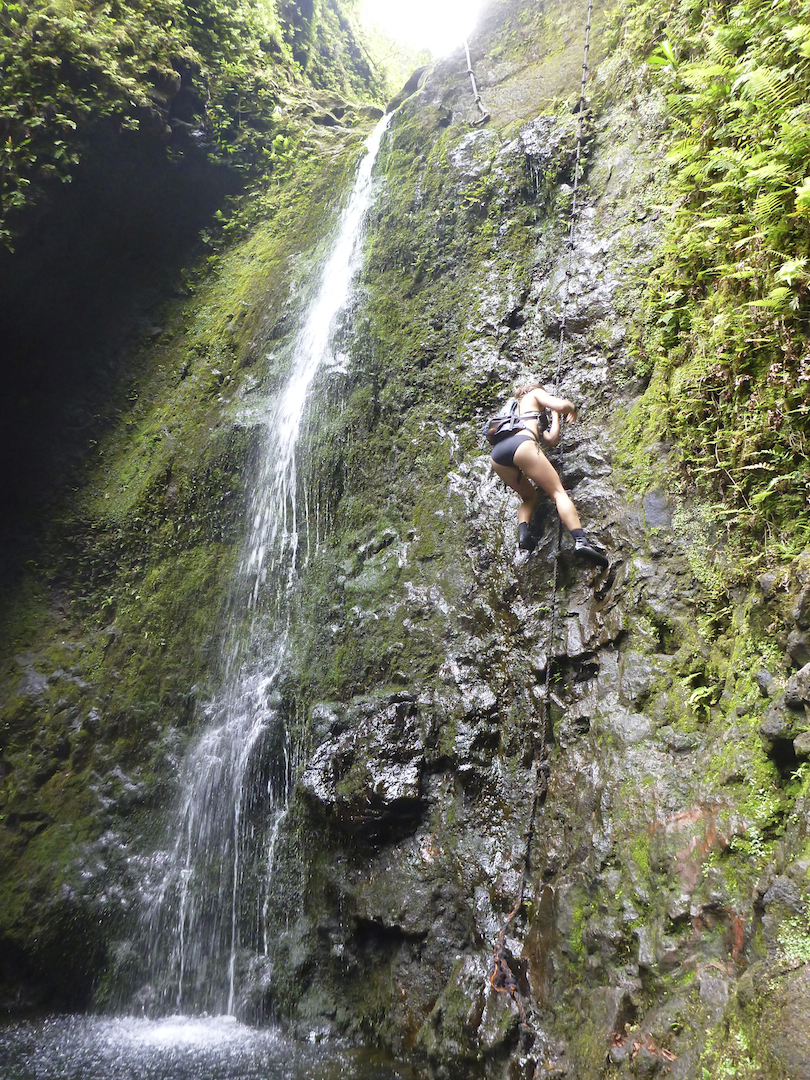 Seven Falls is the craziest hike I've probably ever done in my life. The beautiful valley kept my heart pounding, but the steep and wet climbs kept my knees shaking.  Seven falls is the hike we thought we were embarking on the previous week, when we accidentally did Kaipapau Falls.  They are separated by a single ridge and have relatively similar trailheads.
Similar to Kaipapau, you will begin in the back of a neighborhood following a paved path into the valley.  To find this trail, you will want to drive to Hauula homestead road and drive towards the mountains.  The street will briefly turn into Maakua Rd., at which point you should notice a yellow gate at the end.  Walk past the yellow gate and you will find yourself on the paved path illustrated in the photo above.  I'm not exactly sure of the legality of this hike or what the locals' opinion is about people venturing back here. As a rule of thumb, if you are white, you are probably not welcome, so be as discrete as you can until you are away from the neighborhood and in the forest.
The jungle here is extremely green and lush. I have no doubt the locals use the area for hunting.  The trail is not super frequented, so pay attention for trail marker flagging tape throughout to keep you on track.  But as long as you are making your way deeper into the valley, you are going the right direction.
Just like Kaipapau Falls, we spent a large proportion of the overall trek in the stream bed.  The view was beautiful and I can honestly say that I have never been in such a narrow valley before in my entire life.  There were parts of the hike where it felt like we could have reached out and touched each side of the valley.
The problem with narrow valleys and waterfalls is flash flooding.  Above is a photo of a pile of tangled trees and rubble which flushed down the valley during the last rain.  Be sure to pick a sunny day to do this hike. Nobody wants you getting crushed by a wave of debris.  Remember, if you die, the state will likely close the hike permanently (like they have for others: Mariner's Ridge, Dead Man's Catwalk, Stairway to Heaven, Sacred Falls…).  Please use your best judgement and excursive caution. If in doubt, don't go out!
After hiking for about an hour and a half, we finally had our first glimpse of moisture in the valley.  Certain waterfall hikes on Oahu, can be a gamble.  On the one side you want to go hiking on a sunny day for better pictures and to avoid flash flooding, but on the other side all of Oahu's waterfalls are sourced by rainfall.  You just have to find a balance.
After nearly 2 hours of hiking we reached the first waterfall!  It doesn't look like much but trust me, it's a fun one.
We decided we would kick it on this fallen tree, which had lodged itself between the two walls of the valley, to refuel with some well deserved lunch.  This particular hike is an all day type of adventure, so be sure to pack plenty of snacks and water to keep morale high (also not a bad idea to keep a bunch of snacks handy in case you get stuck and have to wait for a rescue team… cell reception was a bit spotty out there).
After our quick pitstop, we resumed our progress. The pool in front of this waterfall was probably 10ft deep at it's deepest, but became quite shallow towards the edges.  We were able to jump into the pool from the rock above. But again, be careful! The rock was extremely slippery, and if you do not hit the deep spot then you will probably break something (like my good friend Tua).  Beneath the rock is a rope, which is the easiest method for scaling the wall. It will take you through a tiny tunnel below the rock (pretty dope).
Once we conquered the first waterfall, the second was immediately in sight.
Those smiles are smiles are pure stoke.  I get excited just looking back at these photo. The location is amazing.
We quickly made our way over the slippery and wobbly rocks of the stream bed to assess our next obstacle. This waterfall was distinctly higher and the pool beneath it was only about a foot deep and full of stones (so no cushion if we fall).  You may also notice the long rope dangling off to the side… We did not put it there and we had not idea how long it had been there.  We had no reason to trust in the structural integrity of the rope or the anchor it was tied to, but we would not be stopped by sketchy ropes.
DISCLAIMER: YOU SHOULD NEVER TRUST A ROPE THAT YOU DID NOT TIE YOURSELF. ROPES COULD BE LOOSELY TIED, DAMAGED AND OLD. NOT TO MENTION THE TREE/ROCK THEY ARE ANCHORED TO COULD BECOME DISLODGED AT WHICH POINT YOU WOULD FALL AND PULL UKNOWN AMOUNTS OF DEBRIS ONTO YOURSELF. PROCEED AT YOUR OWN RISK!!! DO NOT BLAME THE STATE OF HAWAII OR MOTHER NATURE FOR YOUR OWN ACCIDENTS!!!!!!!
One of the trickier parts was having to transition from the long rope to a short fat rope to continue to the top.  Not gonna to lie, I was holding onto those ropes pretty dang hard.
We had to perform a sketch little swing maneuver, but we overcame.
After hoping across a few more stones, the 3rd waterfall came into view.
I was very lucky to be accompanied by my beautiful lady friend, who did not bat an eye at a single one the climbs we had to do.
As we approached the next climb, we realized the rope was sitting in wet moss and had become completely saturated with water.  Furthermore, it would appear that the base of the rope had already snapped, and someone had fixed it by simply tying another piece of rope to the old one…  As if this was not disconcerting enough, this rope did not have any knots to help us hold onto it as we continued our climb.
As I was coming up with excuses on how this rope was unfit for climbing, my girlfriend just started scaling the wet wall.  Thankfully, there was a small ledge we could rest on about halfway up.  This climb was particularly exhausting.  The lack of knots on the slippery wet rope made us clench onto it so hard that our arms were shaking by the end of it.
I have to admit, when we first began dating, I took her on a series of pretty sketchy adventures to see how she would handle herself. To see if she could make the cut…  This was one of those instances. She blew me away!
After getting over the 3rd waterfall, it suddenly hit me that we would eventually need to climb back down to get home.
The thought of going back down was rather unsettling.  But we moved onward to see what else this adventure held in store for us.
As the winding stream snaked its way through the mountains, we slowly moved up in altitude.  Progress through the valley was, at times, slow and arduous.  The rocks teetered and rolled as we stepped on them. It was often easier to just drop down on all fours and crab walk.  This is not the last place you want to roll your ankle.
Upon arrival to the 4th waterfall, we were relieved by its short stature.
However, as we got closer, it became apparent that the rope had broken about halfway up the waterfall.  Not only did this rope only have a few knots to assist us, but it was also wetter than the previous ropes we had climbed.  To reach the dangling and sopping wet rope we had to use that wet log and a few slippery finger holds to climb as high as we could.  It was still a stretch to attain the very tip of the rope.  My girlfriend made it with considerably more ease and grace than I.
We came across a variety of shorter waterfalls as we moved up the valley. Perhaps this is waterfall #5.
Eventually, we made it to the 6th and tallest of the waterfalls.
We did not see a way of continuing beyond this waterfall, so we celebrated our survival by having a few more snacks.
Have you ever seen anything so beautiful?
As we looked up to the top of the waterfall, we were able to notice a few ropes that had been tied to a rock. These ropes had either been cut or broke.   Unfortunately, it is unlikely that we will ever be able to go beyond this point without those ropes.  However, a side of me was relieved to know I would not have to climb a +50ft waterfall with some antique rope.
On the way down we focused more on safety than taking photos. But I must admit going down the ropes was easier than climbing them (although I was still super nervous).  Waterfall #4 nearly killed me on the descent as I could not reach the log without dropping form the rope though.
As we made our way back to the car, we stopped for a quick and impromptu tag session (JK! There were some empty spray paint cans on the ground next to this graffiti… We are such posers).
In celebration of our survival, we decided to hit up the north shore, but not before some Kahuku Fumis Shrimp!!!
Nothing builds your appetite like risking your life as you rappel down gorgeous waterfalls with old junky ropes all day.  We really needed this.
North Shore sunsets are the best.  Not a bad date. In the end the hike took us 8 hours, so be sure to plan accordingly if you want to this bad boy.