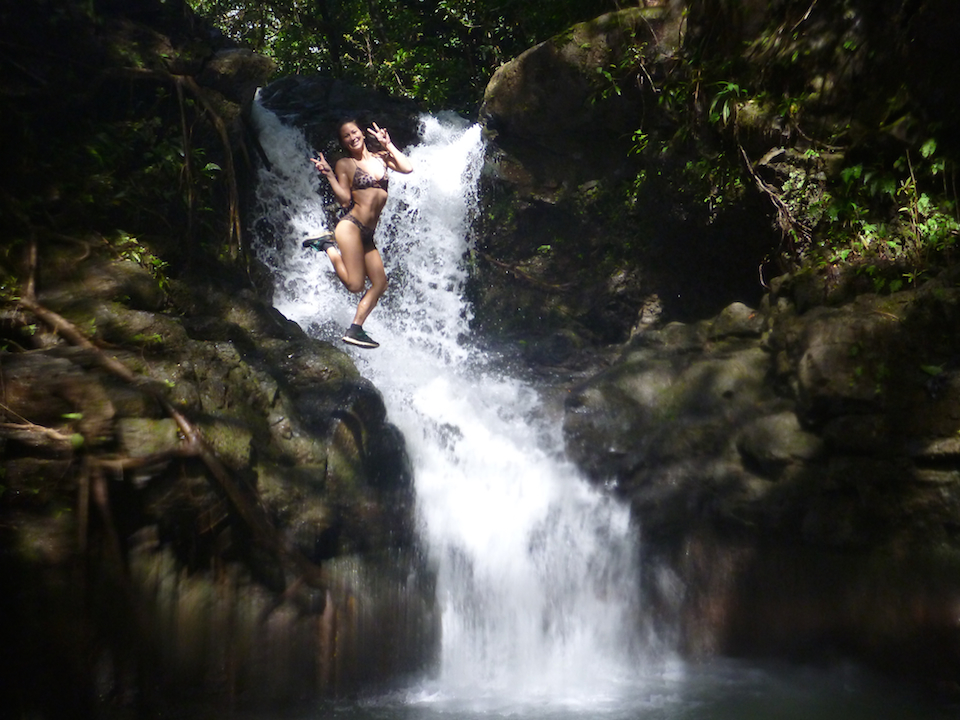 After 8 years of living on Oahu, I still find little hidden gems.  This past labor day weekend, I wanted to make a point of seeking out all new adventures. So I stayed up till 4am on a Friday night just researching different valleys, ridges, streams and even bunkers, all in the hopes of finding something that I had not done yet.  I had heard of an ephemeral waterfall called Kalauao Falls, which only flows after a solid rain.  Since we were due for a hurricane/tropical storm (Lester & Madeline), I was hoping that the precipitation would turbo charge our waterfalls.  The weather turned out amazing though. It didn't rain on me during a single adventure of the entire 3 day weekend.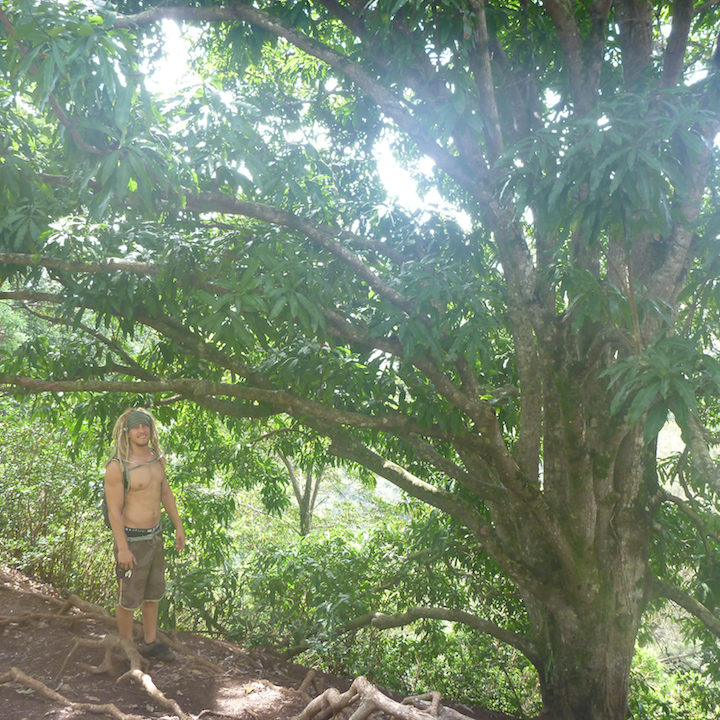 We started this hike at the trailhead of the Aiea loop hike.  I must admit, I find the Aiea loop to be particularly stale and I never planned to hike it again. But for the sake of finding a new waterfall, I endured a few moments on that monotonous trail.  Luckily, you will only need to be on the Aiea loop trail for about 15-20min.  You will eventually come to an obvious junction, on the left side of the trail.  You will follow that path below some power lines, then continue through a cherry guava forest.  Eventually you will make your way to a mango tree, illustrated above (the only mango tree I saw). There were a few pink markers and some pink paint on the branches of the mango tree.  The junction at this tree veers right and down into the valley.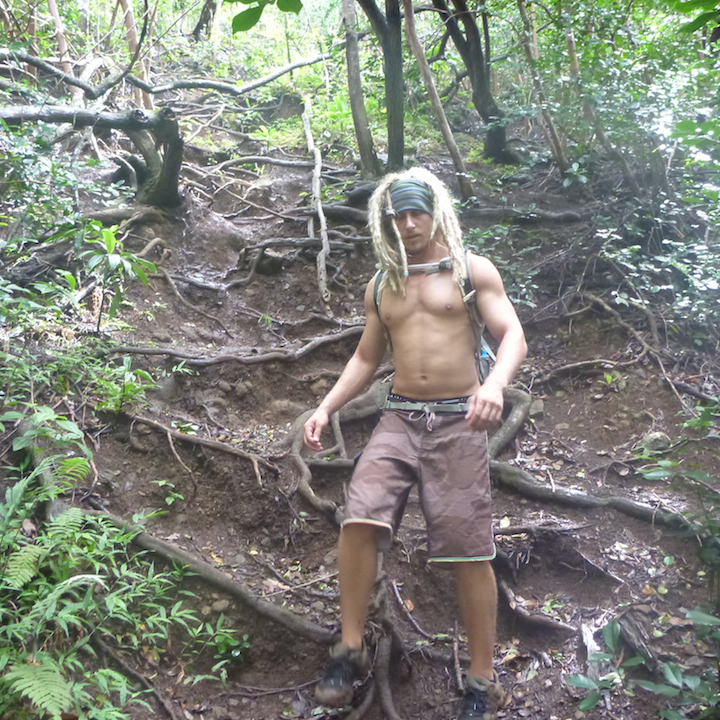 The slope down to the valley floor is steep and slippery, but manageable.  We were quite thankful for the numerous trees and branches that we held onto to secure our descent.  The descent took about 20min.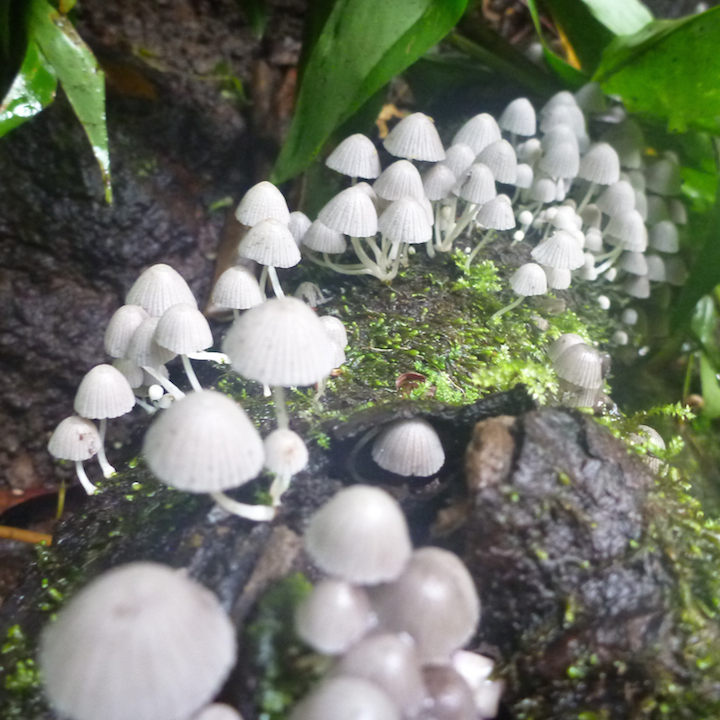 BABY UMBRELLAS!!!  As we neared the stream, everything became saturated with moisture. Our shoes were plastered in mud.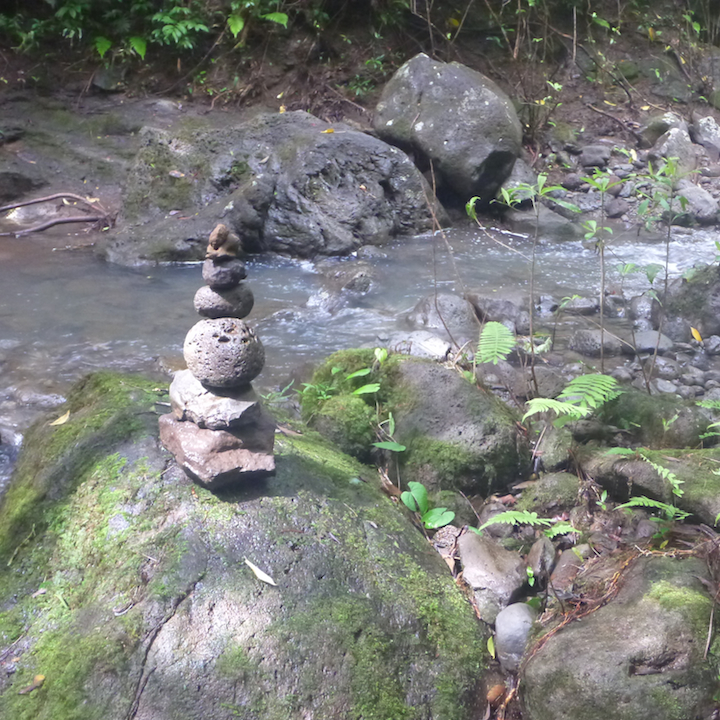 These rock stacks served as neat trail markers for us, as we continued our trek.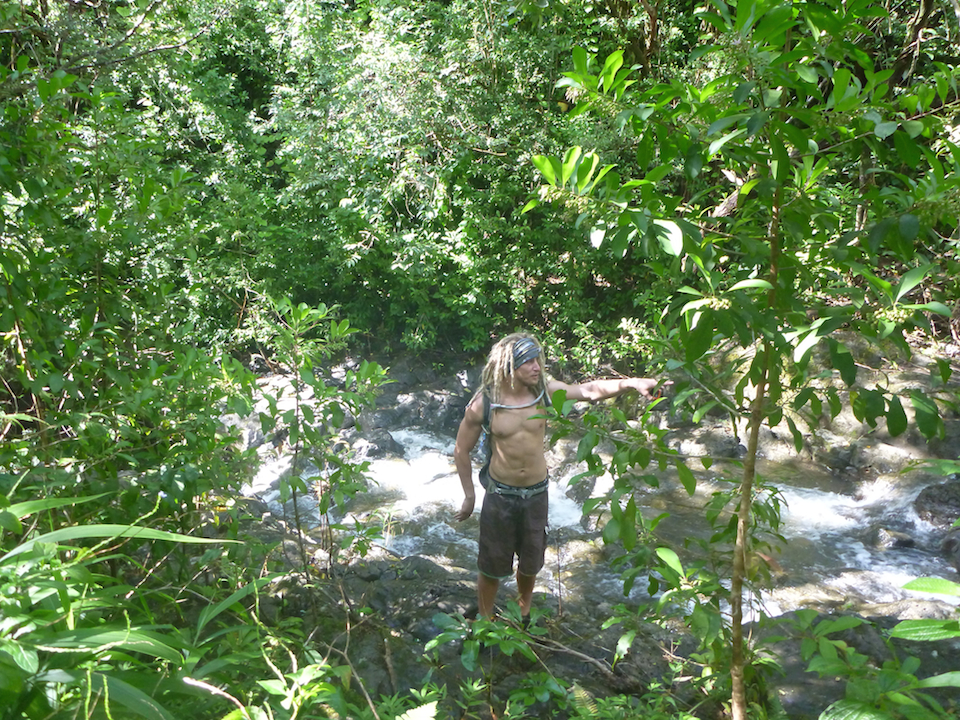 Once we reached the stream, my GPS indicated that we were about 3/4 of a mile from the our destination (in a straight line, but streams are anything but straight).  Also, if the stream is not flowing well, when you first get down from the ridge, that's a good indicator that the waterfall is dried up or just trickling…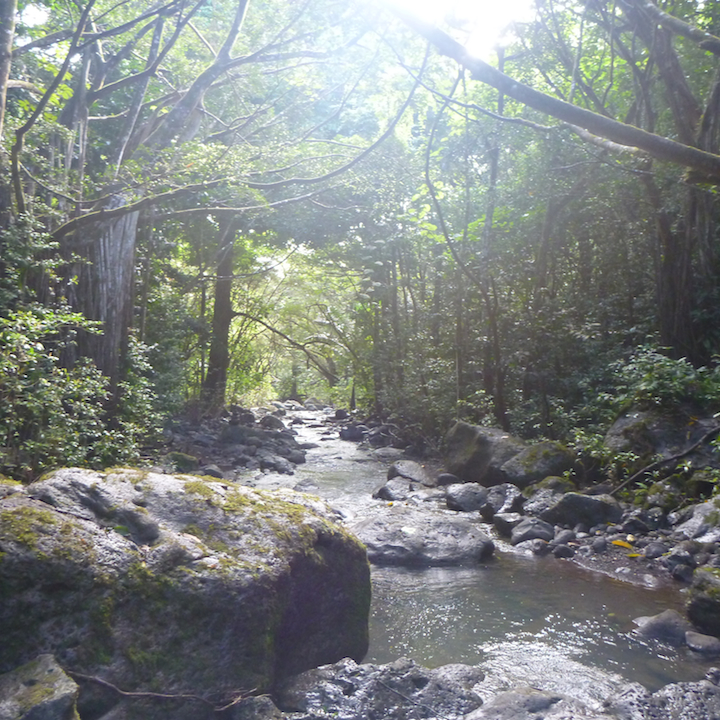 The trail is well marked, but requires that you cross the stream 6-8 times before getting to the waterfall.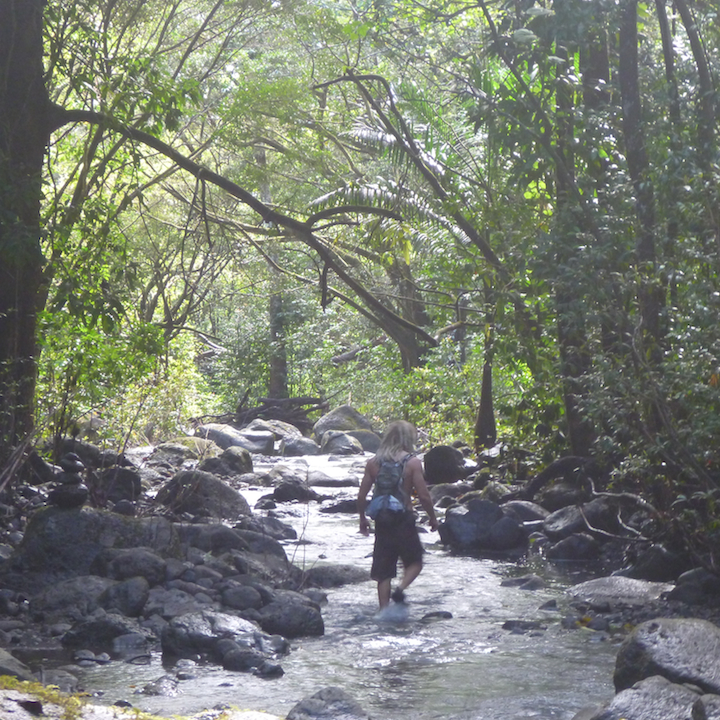 Some of the rocks were a bit wobbly and slippery, so be very careful.  After a bit, I gave up on keeping my shoes dry and decided to just splash my way threw the stream (I honestly find this to be safer than jumping and balancing myself precariously on unstable rocks).  It was a good opportunity to clean off my filthy shoes.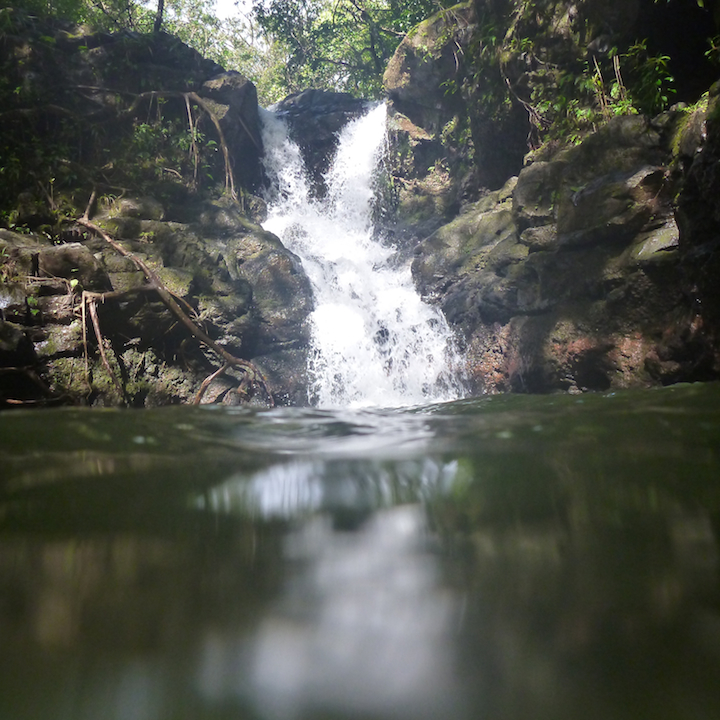 When we finally got there, I was quite impressed with the amount of water that was flowing.  Most of the pictures I had seen revealed a small trickle or a dried up rock face.  We got lucky. In the words of flight of the concords "conditions were perfect"!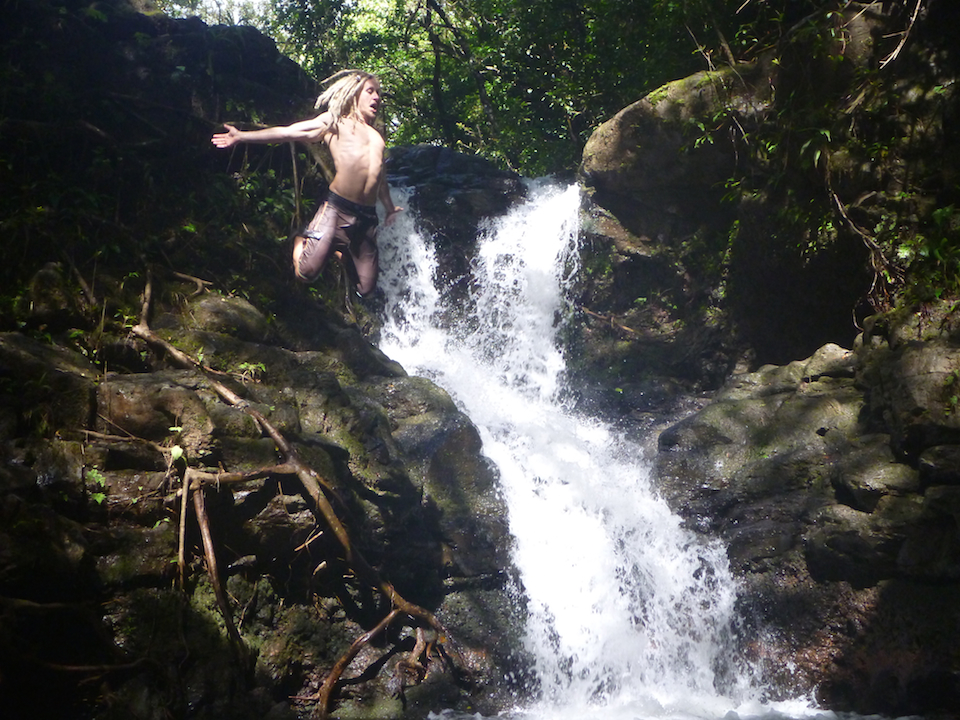 Although I'm not a huge advocate of jumping off of remote waterfalls, it was just too tempting to pass up.  I made sure to swim in the pool first though to check for any hidden rocks, tree limbs or sunken debris.  The last thing you want is to hurt yourself. Finishing a hike with an injury is never fun, and in some cases impossible.
We had a blast cooling off in our own little private waterfall.  Although we passed a dozen people during our 15min on the Aiea loop trail, we did not see a soul during the rest of our hike to and from the waterfall.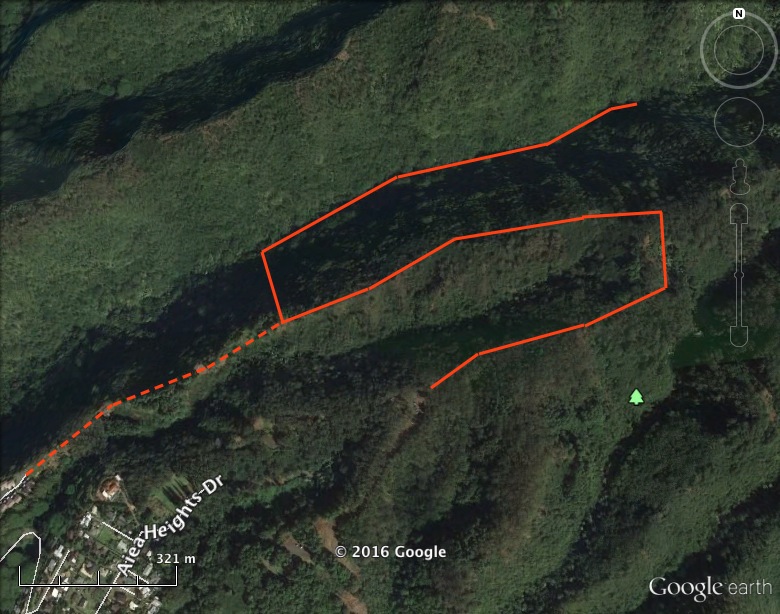 In the end, it took us approximately 3 hours to make the 3.5 mile journey to the waterfall and back to the Aiea loop trail parking lot.  However, after checking our route on the GPS, it appears that this hike could be made significantly shorter if started from the end of Aiea Lani Estates (the dashed line trail in the lower left on the map).  Just my own opinion, but someone ever tries to talk you in to doing the Aiea loop trail, take them Kalauao Falls instead (way more fun, beautiful destination, shorter hike).  I will be posting the rest of our labor day adventures soon.  Get out there! Have fun and be safe!