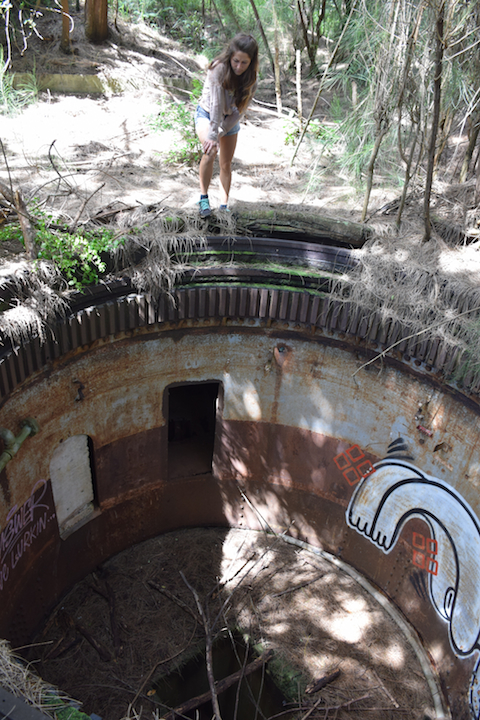 Being the World War II nerd that I am, I could not refrain from investigating rumors of an abandoned WWII bunker on Oahu's Koolau mountain.  The concealed military reservation was supposedly comprised of 3 bunkers.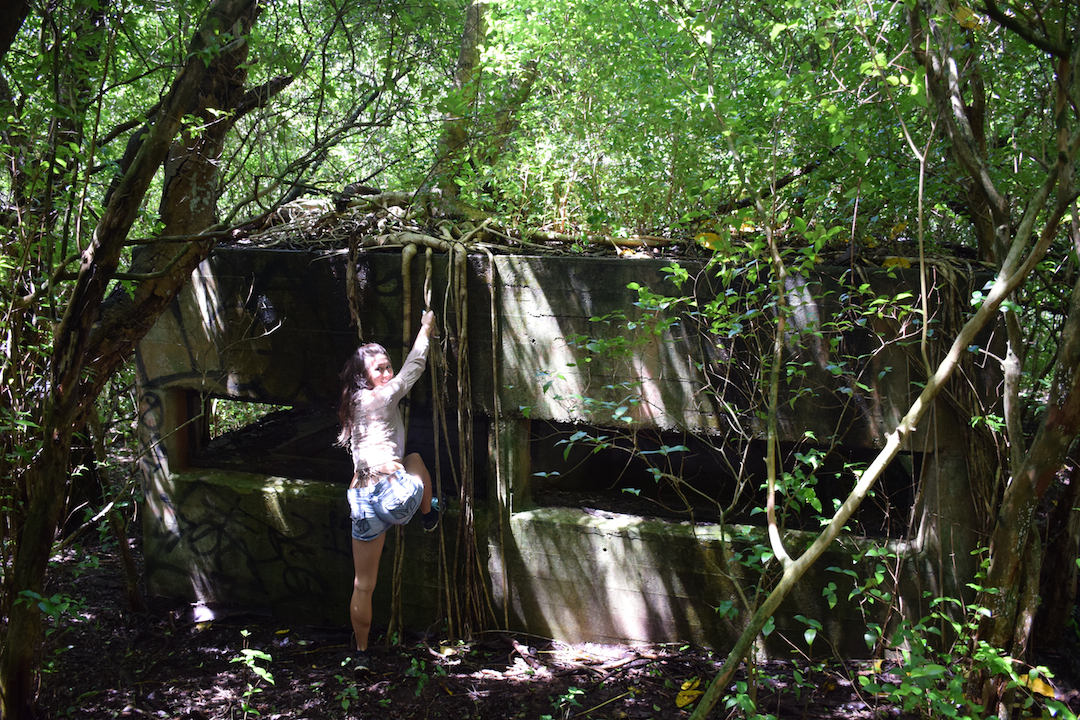 After a walking through the mud and dense foliage, we fortuitously stumbled upon an overgrown structure.  It appeared to have windows, but no doors.  Looking through the gaps only revealed a deep shaft.  As it turns out, This structure was actually a concrete vent housing. It was meant to allow exhaust to escape from internal combustion engines housed bellow.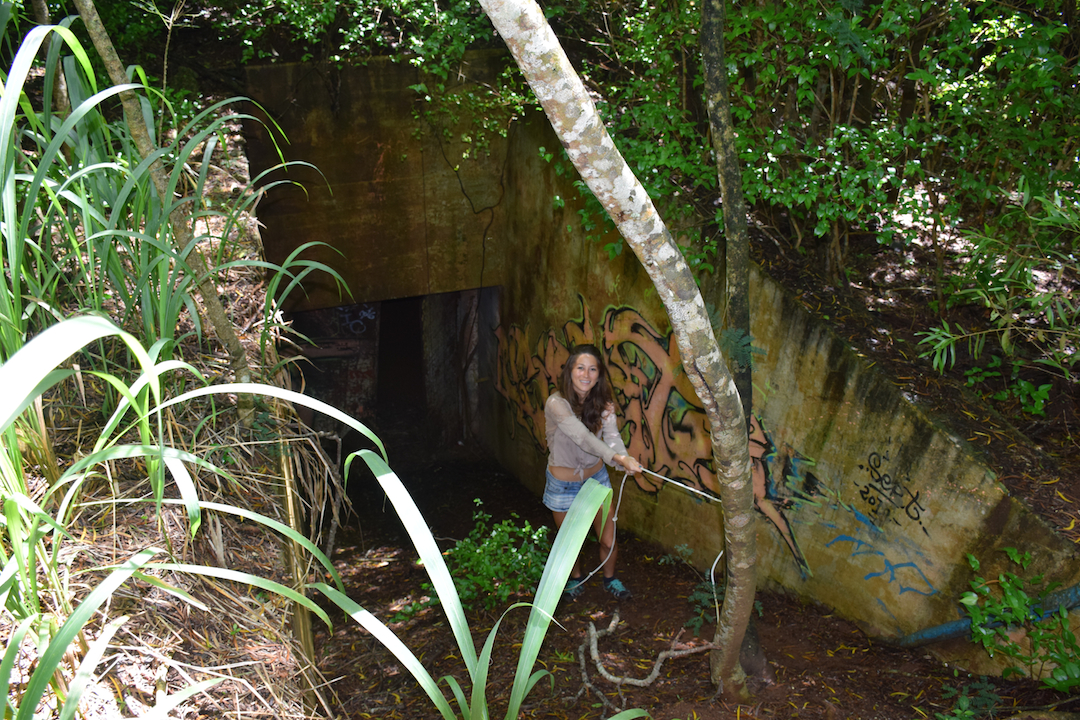 After a bit more searching, we eventually found a doorway.  The walkway was very steep. If there were stairs, that had long been covered up by mud and wet leaf litter, making the descent particularly slippery.  Luckily for us, someone was resourceful enough to tie a coaxial TV-cable to a tree to help us get down and back up. Who goes hiking with a coaxial cable?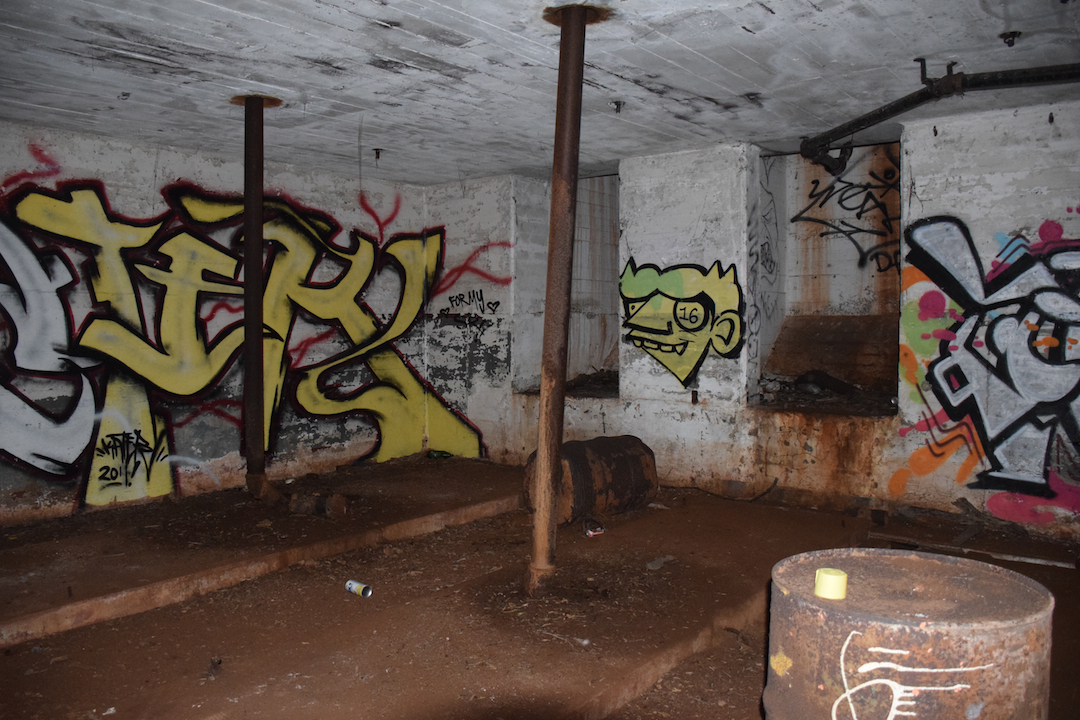 Slipping between the rusted, jammed doors lead us into the generator house.  The mounting slabs on the floor would indicate that this power room had been equipped with two large generators and one smaller auxiliary generator.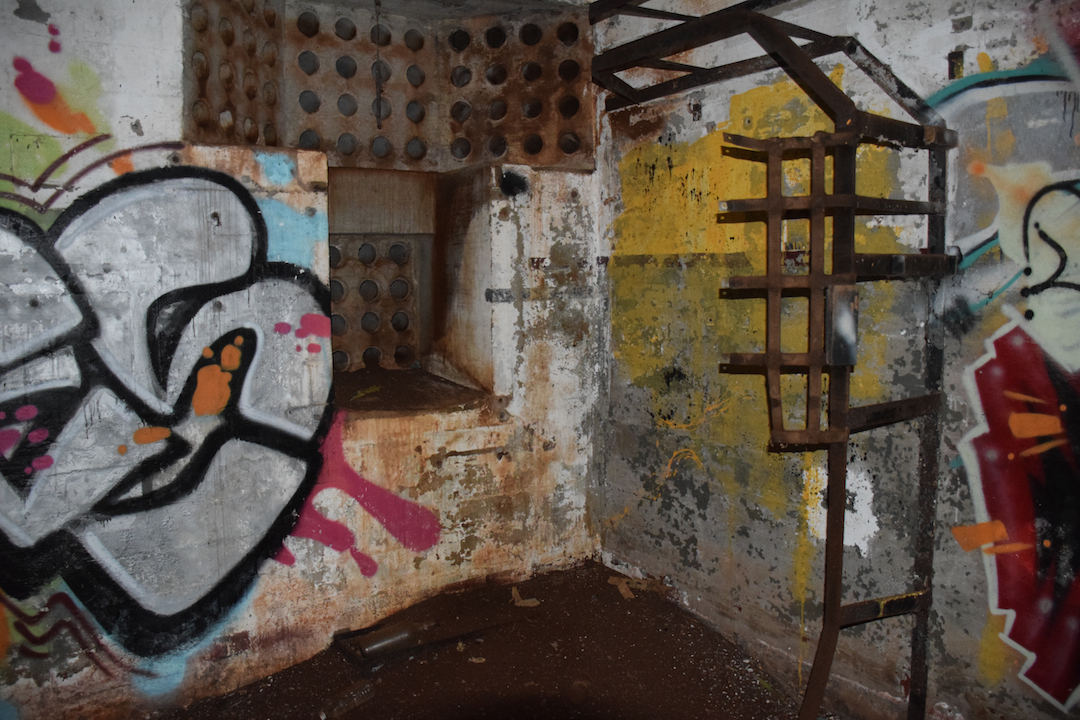 The "art" on the walls were hardly period pieces, but they did liven up the dark room a bit.
The odd structure built into the wall may have been where the Mk XX naval computer sat. Holes in the wall would have been conduits for power lines and data transmission.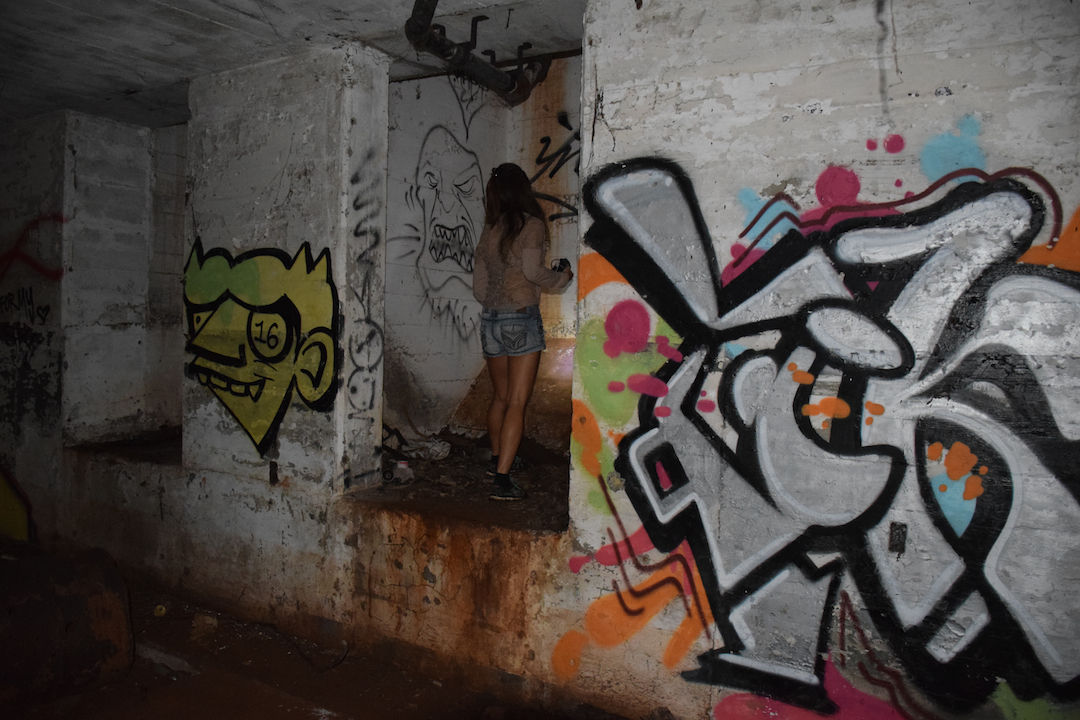 We had a chance to checkout the exhaust vents that we had seen from above.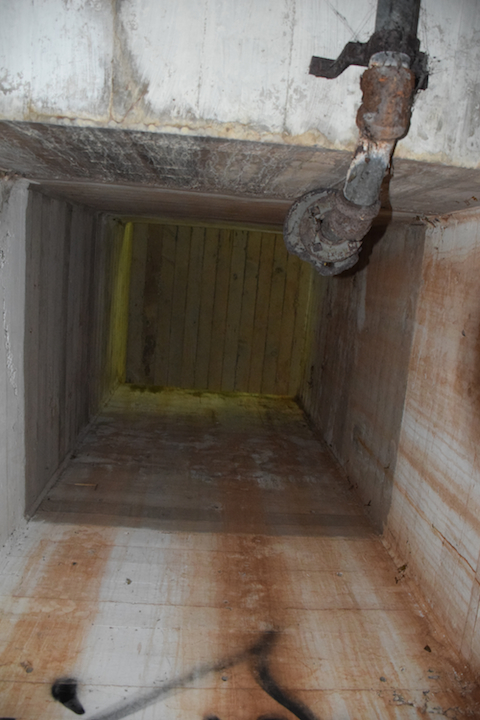 The shaft was at least 20 feet deep.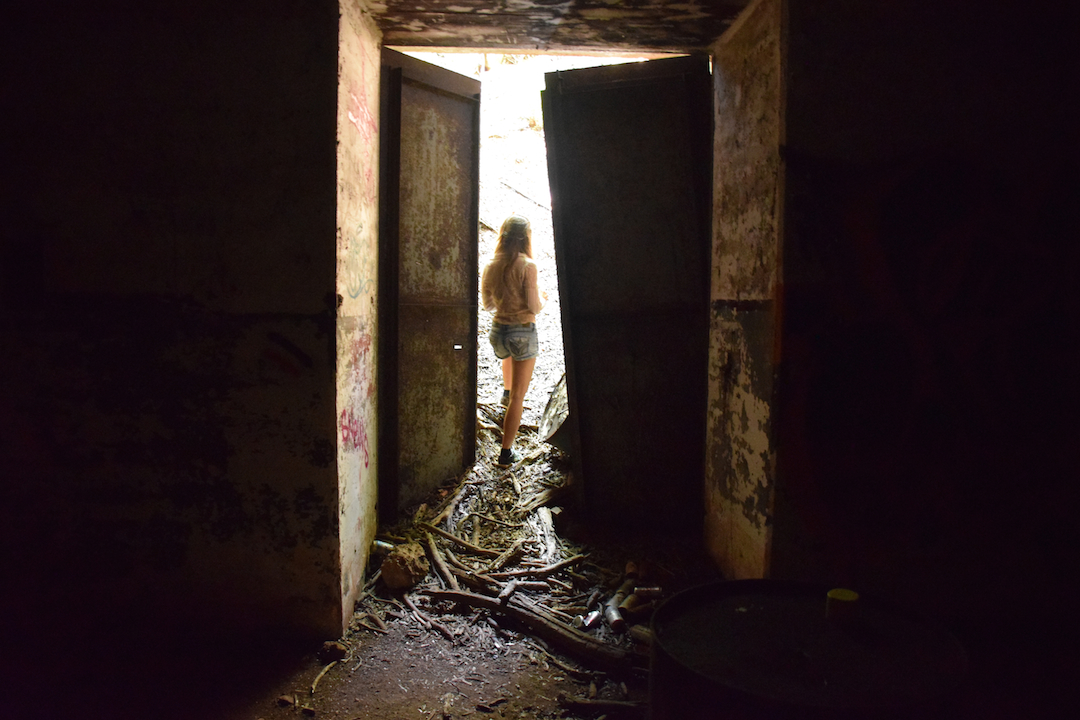 There were no other rooms or doors down there, so we scurried back up the slippery hill to continue our exploration.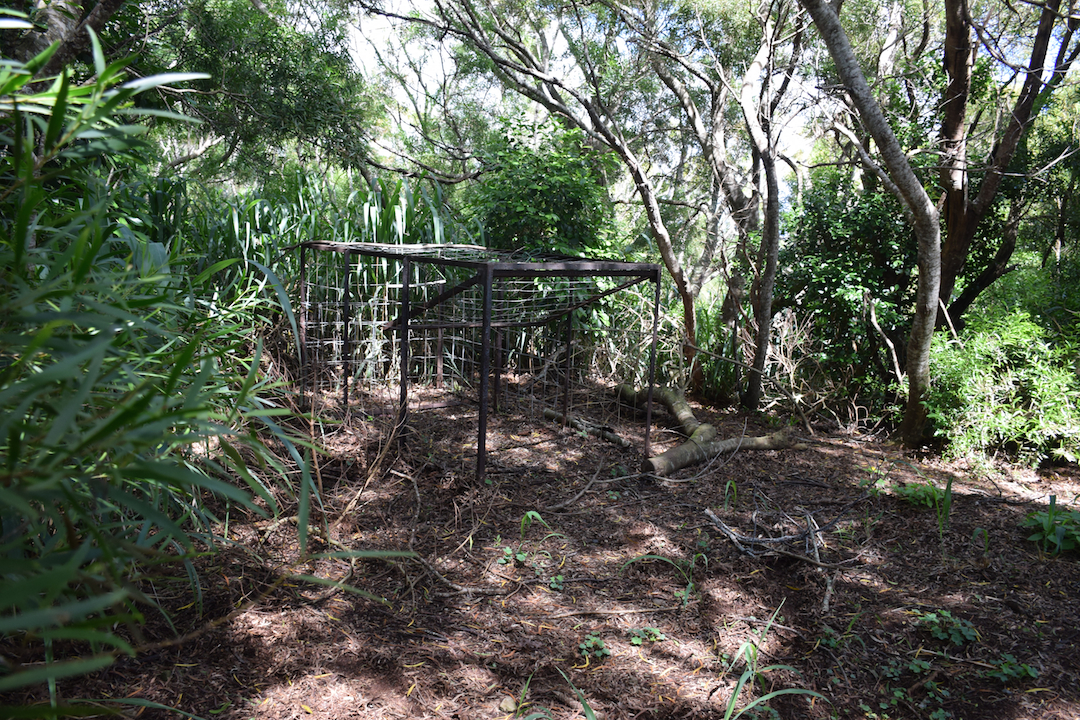 Pushing our way through the tall tangled grass and scratchy branches, we came upon some sort of trap.  The cage was about 4ft tall.  I'm assuming whoever set it was trying to catch pigs (or maybe goats).  I had never seen such a trap, outside of cartoons.
Along our journey through the woods we found some old concrete plumbing of sorts, which totally reminded me of the warp pipes in Super Mario.  But why would these be out here?
After meandering all over the woods and retracing our steps several times, we finally found it.  The 12ft diameter barbette, dug 15ft into the ground, used to be a turret that hosted twin 8-inch guns.  This was super encouraging. At least we knew that if we could not find the door into the battery, we could always crawl down from the barbette.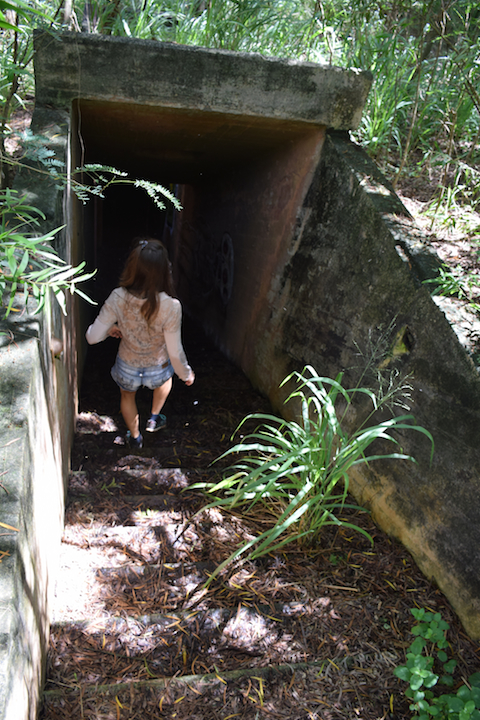 Fortunately, we found an entrance hidden amongst the tall grass and dense trees.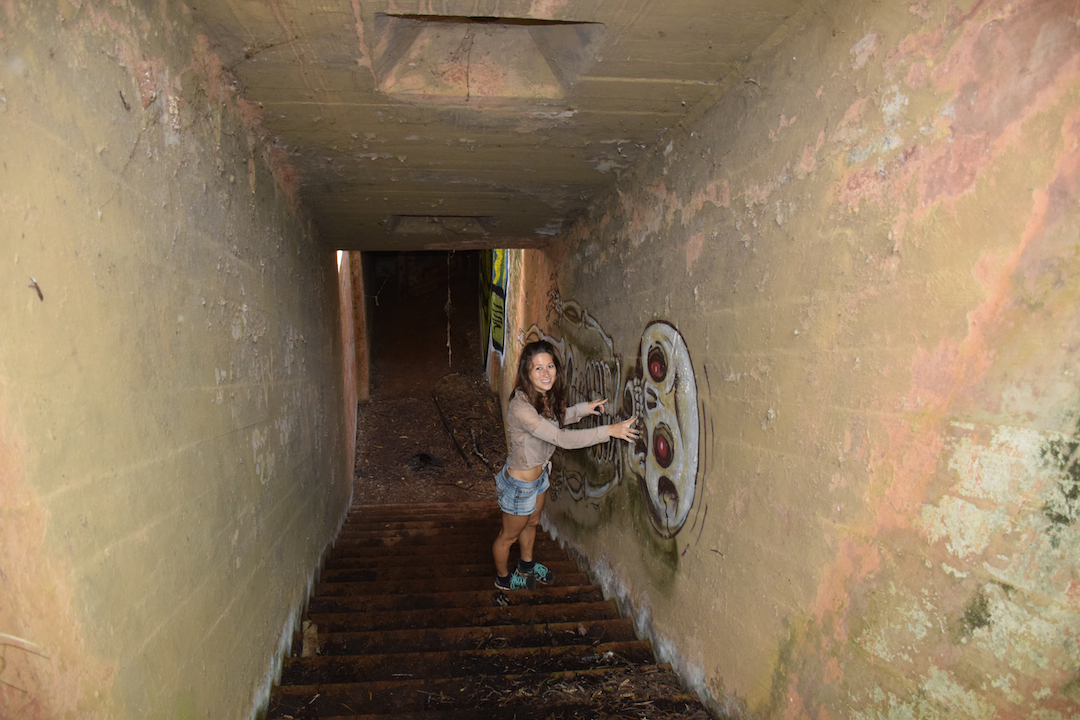 I'm not typically a fan of graffiti, especially on historical monuments.  But this one was pretty cool.
Wow! Someone really put some time and effort into this piece. This was one of the coolest spray-painted murals I'de ever seen, and probably my favorite now.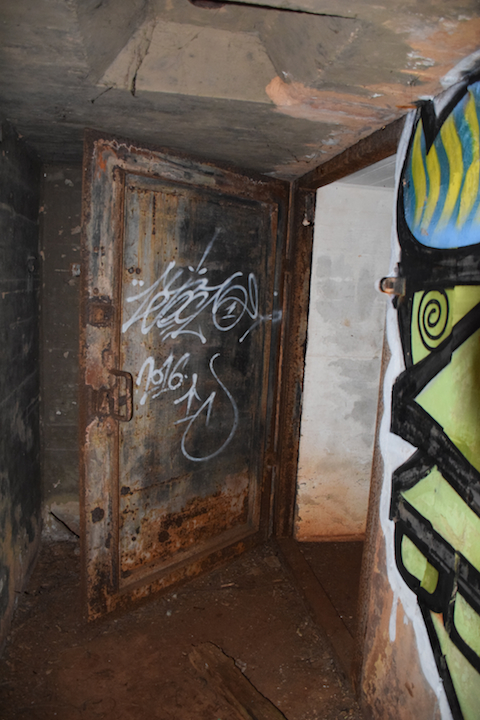 Door could use a little WD-40.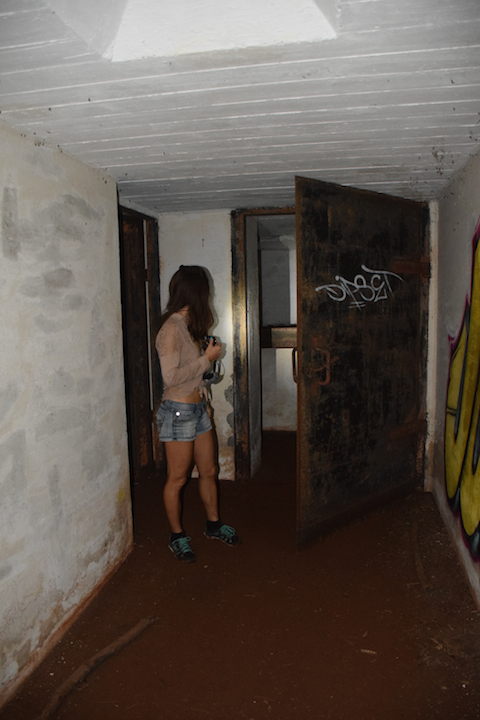 As soon as we entered the chamber, a side door led us into a tiny dead-end room.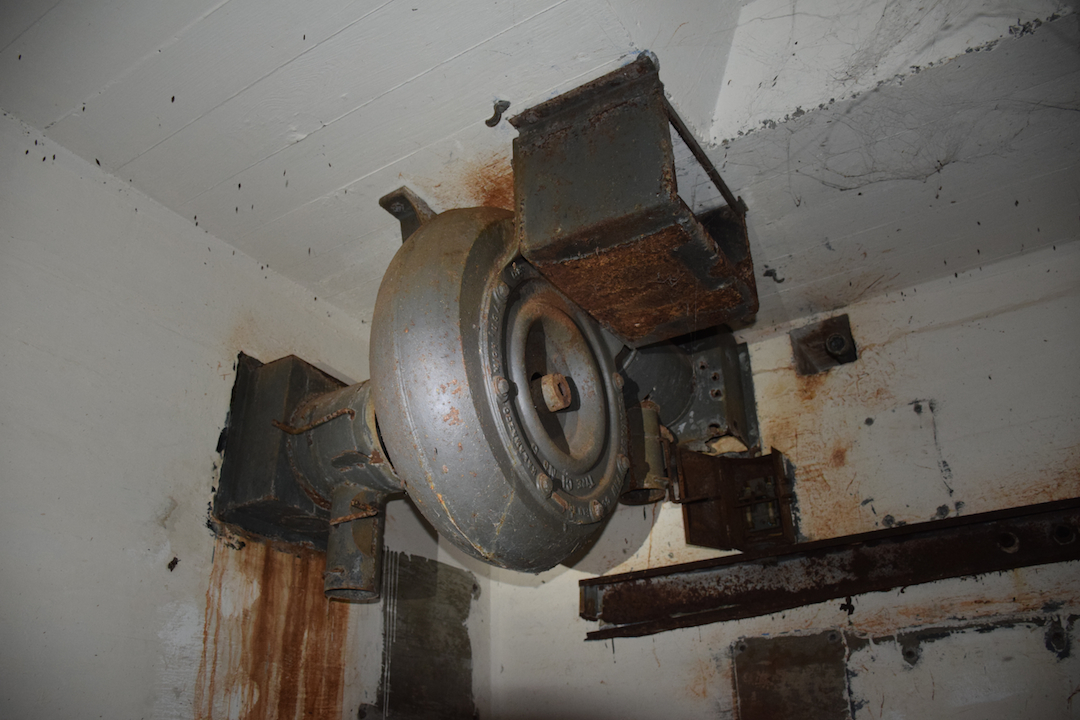 Inside we found a heavy duty ventilation duct, which must have been super important back when staff were running around and the turret machinery was operational. I would imagine that a confined underground space could get hot and stuffy in a hurry.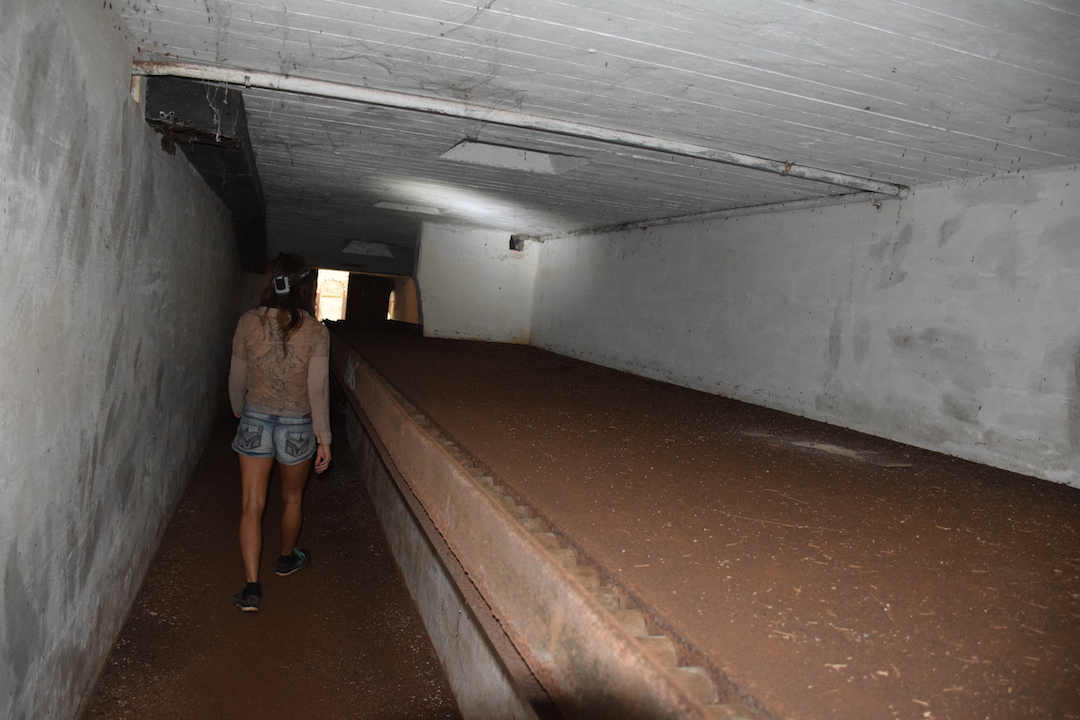 This would have been one of the powder magazines.  250 powder charges could be in here sitting at the ready.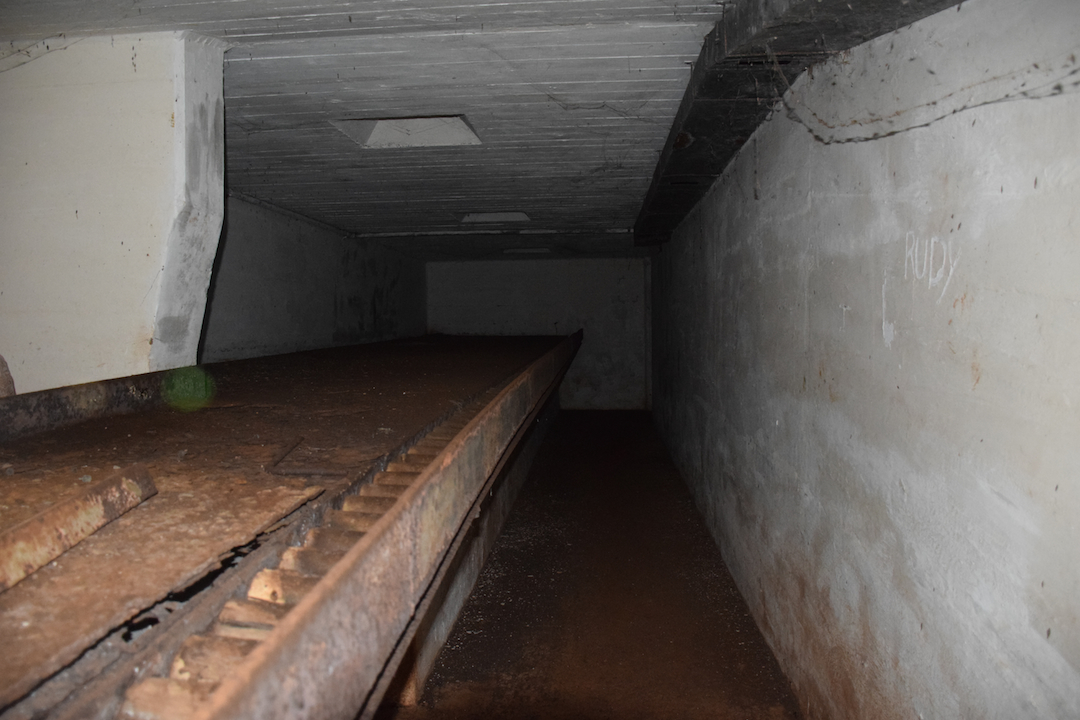 Powder canisters could be rolled down the table, then loaded into the barbette.  From there shipboard elevating mechanisms would load them into the turret.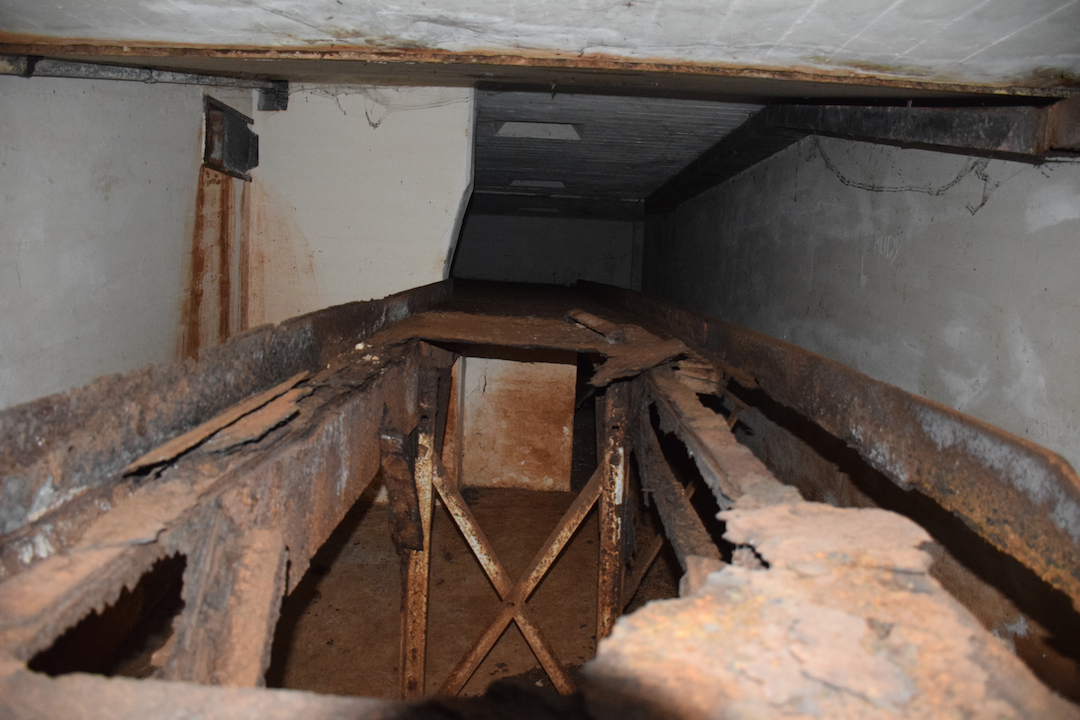 Hope you got your tetanus shot, because this is the only way through.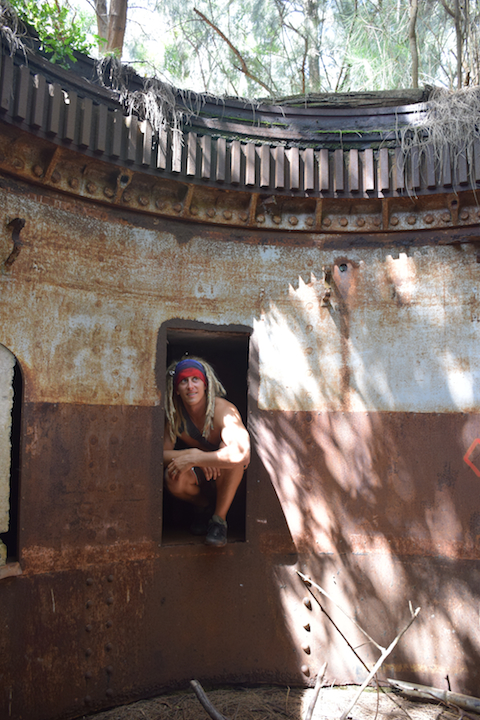 The battery would have been shaped life a "V", with the turret at its vertex.  The powder and projectile magazine were separated, and loaded independently into the barbette.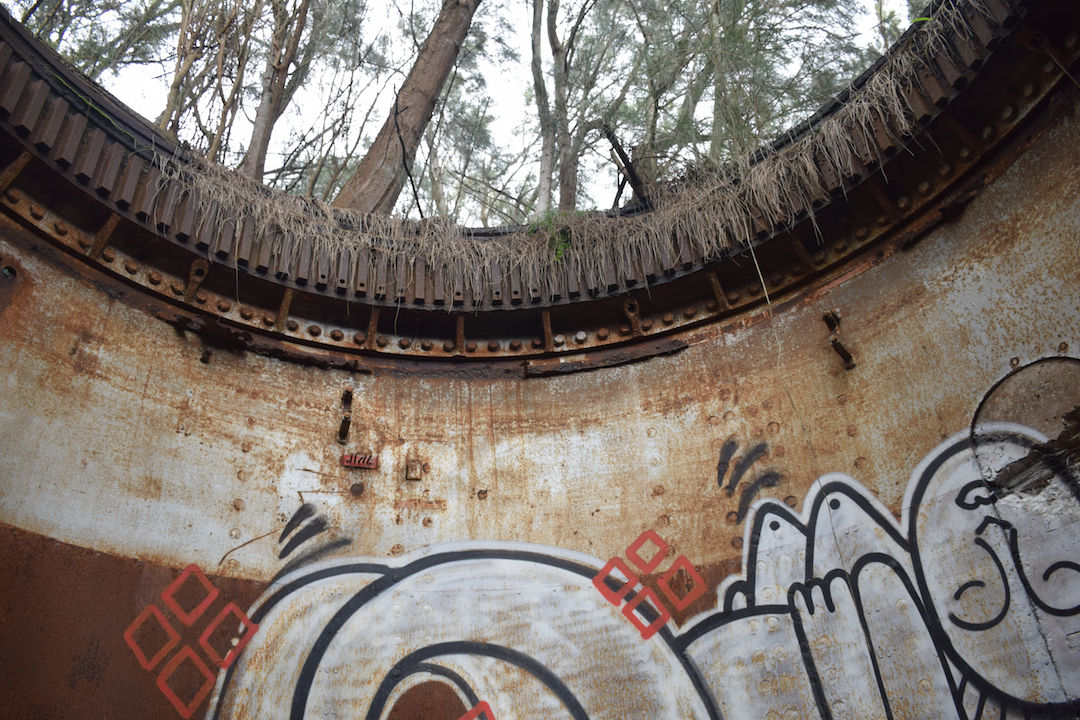 I'm kind of surprised this place was not flooded.  I've actually always been amazed at how engineers design underground structures in such a way that they do not take on water, even after such a long period of time.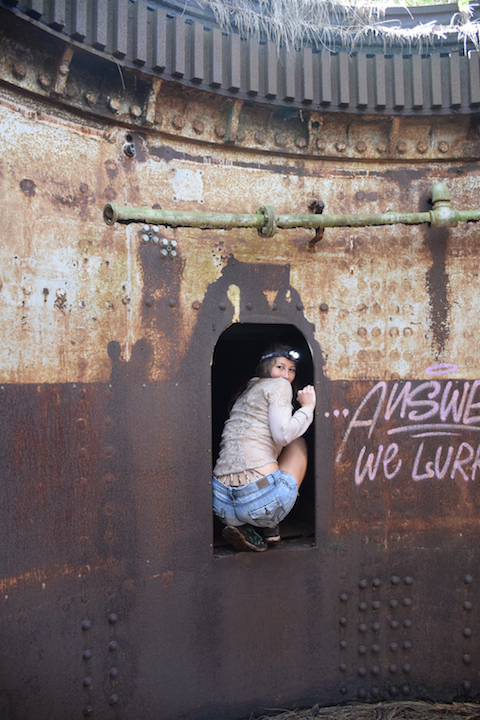 We would now be entering the projectile magazine.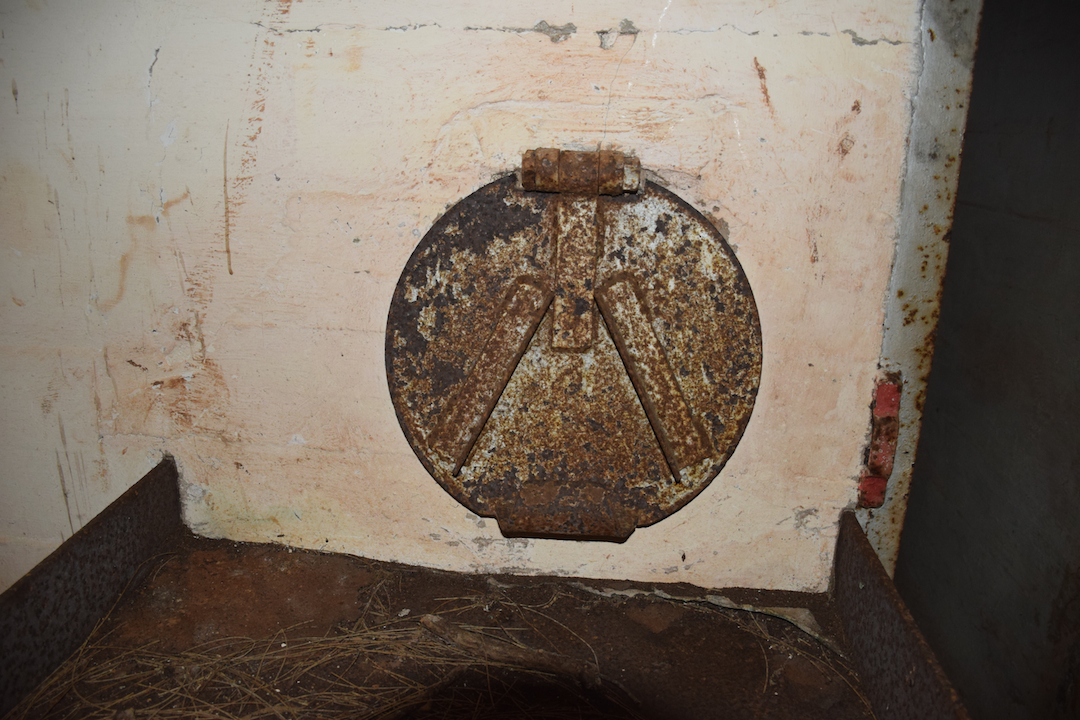 Peculiar structure.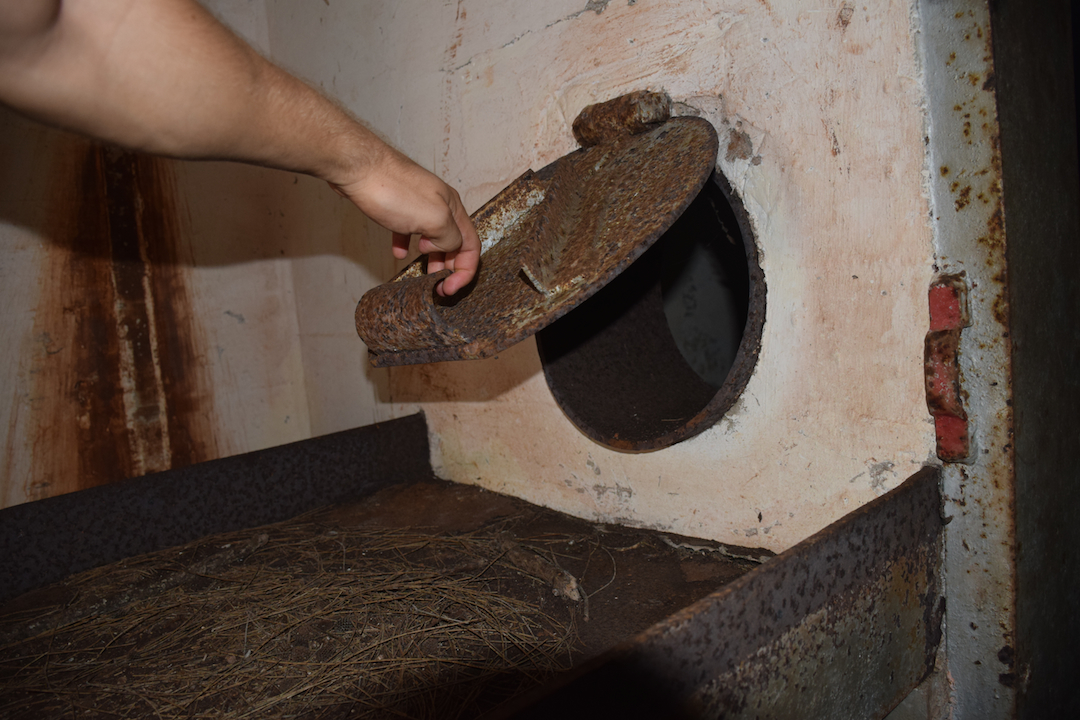 Oh snap! It moves! It's a hatch.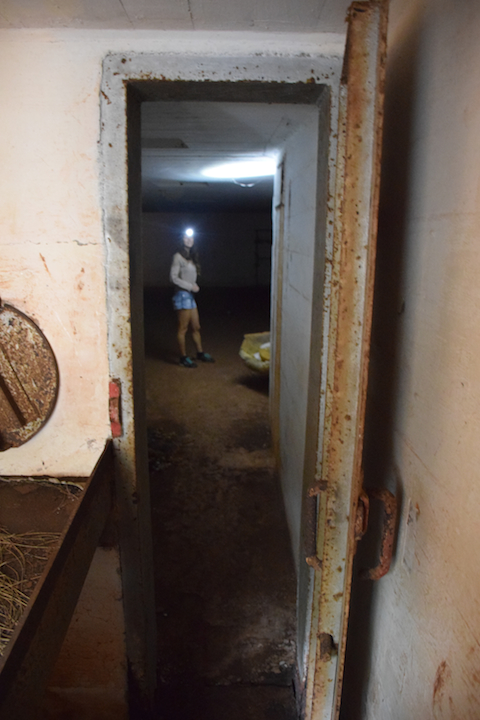 Am I huge or is this doorway just narrow!? Either way I relished the opportunity of having to turn sideways to get through the door 😛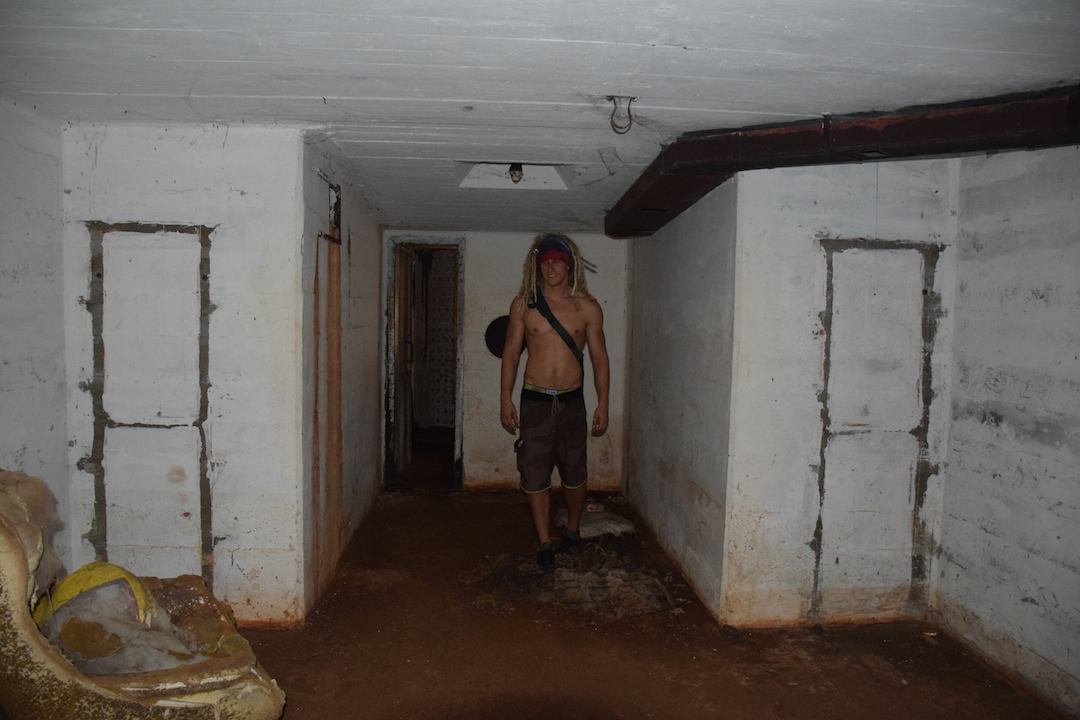 Now, as I'm looking through my sources I'm seeing photos of a room identical to this at Battery George Ricker, and they are calling it the powder room. Yet my source claims the first room we went through was the powder room.  If anybody knows, please let me know in the comments.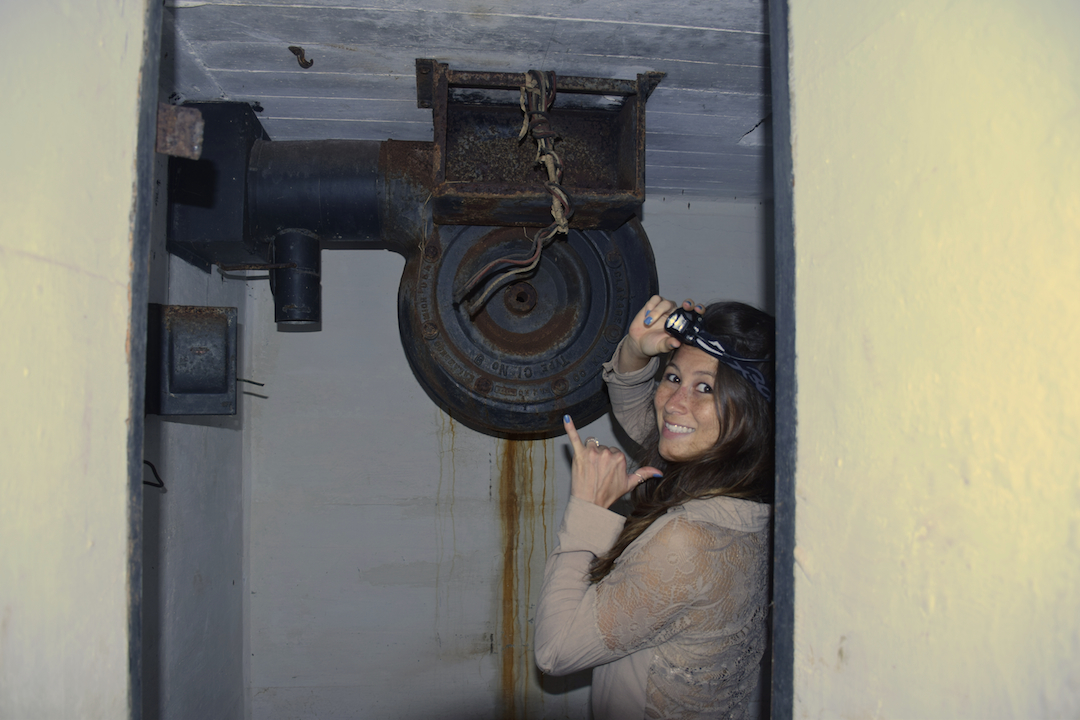 We found another fan on this side of the battery as well.  As it turns out, these were more than simple ventilators.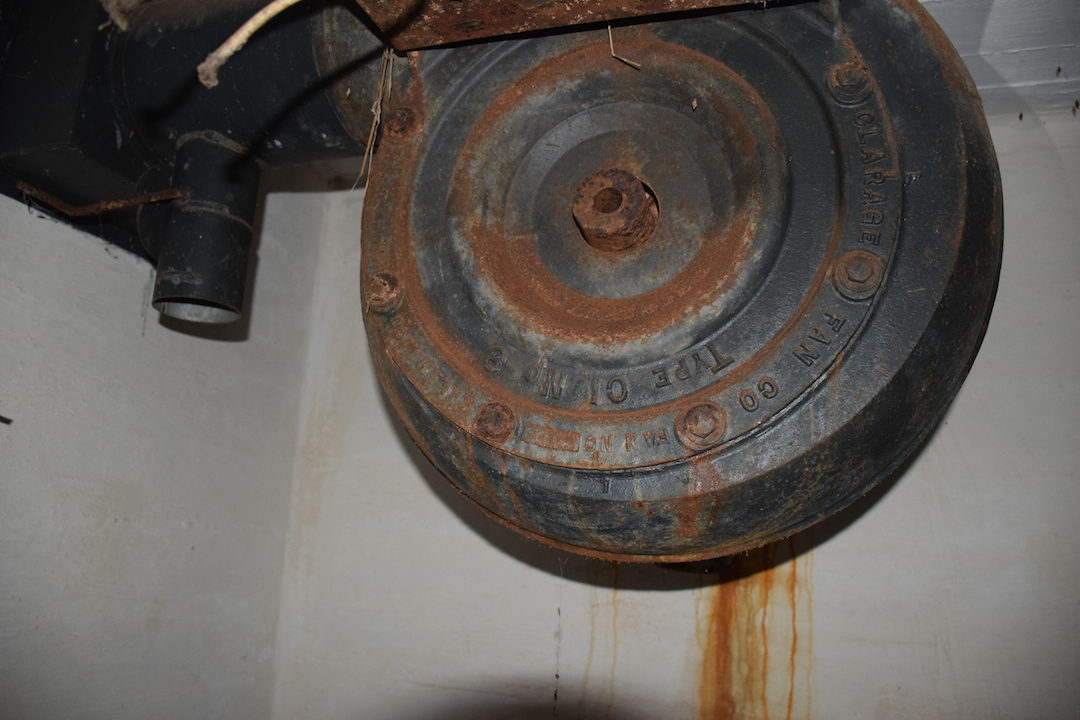 These air ducts were equipped with Chemical Warfare Systems (CWS), in order to render these batteries gas-proof.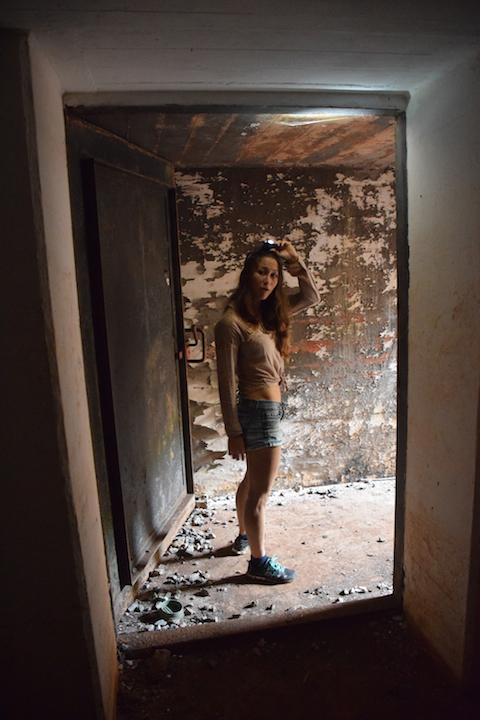 Where would this door lead us?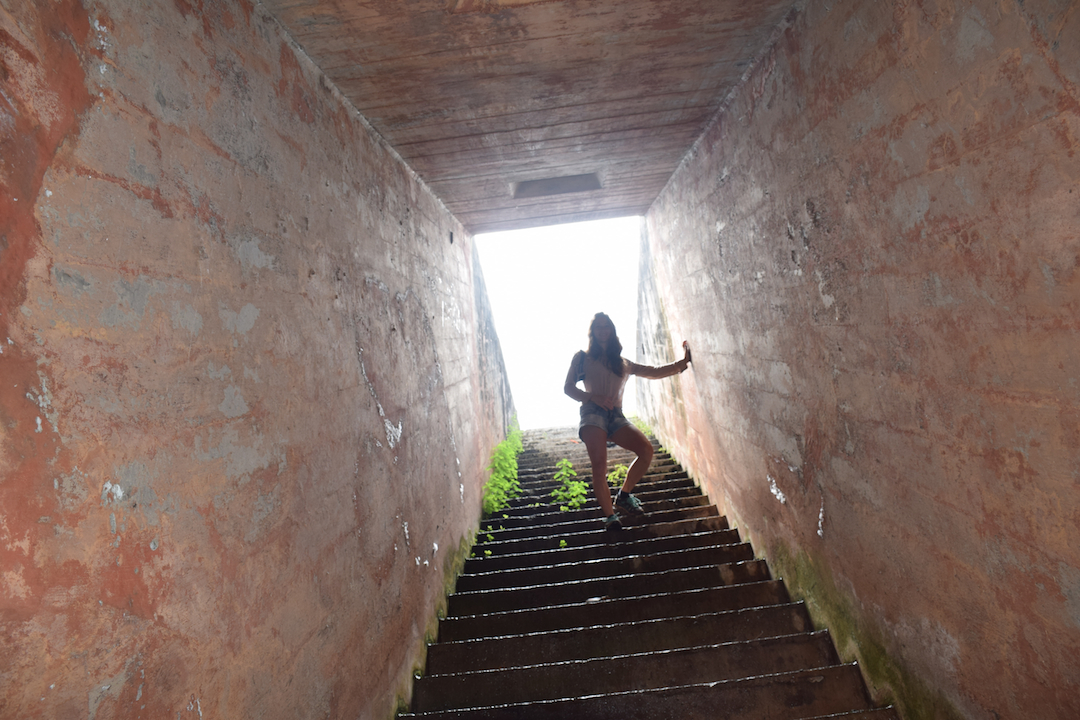 Another entrance!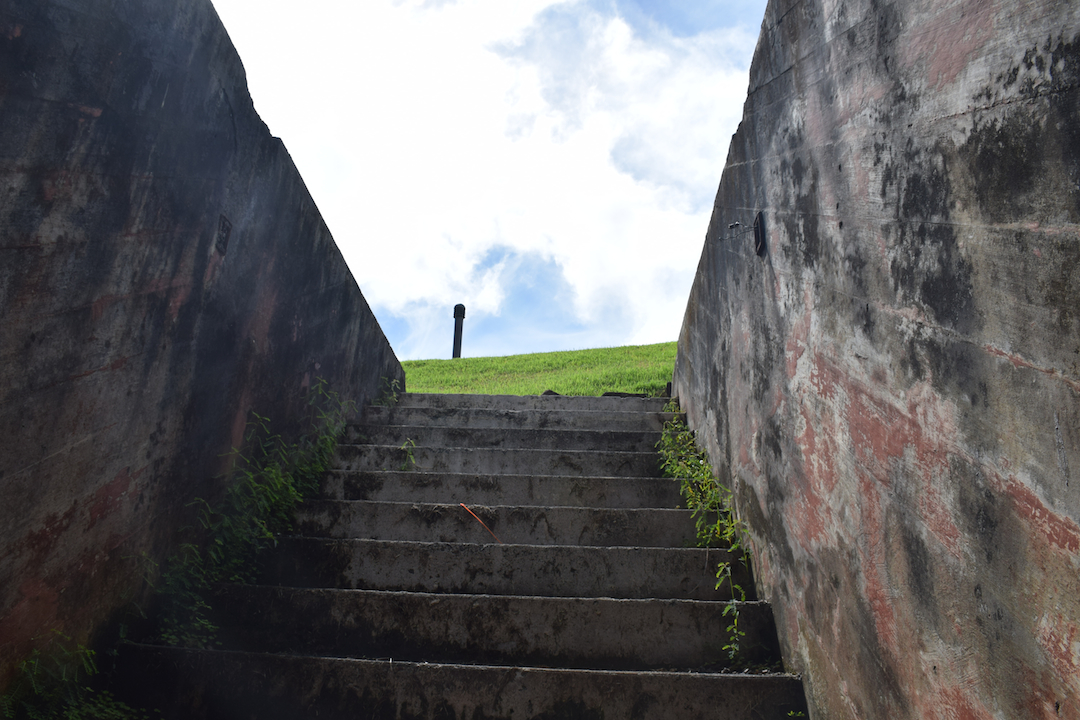 Unfortunately, it rose up into private property.  As it sounded like people were nearby, we quietly turned around and went back the way we came.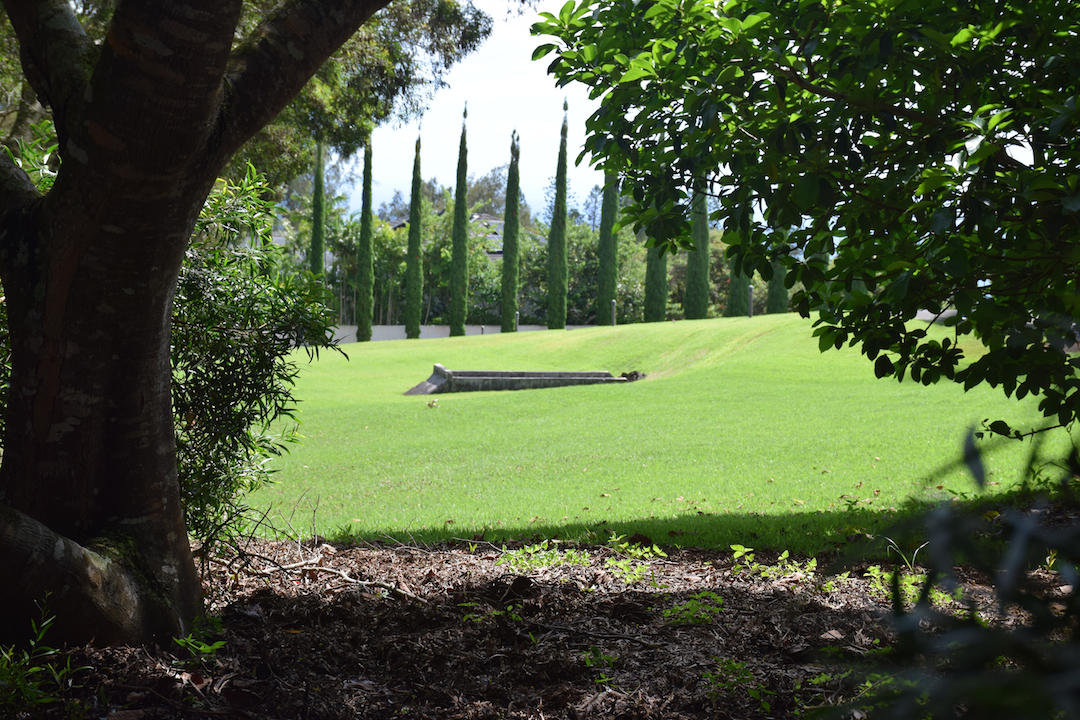 The realization that a portion of the bunker was on private property was a bitter sweet moment.  On the one hand, how cool is it that some millionaire built his house on top of a WWII bunker (did he turn it into a bat-cave?), on the other hand that meant that a portion of the battery was completely off limits…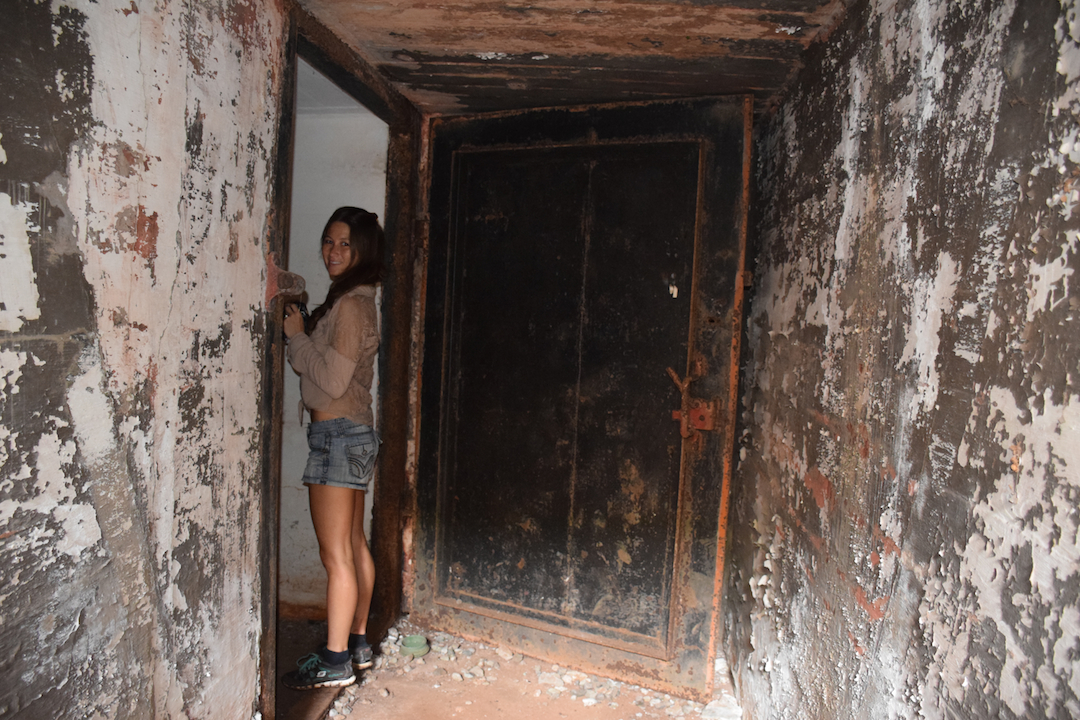 It's all good though.  We were stoked that we got to explore as much as we did.  So cool how these little hidden gems are still all around Oahu.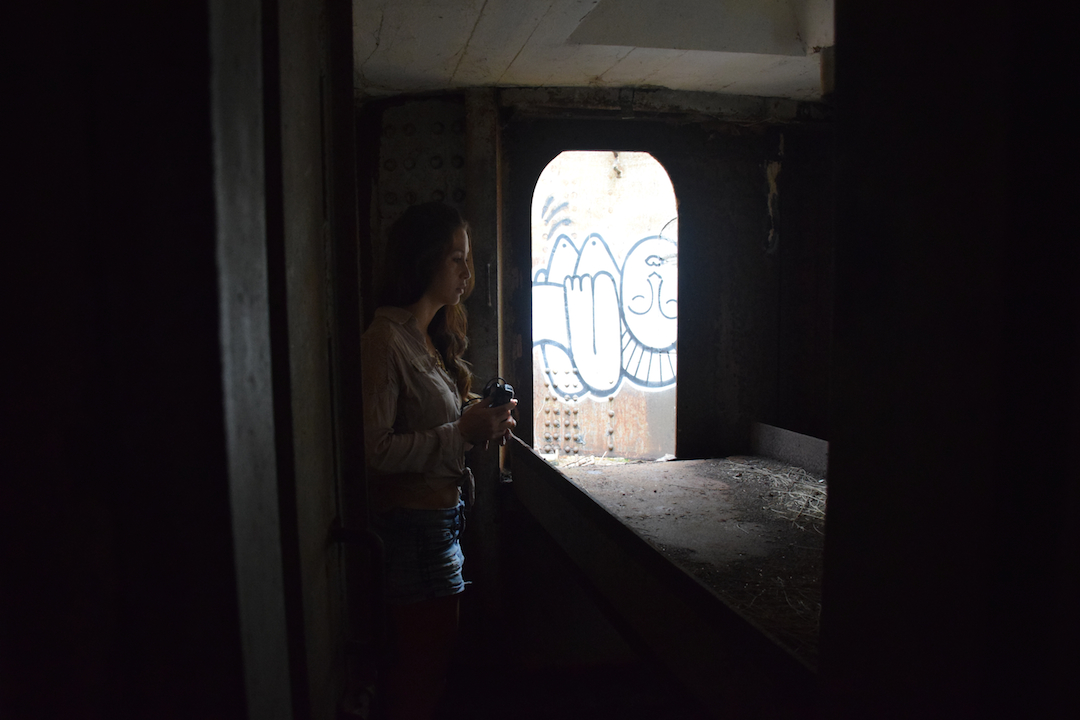 As we were making our way back, we found something…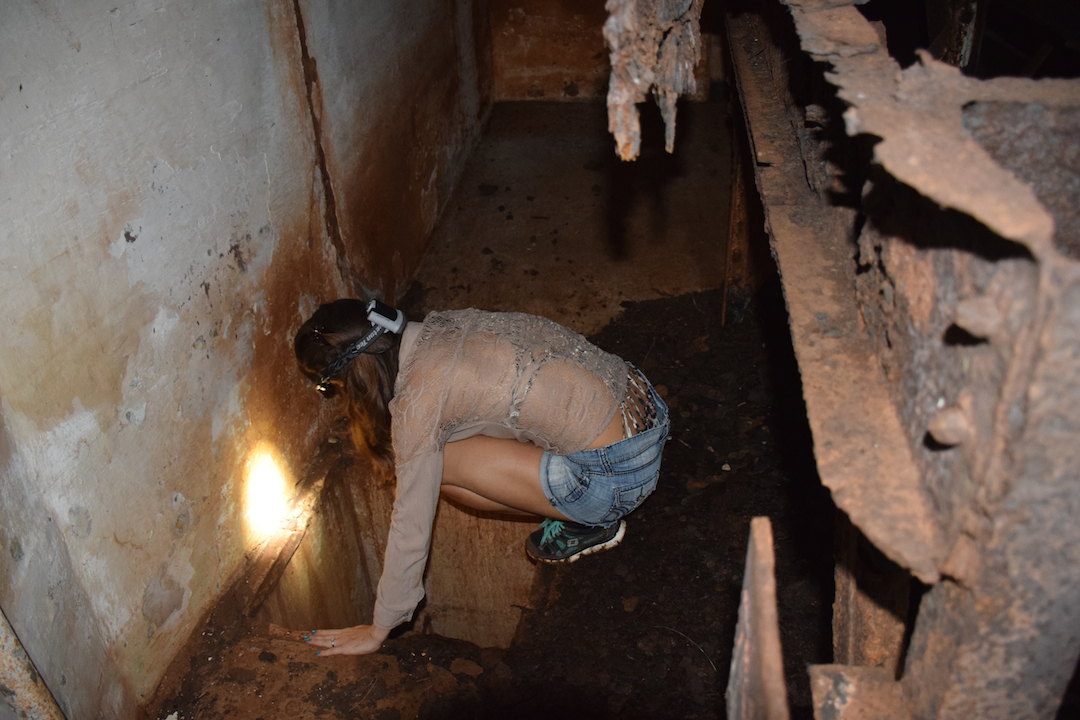 A sort of manhole, leading down to a lower passageway.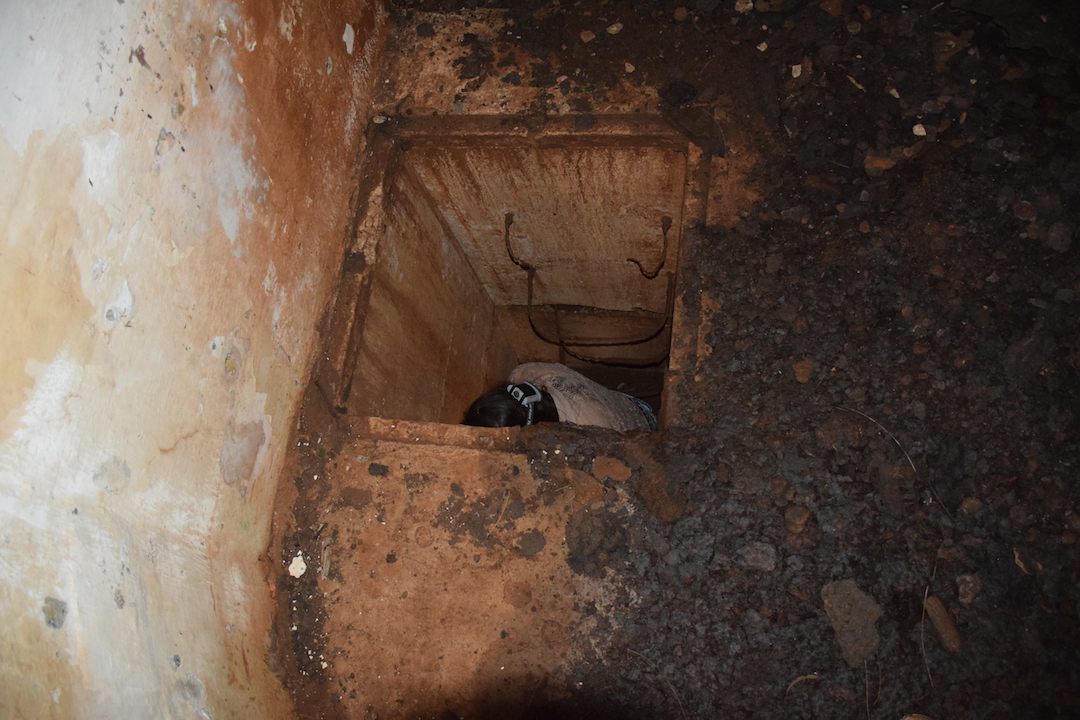 My wife was intent on figuring out where it went.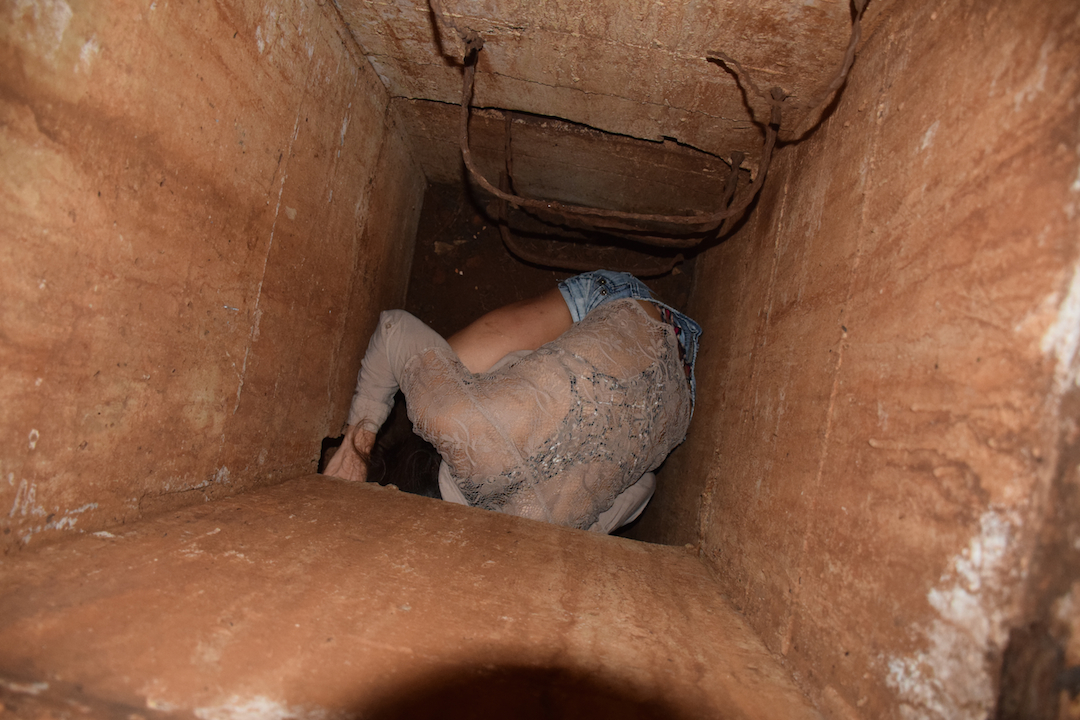 Find any buried treasure?!?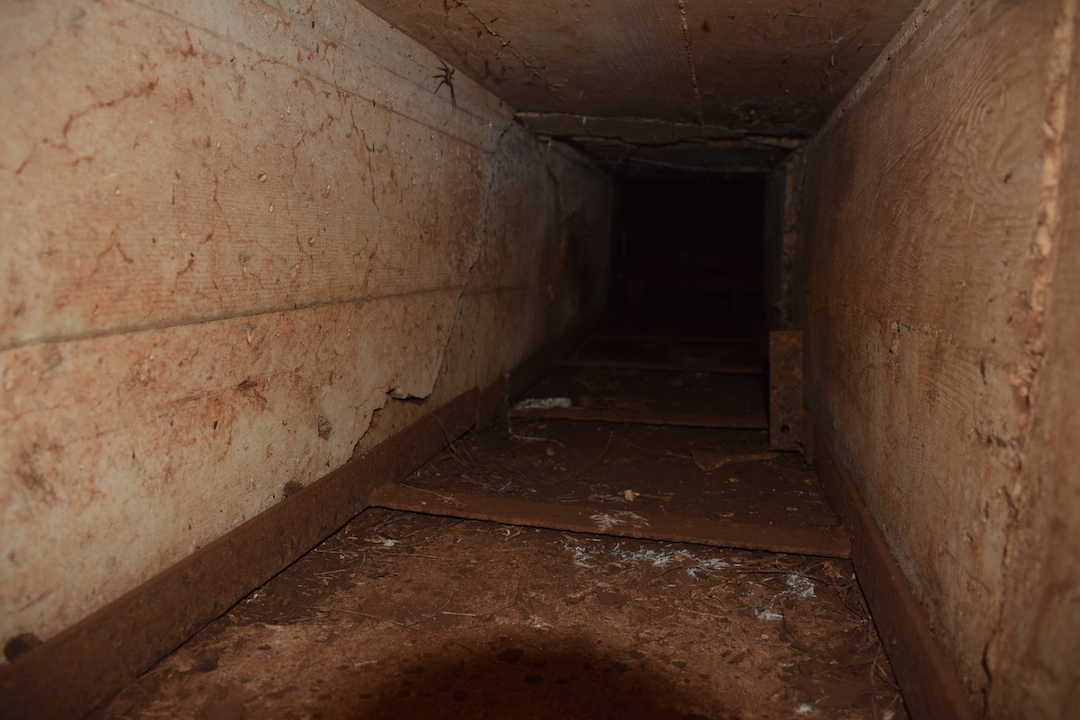 The tunnels continued in opposing directions that we could have crawled through. But the  we decided we didn't want to get bit by any brown recluse spider, and turned around.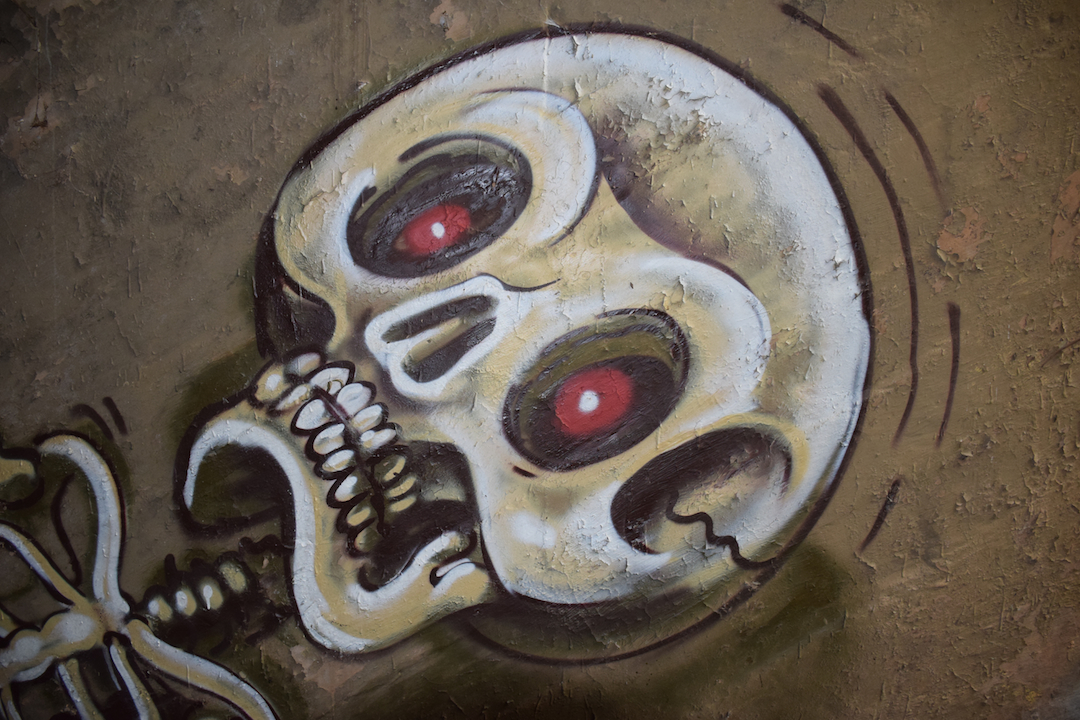 After the attack on Pearl Harbor, the U.S. feared additional attacks on Oahu, potentially even an all out invasion.  Coastal defense bunkers were quickly and strategically erected all around Oahu.  This bunker, built in 1942 on the Wiliwilinui ridge came to be called "Battery Wilridge".  The site was renamed in 1946, after Lewis S. Kirkpatrick, a Lt. Colonel who was imprisoned during Japan's siege of Manila Bay.  Kirkpatrick died while in custody of the Japanese military in 1943.  Although no longer present, Battery Wilridge's guns were quite impressive.  The two twin 8-inch guns Wili had been outfitted with came from the aircraft carrier, USS Lexington.  In March of 1942, the ship replaced its four 8-inch guns with seven quadruple Anti Aircraft guns.   The ship's four turrets were mounted on its starboard side.  In Theory, the guns could have fired in any direction, but realistically if they had been fired in the port direction (across the ship), the blast would have damaged the flight deck.  Unfortunately, her new AA guns were not enough to guard her from the formidable Japanese Navy/Airforce.  USS Lexington sunk during the battle of the coral sea in 1942.  During the battle, Lady Lexi (as they called her), was hit by 2 torpedo bombers.  Lower compartments began flooding and the ship began to list sideways.  She was later struck by 2 additional bombs, causing multiple fires to break out and the ship to take on more water.  Fuel was pumped away from the flooded side of the ship, to counterbalance its list.  Despite suffering multiple internal explosions, presumably from gas leaks, the crew was able to maintain flight deck operations for another 4 hours. Despite holding their own in this ferocious battle, another huge explosion caused sever fires in the hangar and blew the forward elevator a foot above the flight deck. More explosions ignited and more compartments had to be evacuated. Three hours later the order to abandon ship was given. 216 Crewmen lost their lives during this battle, but 2700 were evacuated and rescued.  However, the USS Lexington's legacy persisted on the Koolau mountain range of Oahu through her redoubtable guns.  At 1200ft of altitude, Battery Wilridge's 8-inch guns boasted an impressive 18 mile range.  Wili could cover naval approaches from the South, SouthEast and SouthWest, thereby protecting Pearl Harbor and Honolulu (Not to mention they could also fire North).  The battery was equipped with High Explosive (HE) projectiles, as well as Armor Piercing (AP) projectiles to use against enemy cruisers.  Commanding Officer Higbe explained that the turrets could also target roads and bridges to slow the enemy progress, in the event of a land invasion.  Battery Wilridge was the last naval turret battery built on Oahu.
I hope you enjoyed our little adventure.  To read more about other Coastal Defense bunkers checkout: Koko Head, and Secret Abandoned Bunker.