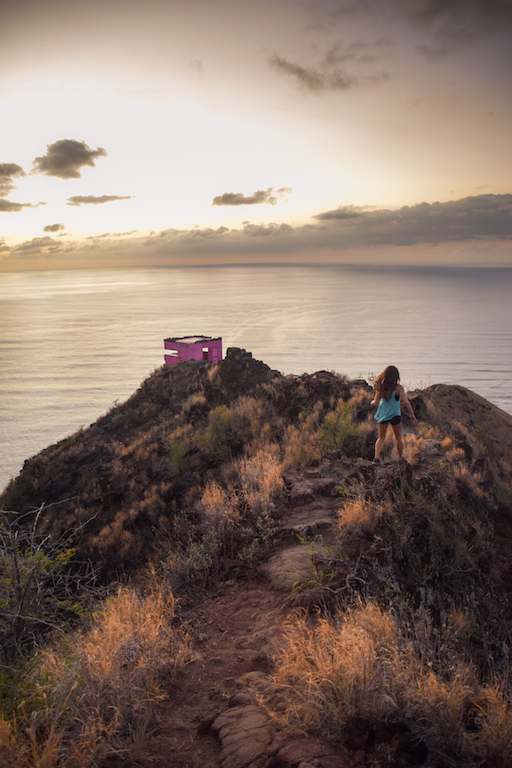 Oh the places a wrong turn will take you.  While looking for the popular Pink Bunker of Puu-O-Hulu, we stumbled across an abandoned treasure.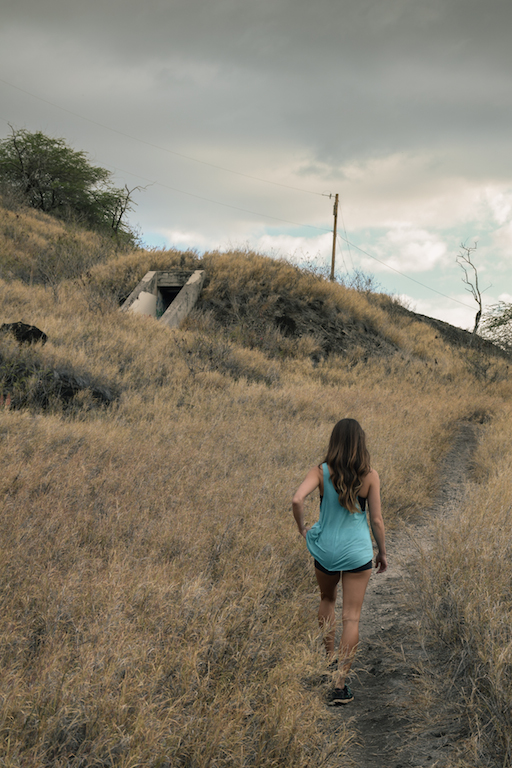 Although the Pink Bunker hike is fairly popular, I had never been on it so I figured we should go explore it.  Unfortunately, our lack of familiarity with the area led us up wrong side of the mountain.  If you are trying to get to the Pink Bunker and the above illustration looks familiar, then you are going the wrong way.  But if you are like me, there is no such thing as "wrong ways", just alternate routes…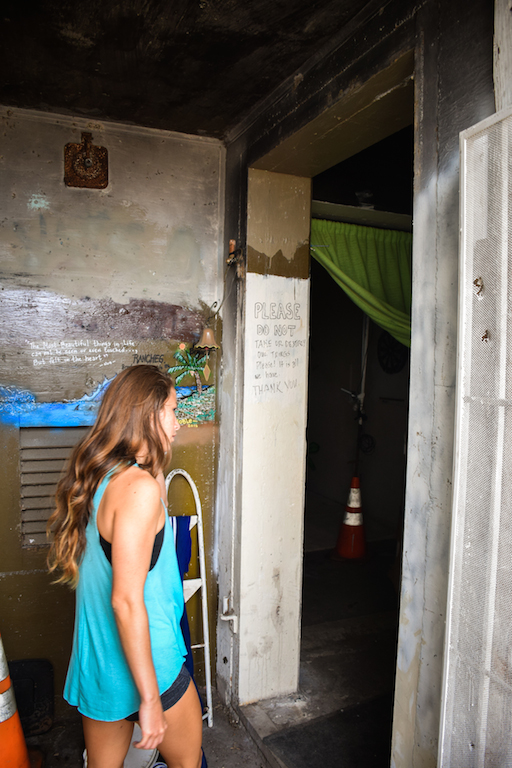 As I have become a fan of abandoned bunkers and other WWII relics around Oahu, I am always eager to peek inside a deserted fortifications.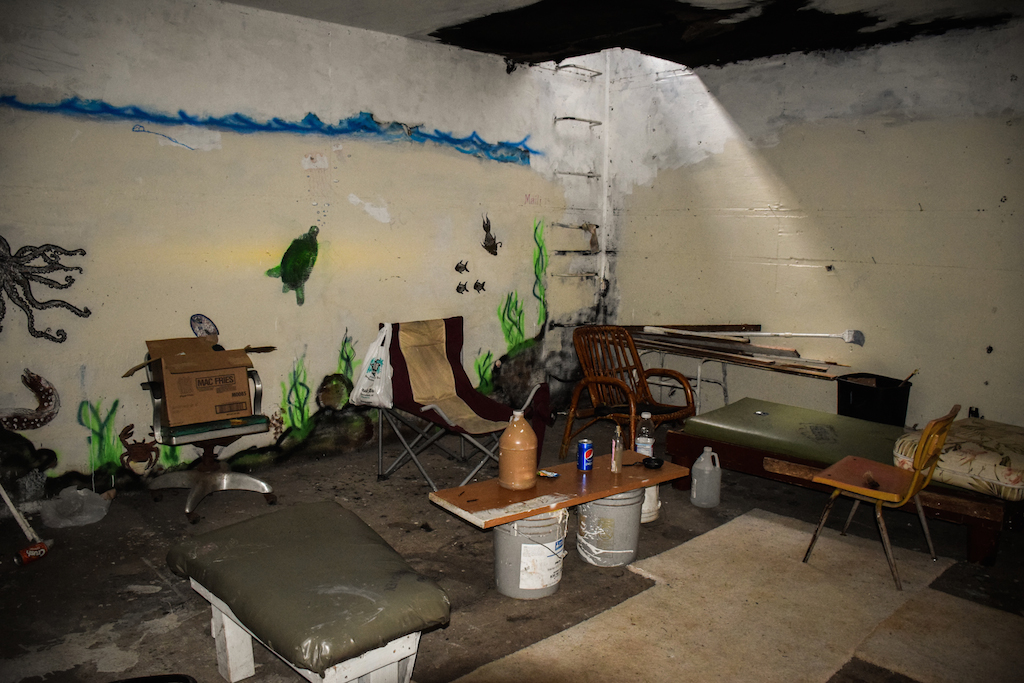 However, we were surprised to find out that this bunker received a bit more traffic than we had anticipated…  This was the first time in my exploration of deserted WWII structures around Oahu that I had stumbled across one that appeared to be inhabited.  I didn't want to intrude on someone's domicile, so we moved on.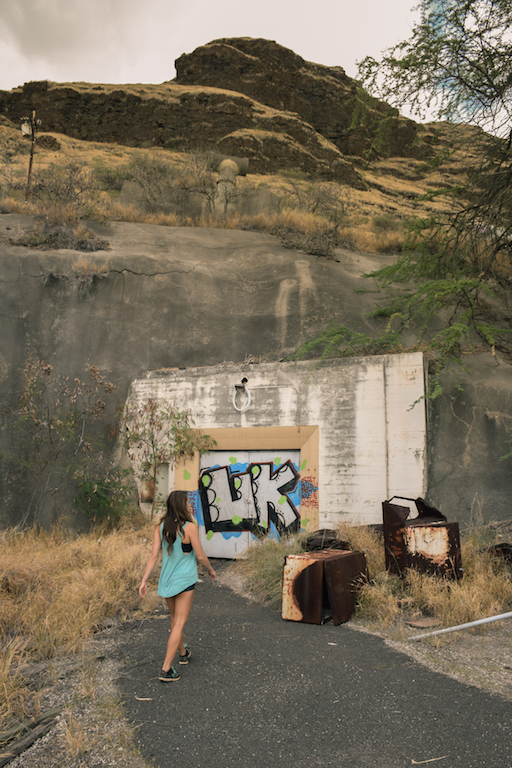 As we continued to unknowingly go the wrong way, the trail brought us to what appeared to be a subterranean compound.  A little research revealed that this mountain was once a part of Puu-O-Hulu, a World War II Military Reservation which began construction in Spring of 1942.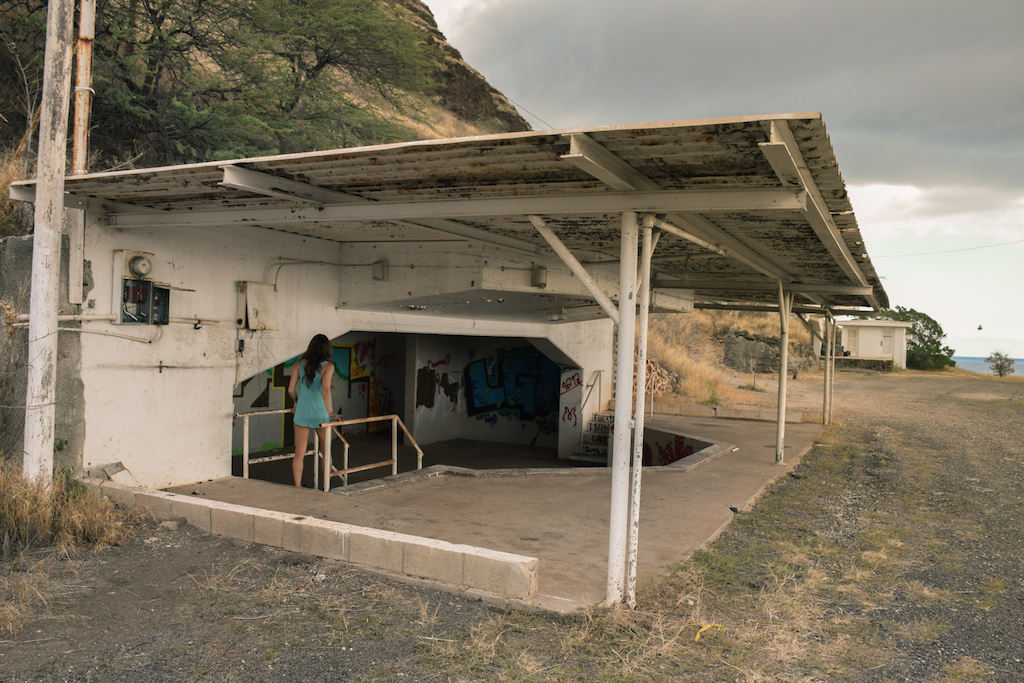 Above were two casemates which once hosted 7-inch 45-caliber MkII Naval Guns. The guns and crews would be sheltered from falling rocks, dislodged from enemy fire, by the reinforced concrete casemates they were mounted in.  On each side of both casemates were solid steel doors (unfortunately locked) that once held the guns powder and projectile magazines.  The 7-inch guns weighed around 13 tons, could fire a 165lbs projectile 16,500yards (9 miles) at a muzzle velocity of 2700ft/sec.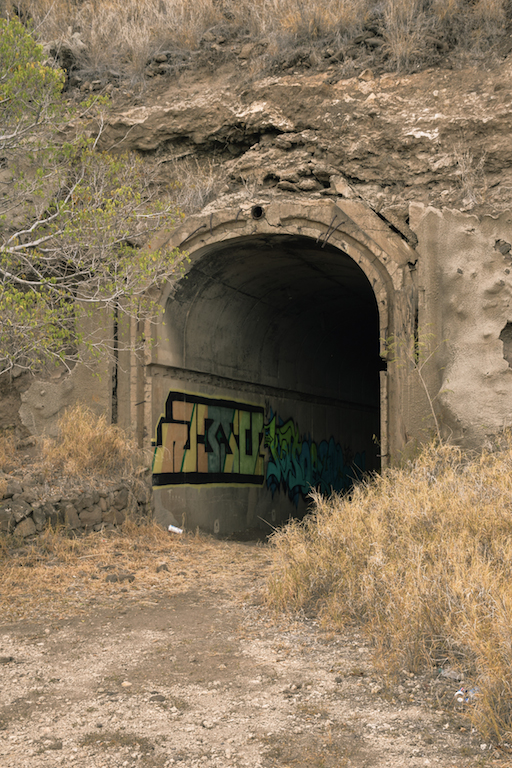 As we came around the first gun emplacement, I noticed a mysterious tall arched tunnel.  This tunnel raised so many more question about the location.  Although I could not find much information on it, it resembled a train tunnel to me. It was over 15 feet tall, which would have been totally unnecessary to construct if it were only meant for people to walk in and out.  Perhaps it served as delivery portal for truck carrying ammo and other supplies.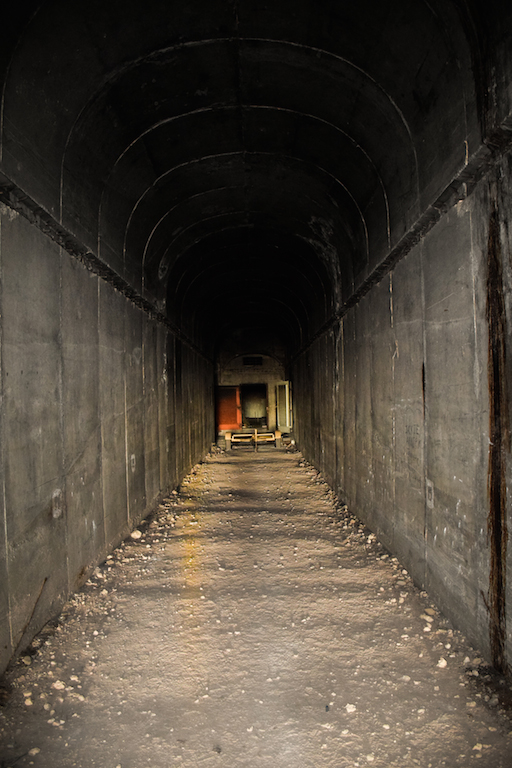 The tunnel was around 50 yards long and ended at a junction of several rooms and chambers.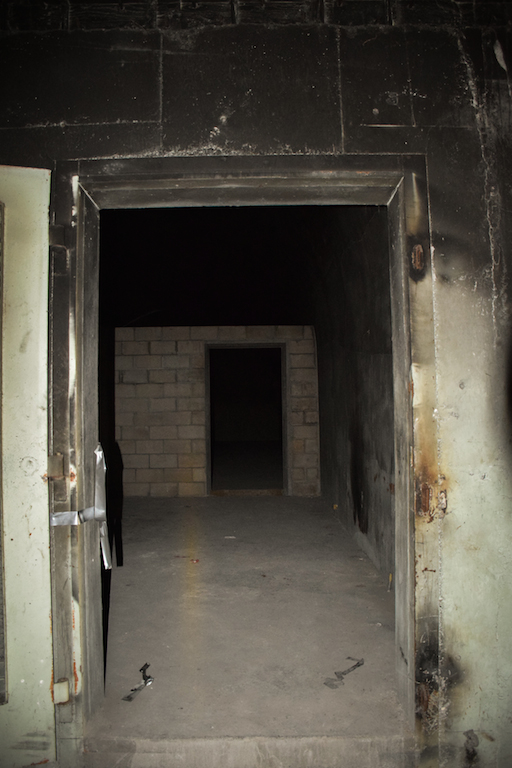 This place was so weird. Like a few other abandoned bunkers I've explored, there appeared fire/smoke damage visible around the ceiling.  What could have happened in here.  The interior of the bunker also seemed oddly incomplete.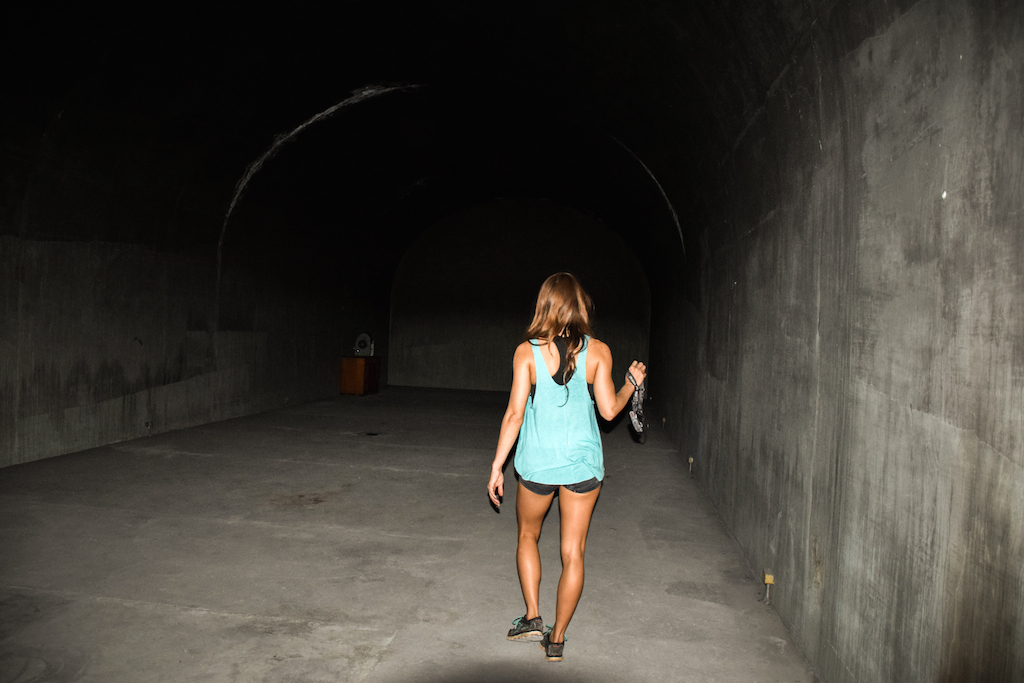 Why would they go through all the effort of digging and building this place and then not finishing it?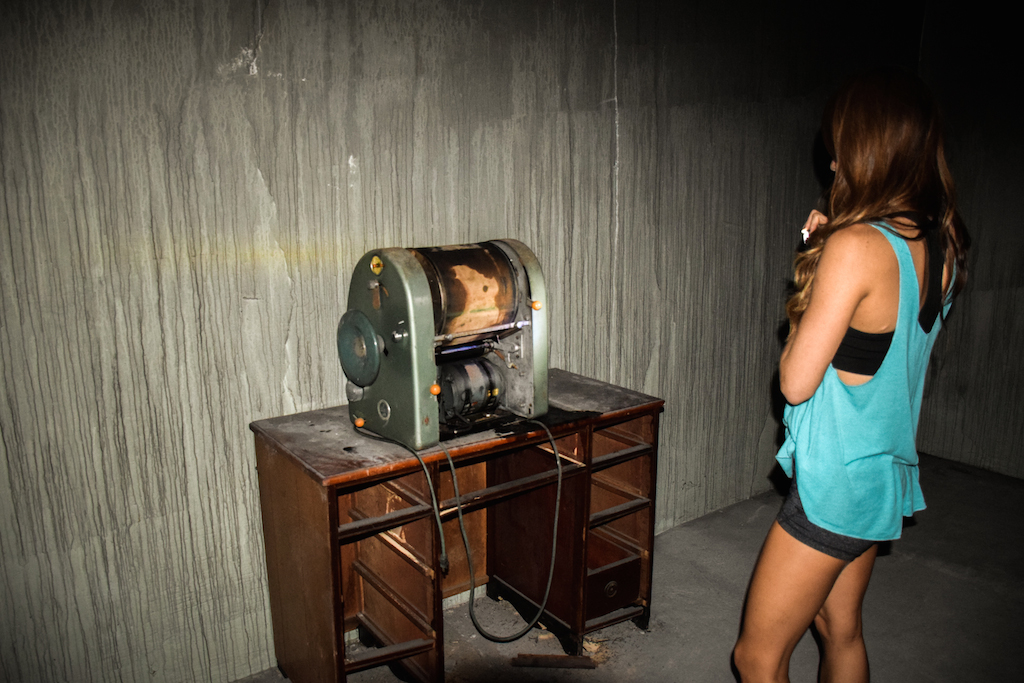 What the heck is that? This contraption and this desk were the only two things in this entire room.  Does anybody know what that machine is?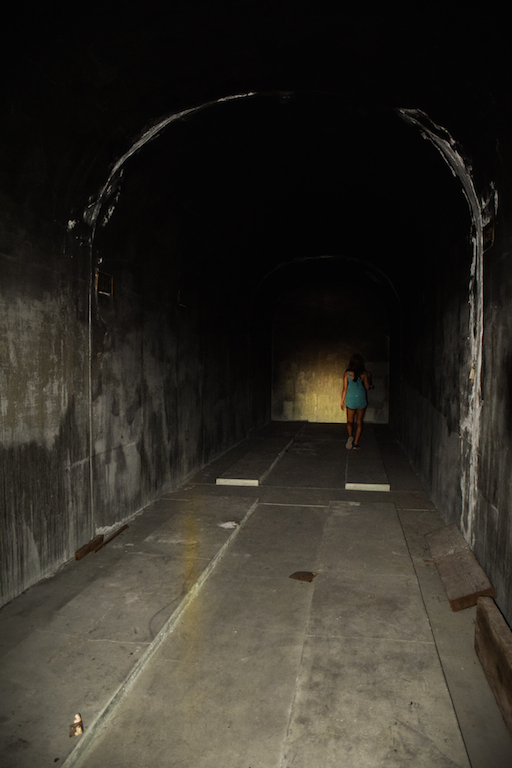 This other room was particularly narrow and appeared to be a continuation of the main tunnel.  What was most odd about it was that our echo sounded as if the end wall  was hallow.  We were confident we would find a secret doorway, but it never happened 😛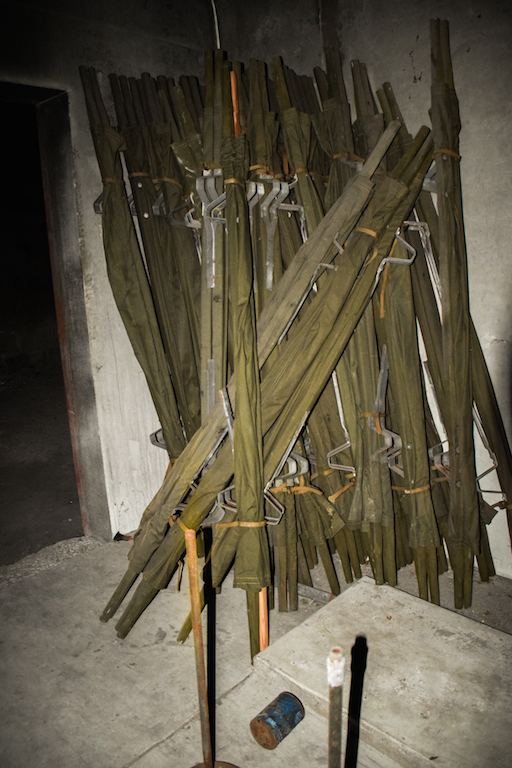 In the corner of this room was a bundle of stretchers.  Who needs that many stretchers?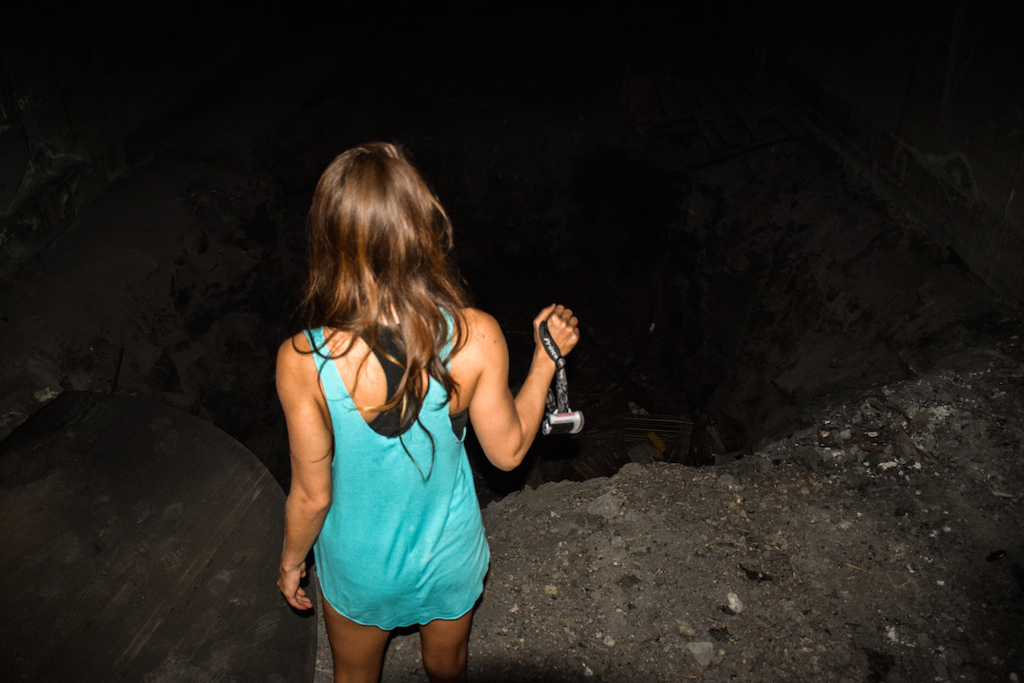 As we continued deeper into the dark unknown we came across yet another mystery.  A huge hole in the middle of the floor!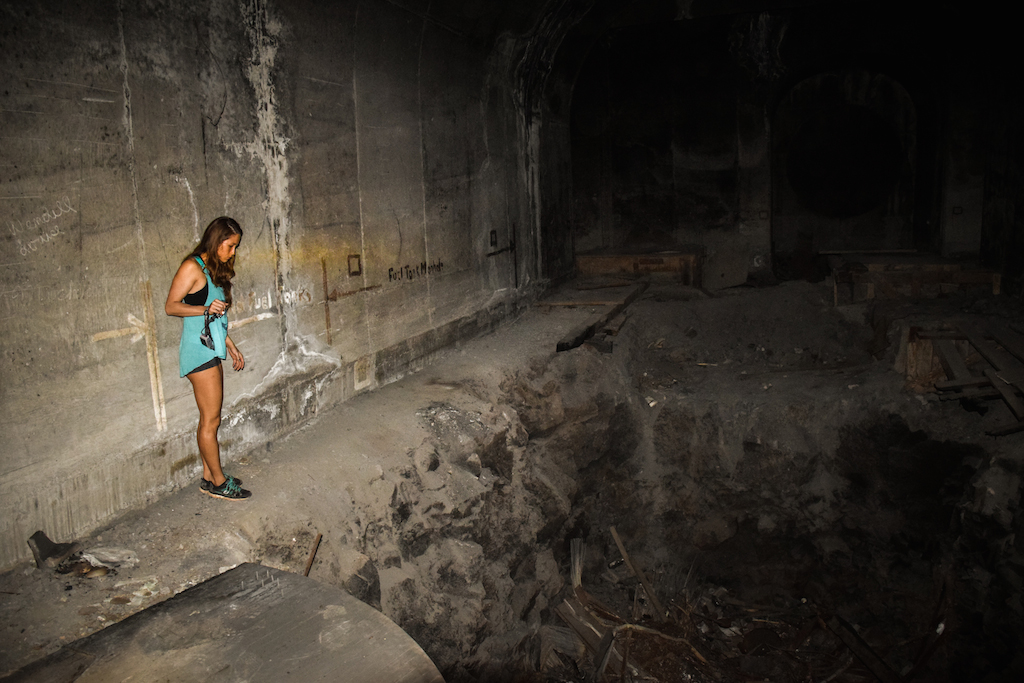 The abyss, which was full of random debris, nearly blocked the entire hallway.  Luckily we could squeeze by along the side.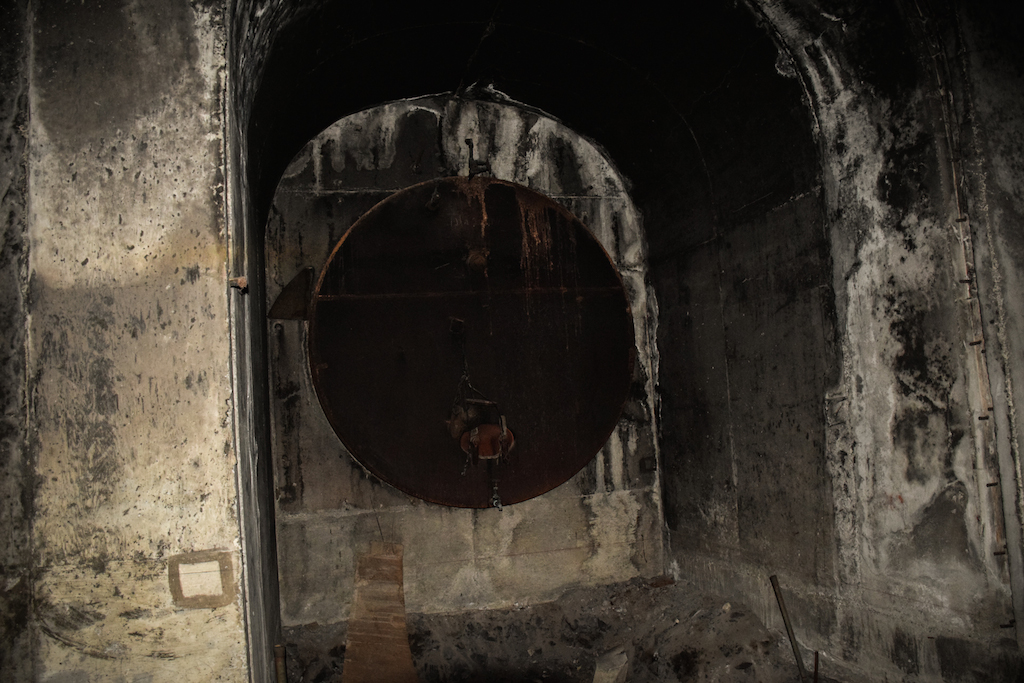 Behind the giant hole in the ground was a huge tank mounted in the concrete wall.  I wonder if it was a water tank or a fuel tank…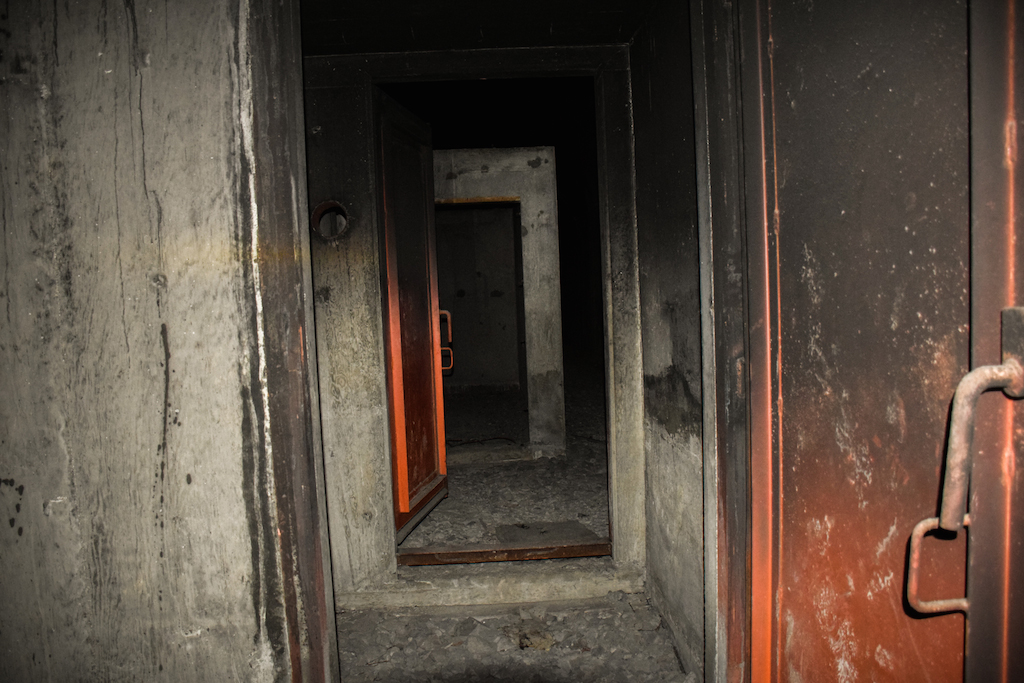 As we progressively got deeper into the mountain, the light vanished completely and the halls became more eerie
Another unfinished chamber.  It seemed as though they had planned to install various storage rooms or offices in here.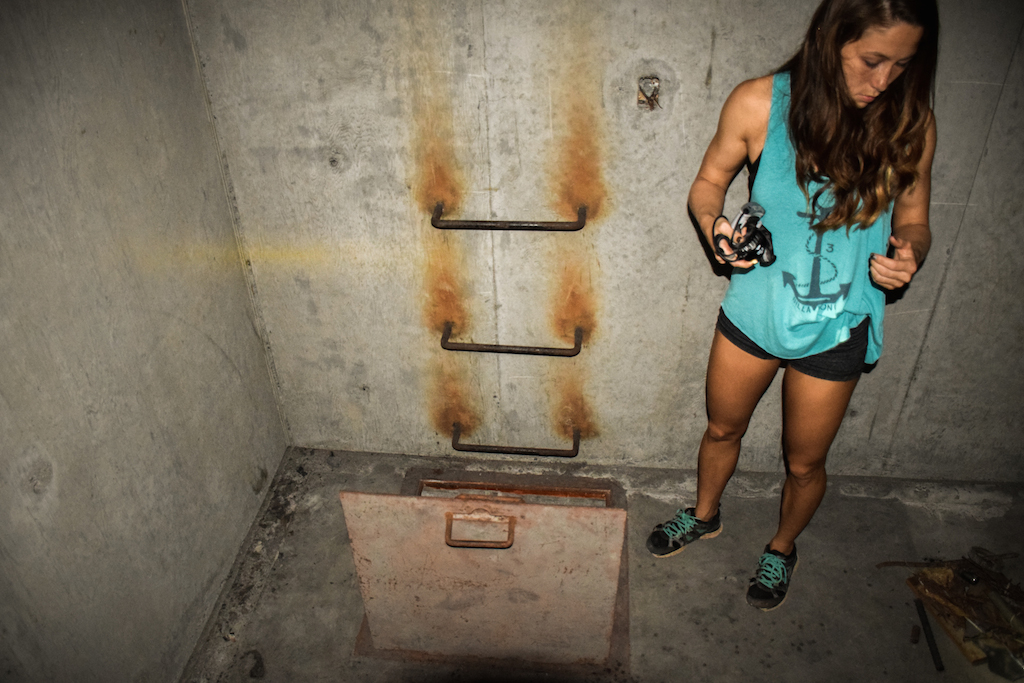 A rusty old ladder led down a crusty hatch. It were as if we were overcome by an exterior force;  Every inch of common sense told us to turn around and get out of there, but we could not help ourselves.  We had to investigate every inch…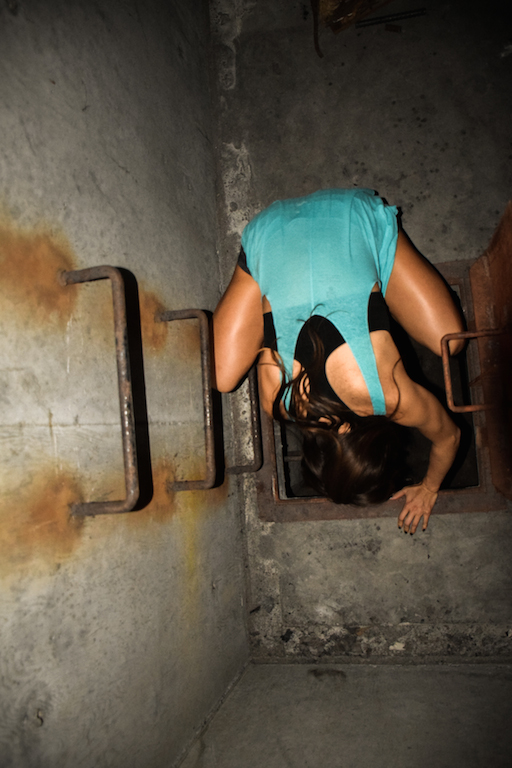 Perhaps untold treasures laid in wait for us below.
Hugh… It would appear that Dirty Mike and the boys had their way with that poor coconut down here.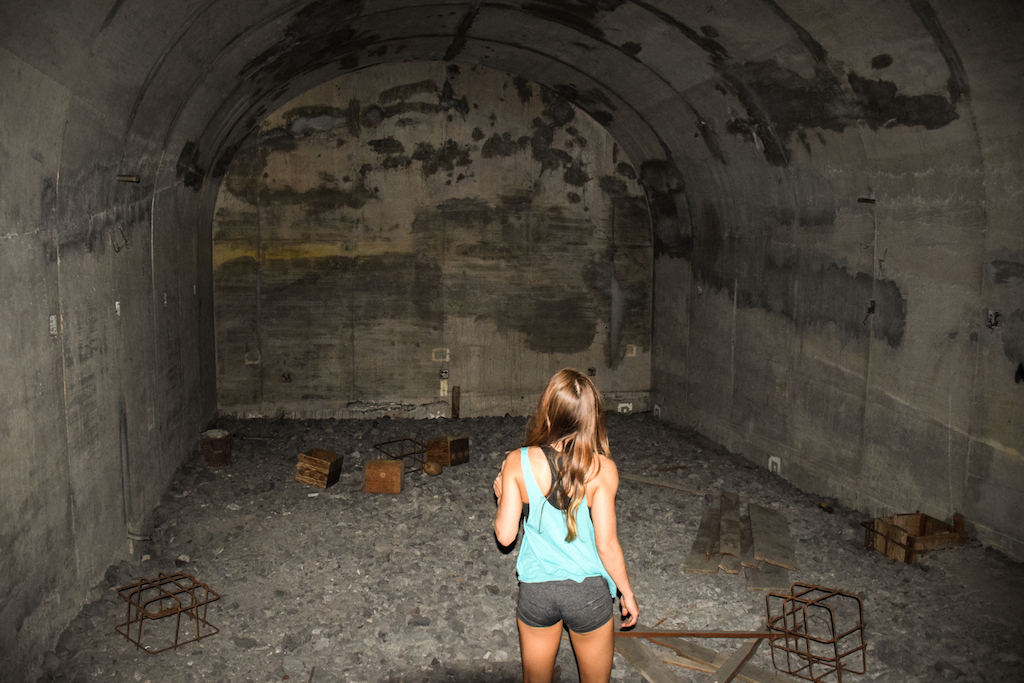 Our subterranean venture was halted by a most puzzling dead-end.  What did they plan for this place?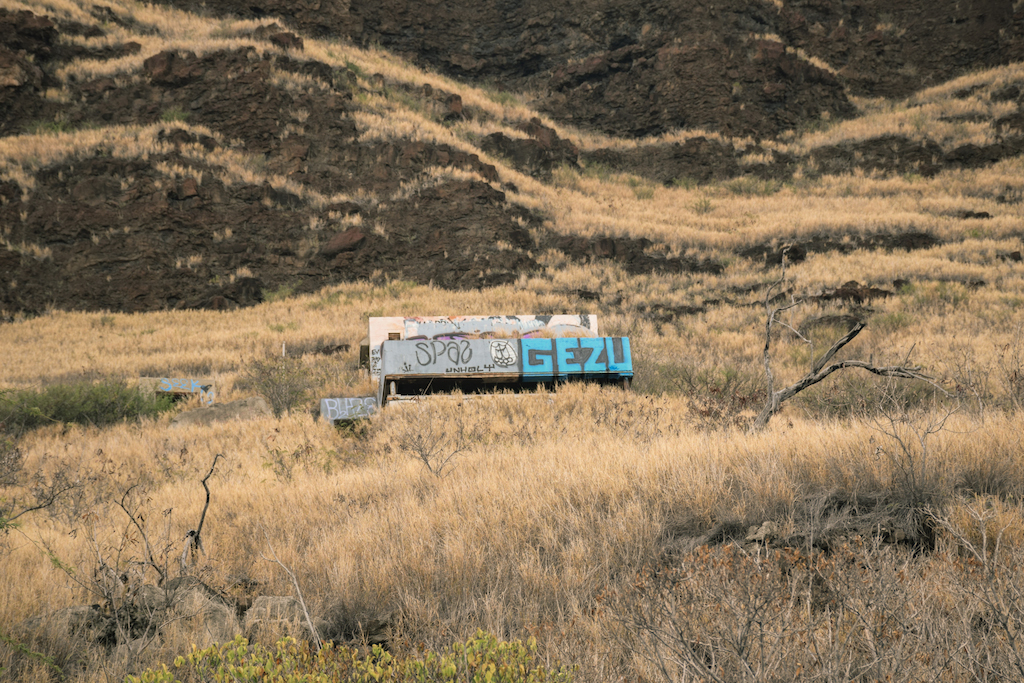 After getting our fill of dark, creepy, underground tunnels, we made our way back outside.  As we looked up the hill for a trail to the Pink Bunker, we only noticed a faint path to yet another mysterious building.  I figured the trail would eventually take us where we were trying to get.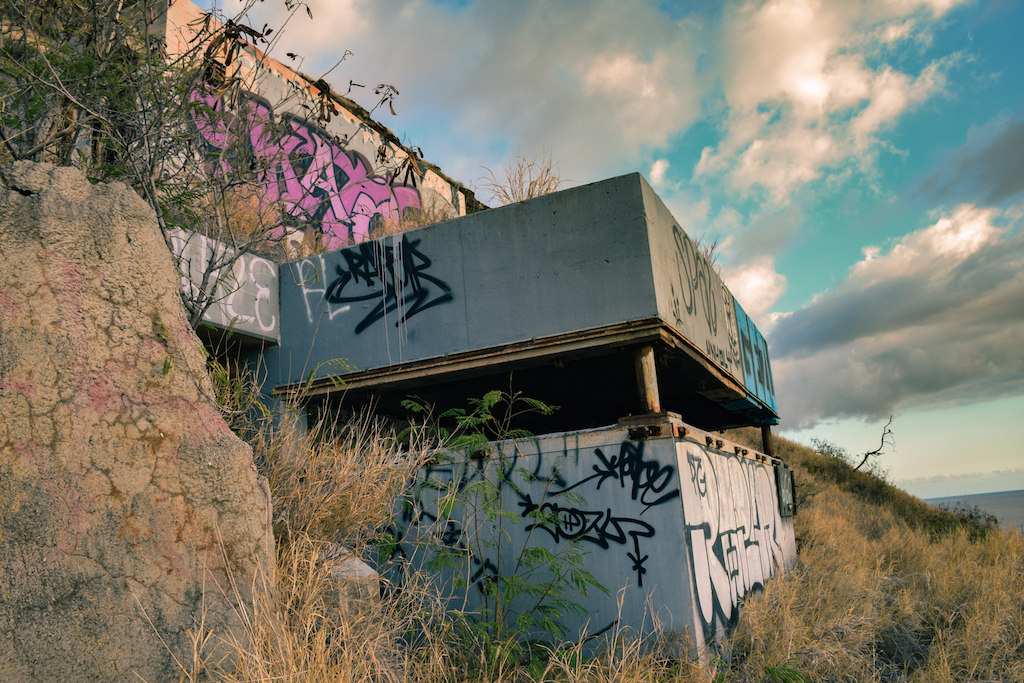 After a short climb, we reached this graffiti covered structure.  As it turns out, this building was the Battery Commander Station.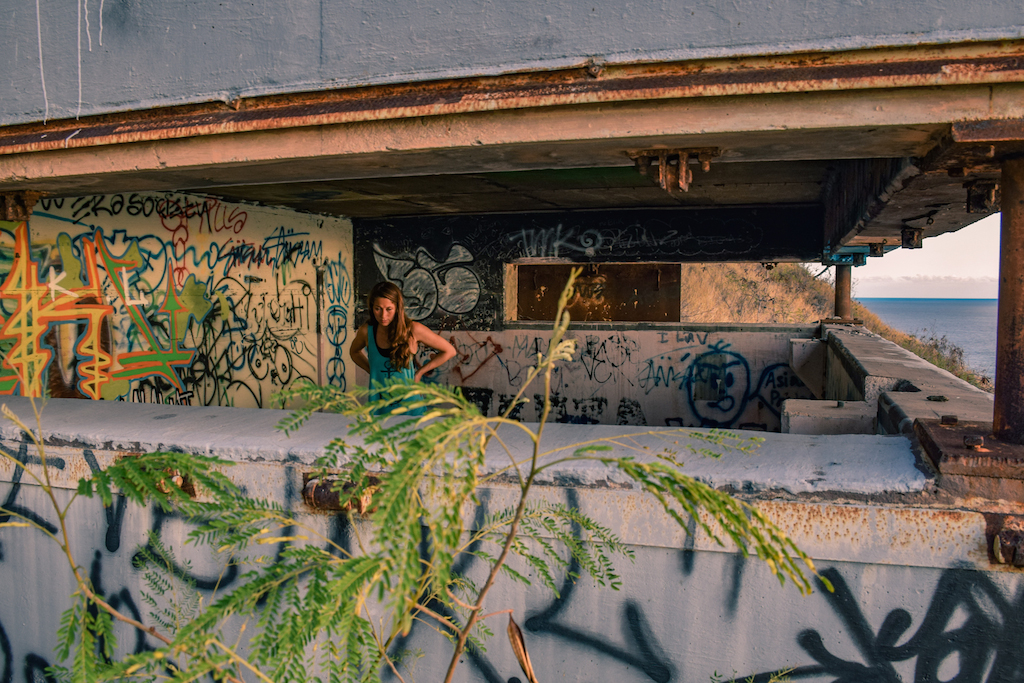 This reinforced concrete lookout sat nearly 200ft above the sea. It was contoured by a window slit on its front and sides.  Remains of exterior steel drop-down shutters were visible along the top of the window frame.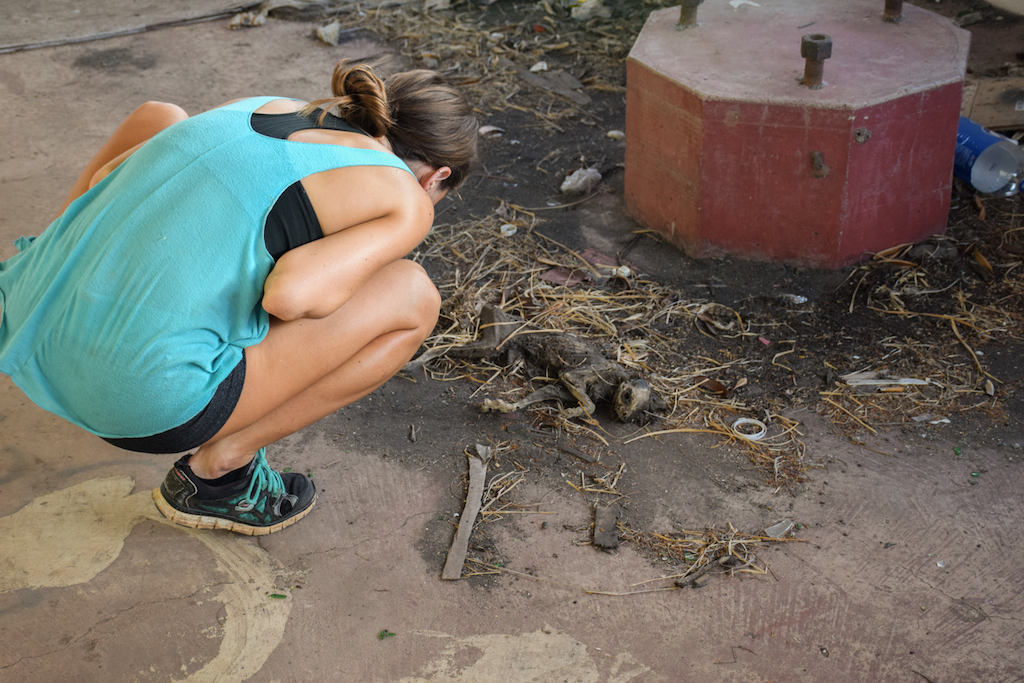 Yikes!  This dead cat was probably the creepiest thing we saw all day.  Notice the concrete emplacement behind the deceased critter.  Many people mistakingly believe that these are gun mounts, but it was likely mounts for coincidence range finders and a azimuth instruments.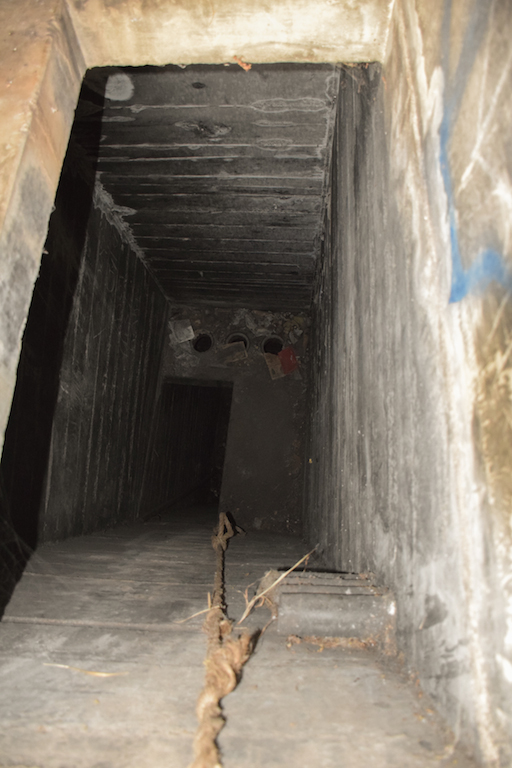 Just next to the battery command station was an old exhaust housing, with a shaft that just extended down into the darkness of the mountain.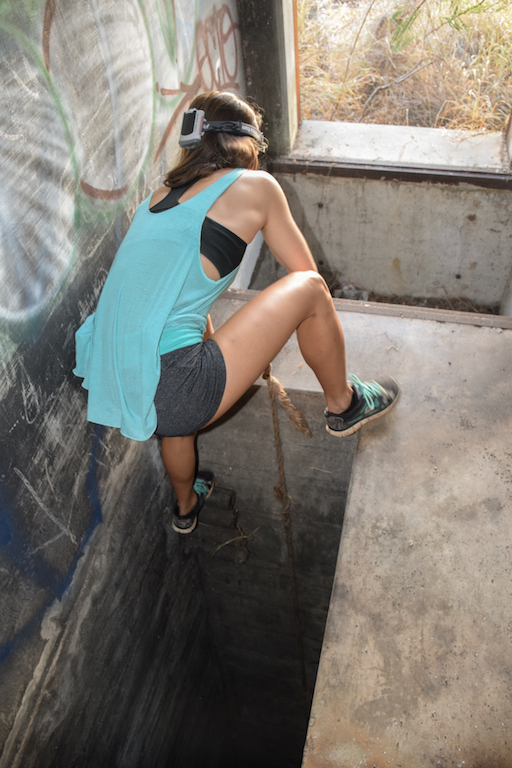 Despite trying to reason with her, she had caught the explorer bug.  She saw that rope, and she took it down.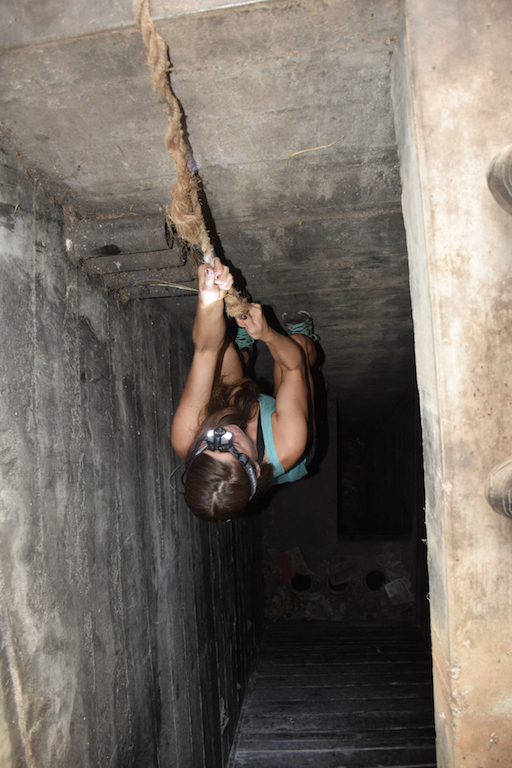 Looking back, I should had tried harder to dissuade her from going down there.  The rope was pretty worn-out and the abyss was super dark.  If the rope had snapped, I'm not sure what we would have done…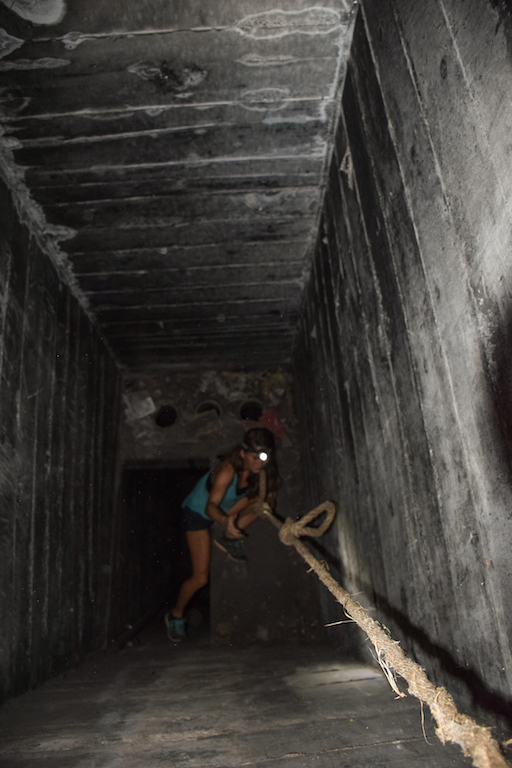 As she got down to the first level, she noticed another smaller rope.  However, the next rope was super thin and she was not feeling it.  I was glad she didn't go further out of sight.  Once she got out of there we decided to head back down the hill and try to reassess our navigation of the mountain, as we had yet to see any trace of the Pink Bunker.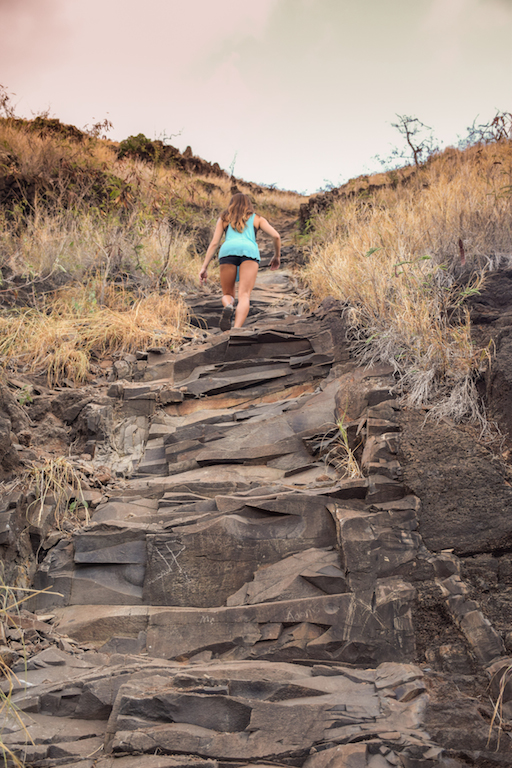 It turns out the actual trail was a little further up the road.  Yet again, we managed to take the "wrong" trail on the way up.  I guess it wasn't technically the wrong trail, just a much more difficult one that went nearly straight up the mountain.  I'm sure it was quicker, but it was quite steep and a little painful to climb.  If I had to do it again, I would look for the other trail, which has a more moderate incline.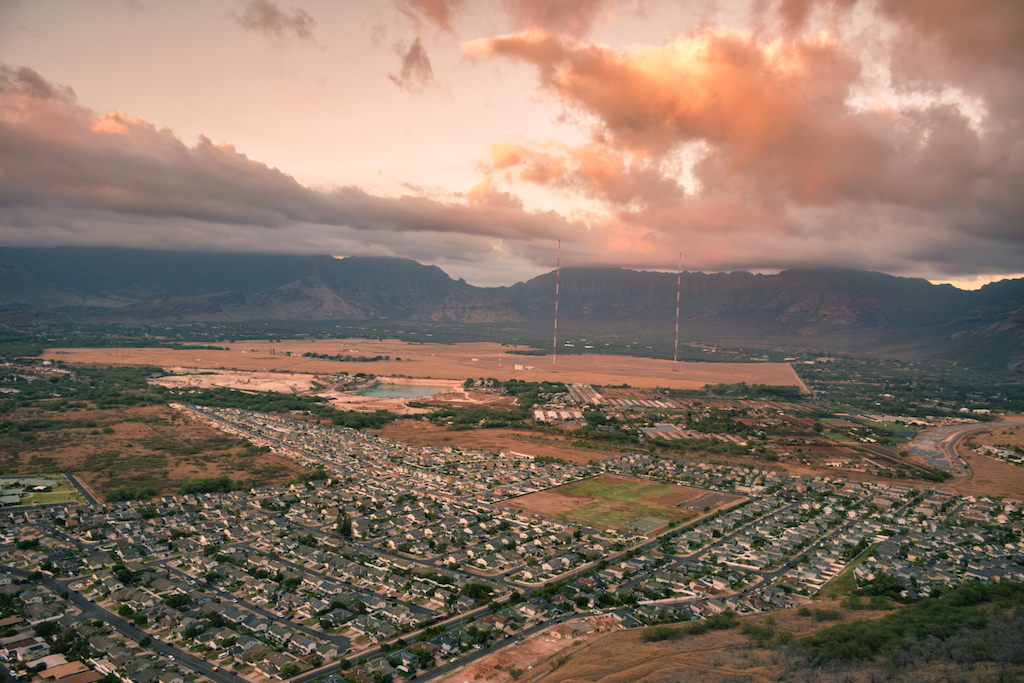 When we reached the ridge, my heart was about to explode through my chest.  From the top of the Mount Puu-O-Hulu we could see the mysterious  Lualualei Naval Reserve, which stretched all the way to the Waianae mountains.  Does anybody know anything interesting about that place? It seems so big, but none of my military friends know anything about it.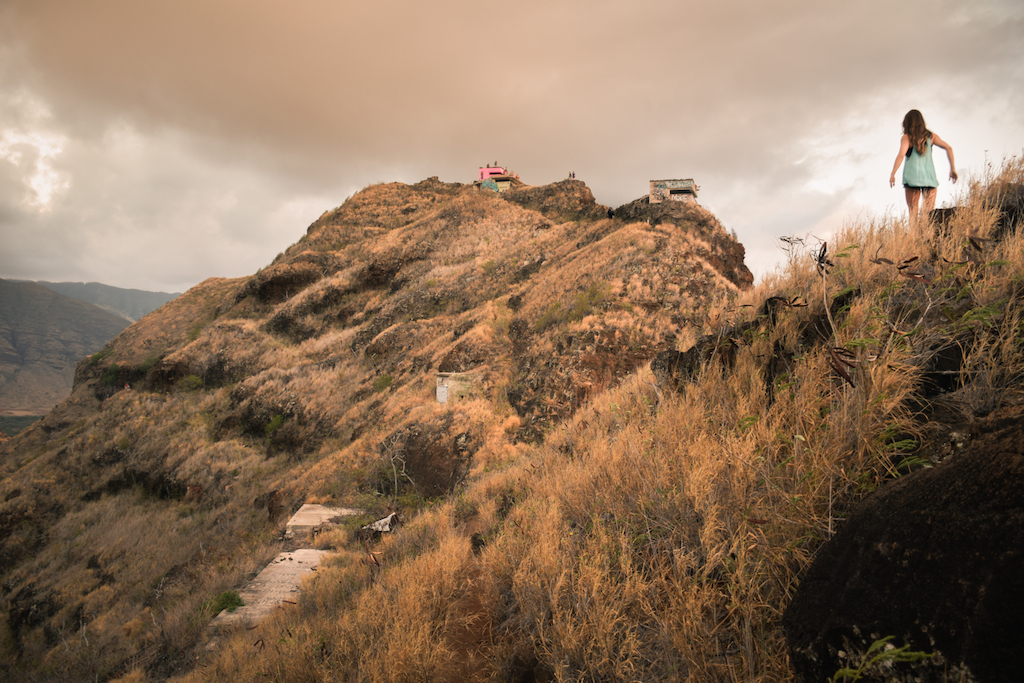 At long last! We caught our first glimpse of the Pink Bunker.  At least we knew we were on the right track this time.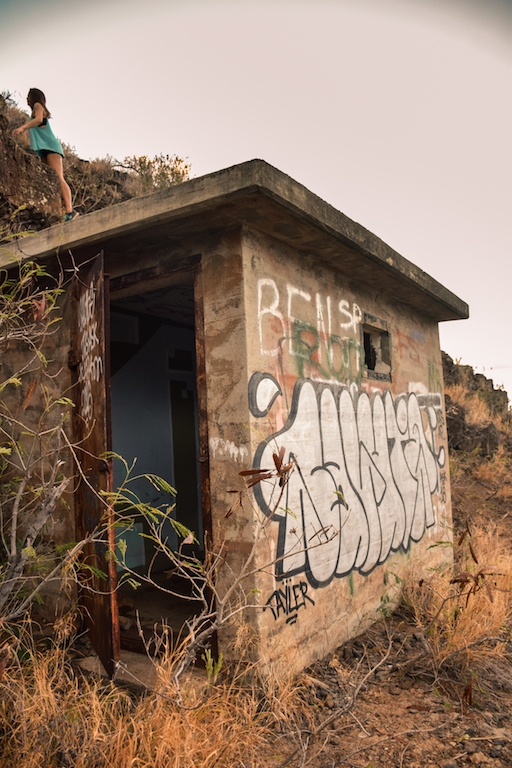 The trail was riddled with the remains of the old military outpost.  This was structure was an old generator building which once powered the cable tram motor that was used to winch heavy supplies up to the 860ft high summit.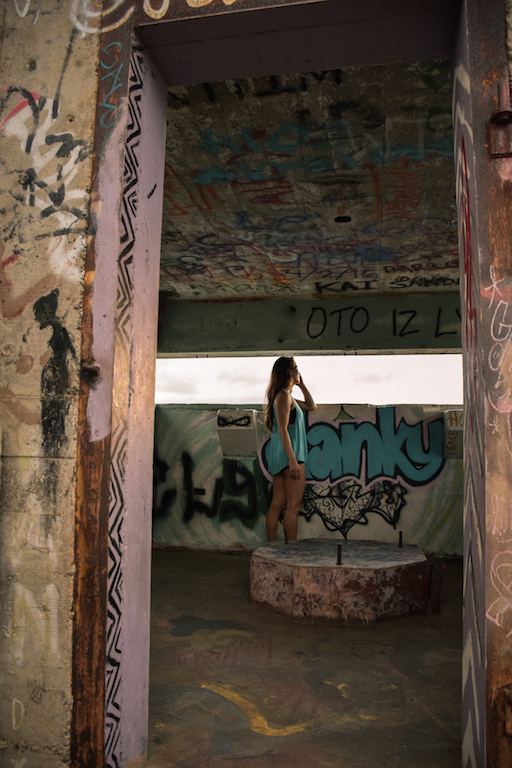 The first observation station we came across on the ridge had a formidable view.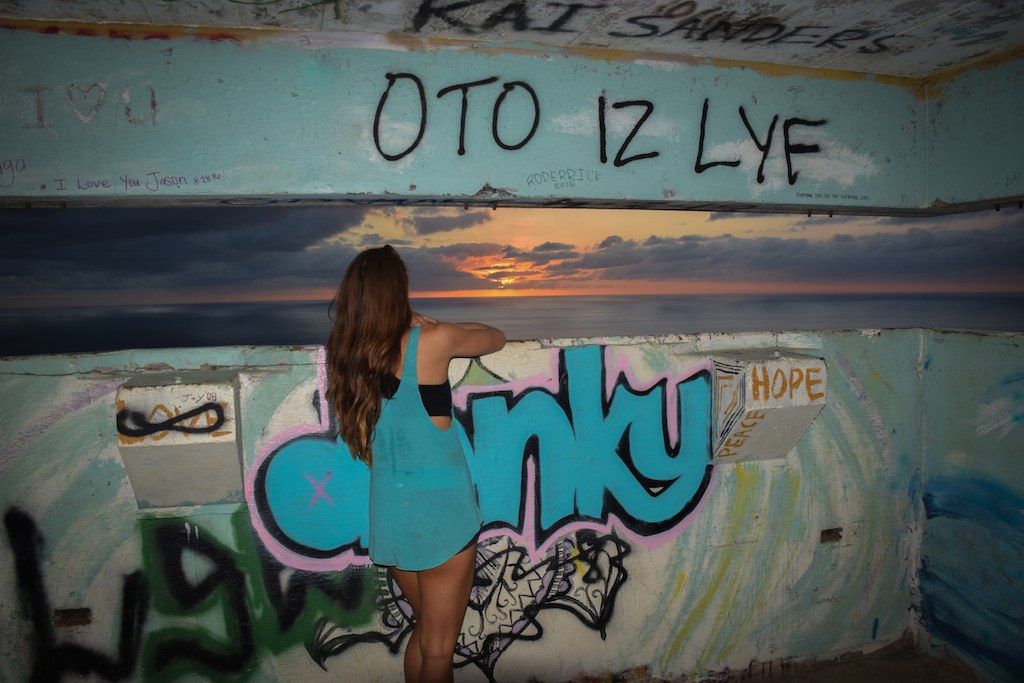 Out of all the places soldiers could have been deployed during WWII, this must have been the best.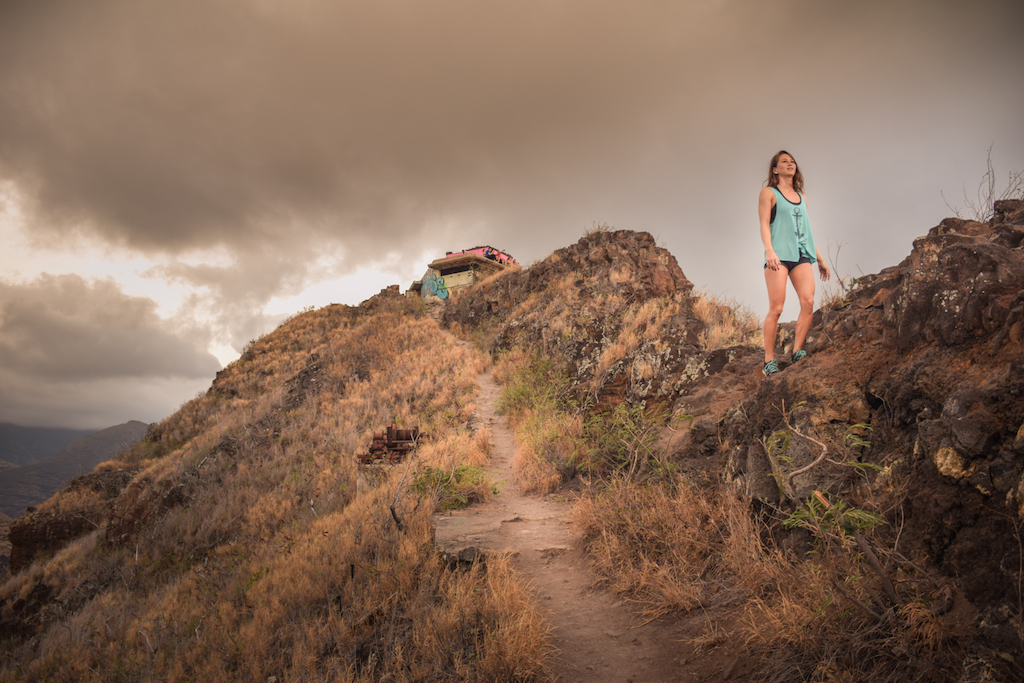 Our progress to the top kept getting interrupted by the beautiful sunset, which kept peeking through the clouds.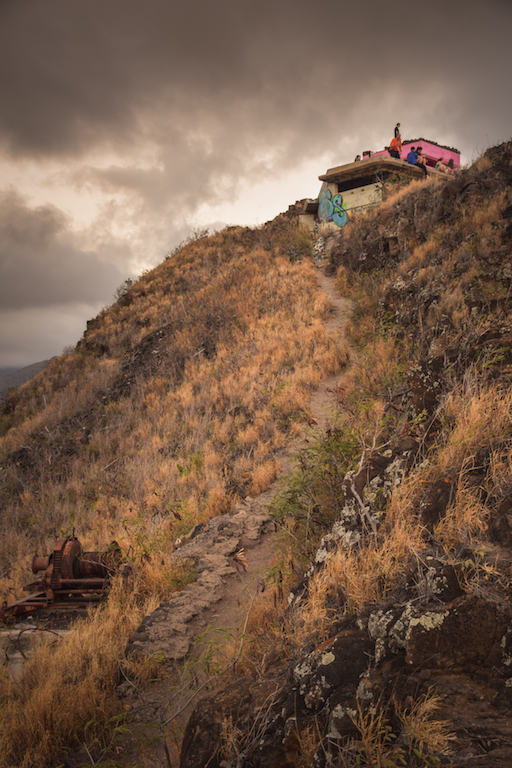 In the lower left of the above photo is the afore mentioned cable tram motor. Must've been rough getting supplies up here before it was installed.  That incline was not insignificant.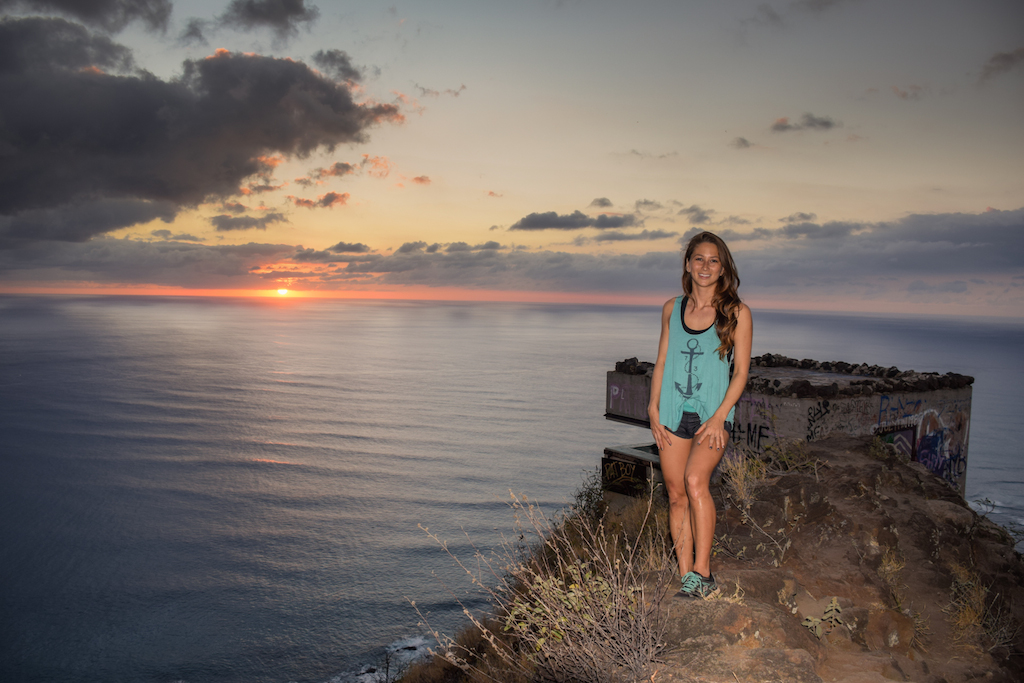 Lots of cheesing happened during the sunset.  Although being underground was super cool, I was so glad we had managed to make it up here just before we lost the light.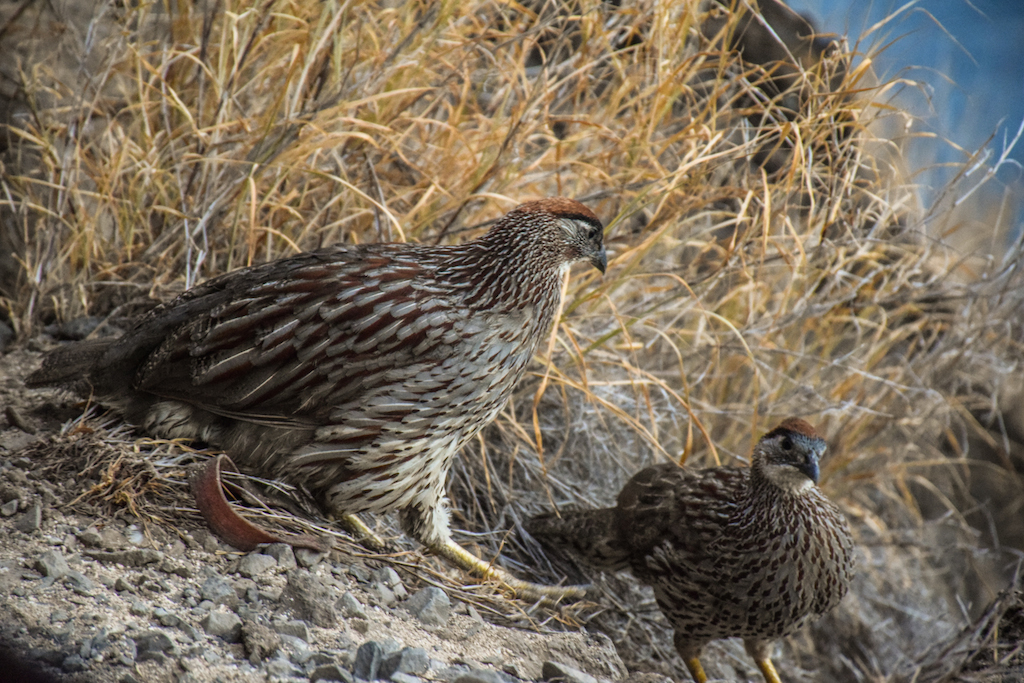 As we approached the next observation station, we came across these little guys.  They did not seem afraid of us, as they let me get super close for these shots.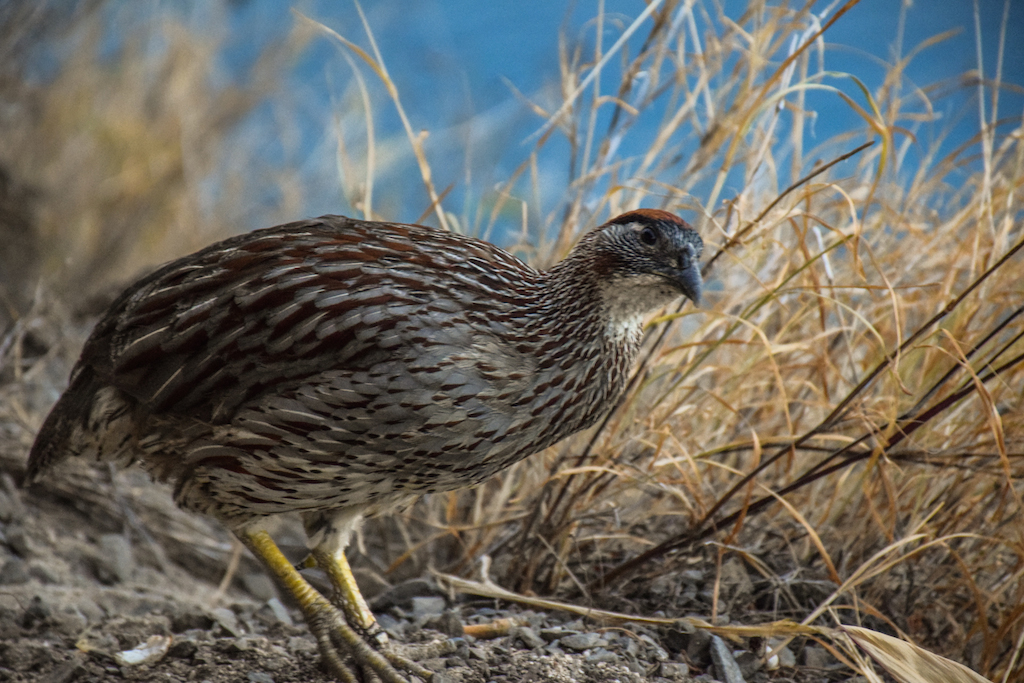 Does anybody know what this is?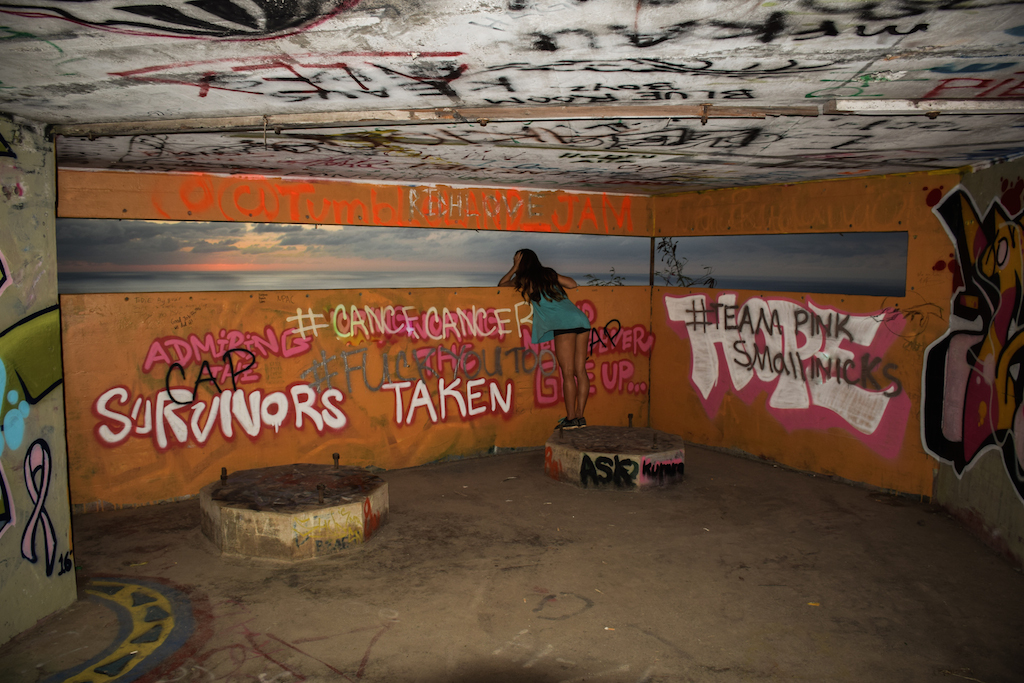 Who knew a bunker could be so colorful?  I'm so conflicted about this graffiti. On the one hand, it encapsulates the hope and victory over breast cancer (which is awesome), but on the other hand it seems like a blatant act of vandalism of a historical monument…  But it all made for a interesting setting.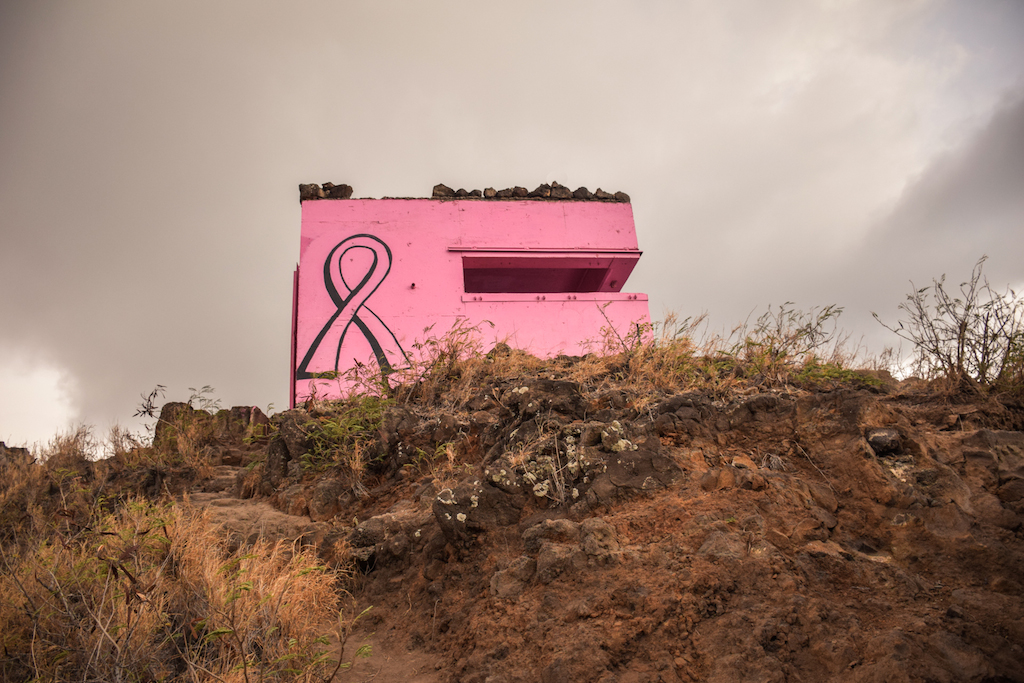 It was hard to believe that it was right in front of us.  We had taken a lot of wrong turns to finally get here.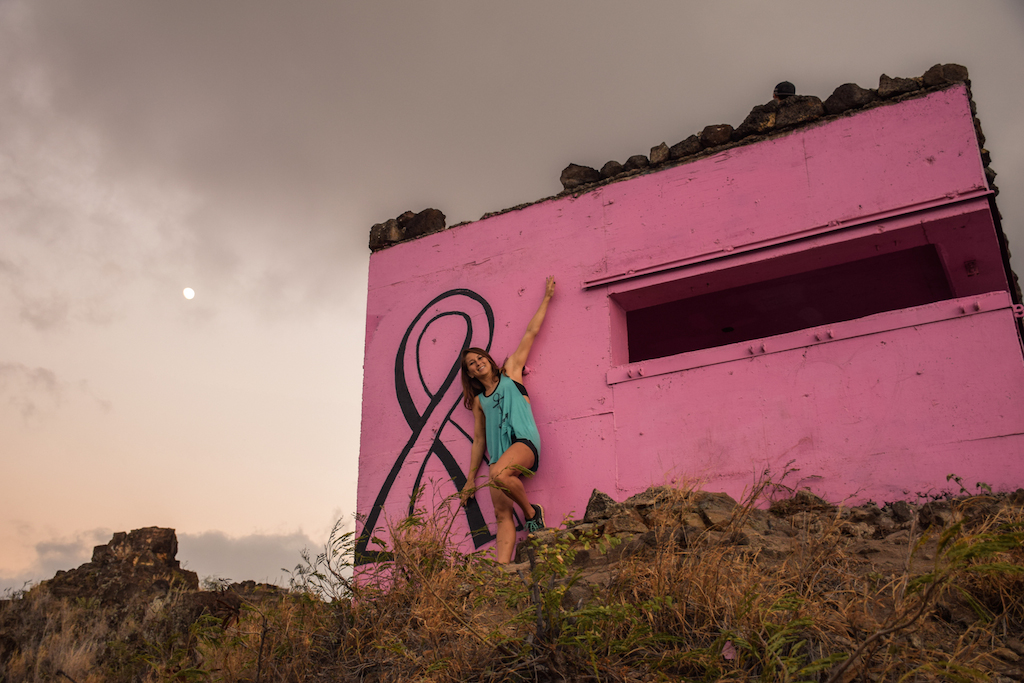 We had finally made it to the PINK BUNKER!!!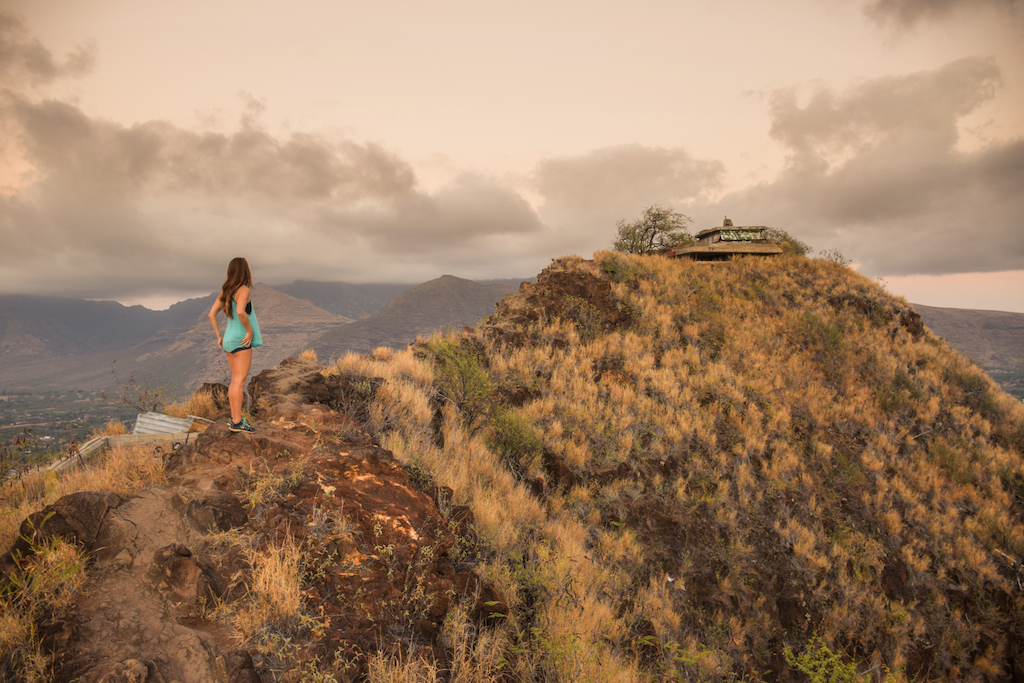 We were surprised to see that another bunker still sat further up the ridge after the Pink one.  What a cool trail!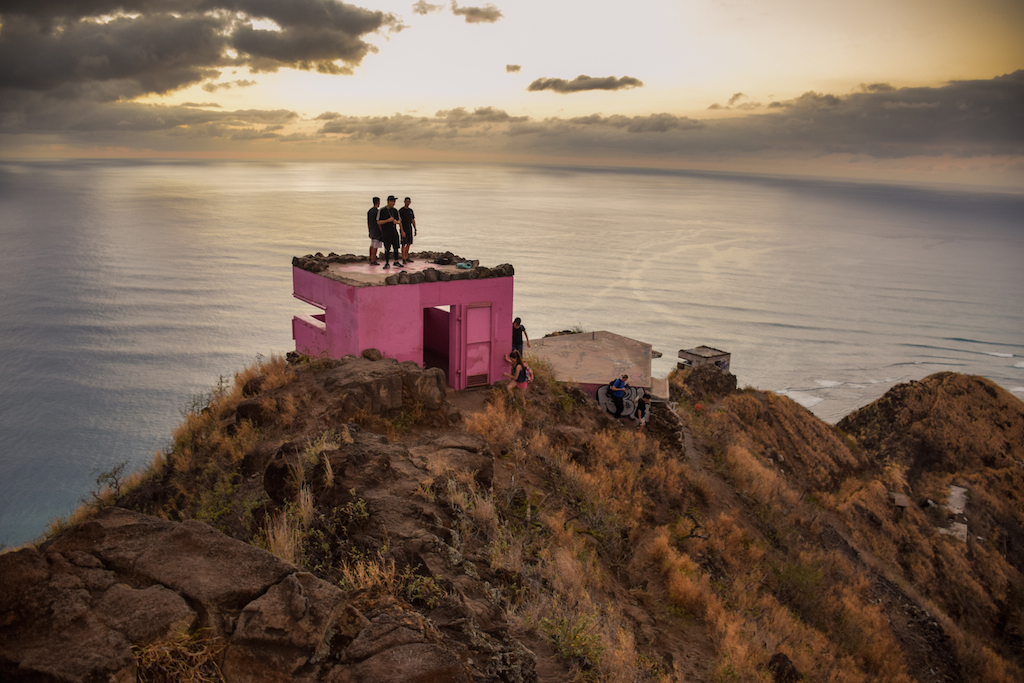 Even though the sun had dropped beneath the horizon, the sky was still exploding with golden light.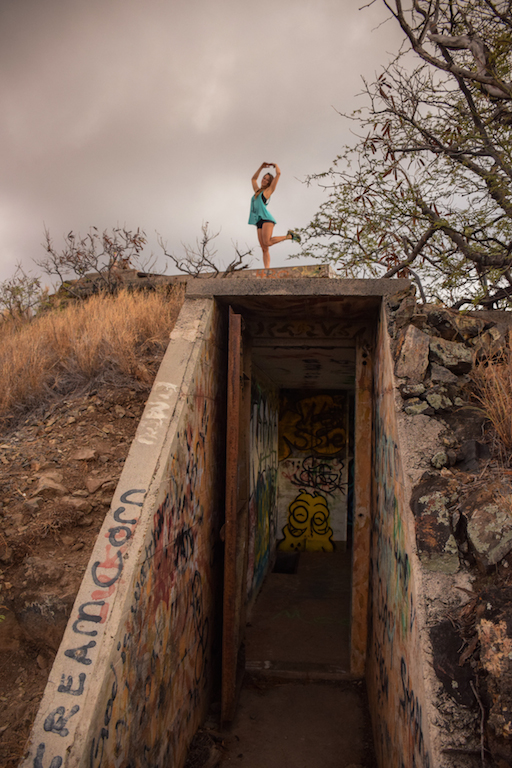 The last bunker was a different style and layout than the previous 3 we had past.  Apparently it once served as a Fire Control Station for Battery Williston's pair of 16-inch guns, all the way at Fort Weaver (near Pearl Harbor).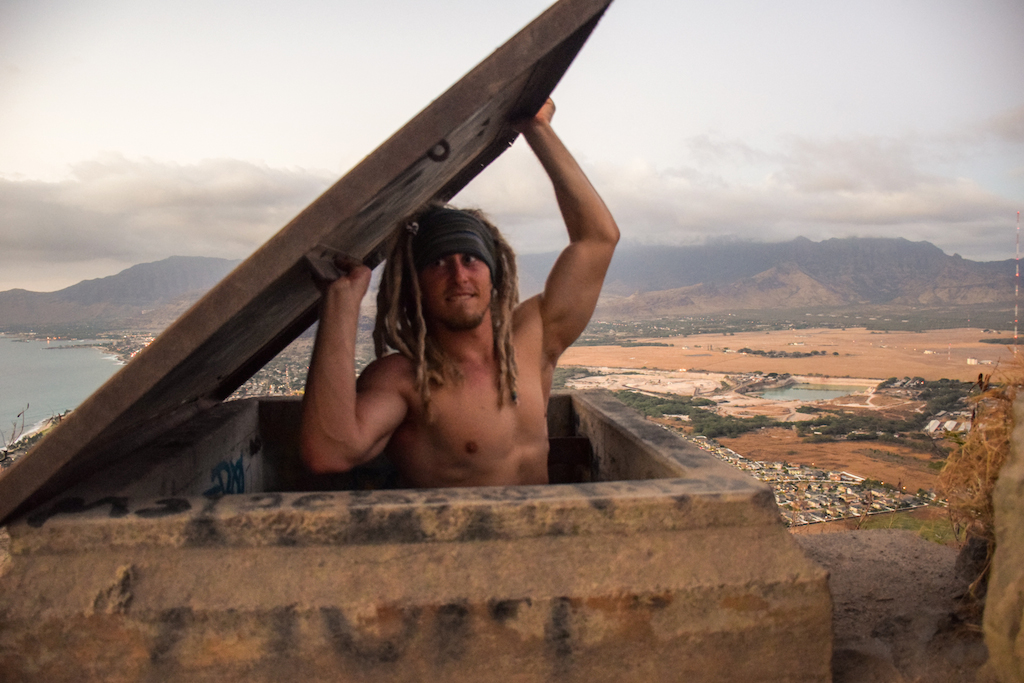 The observation room could only be entered by manhole on the roof.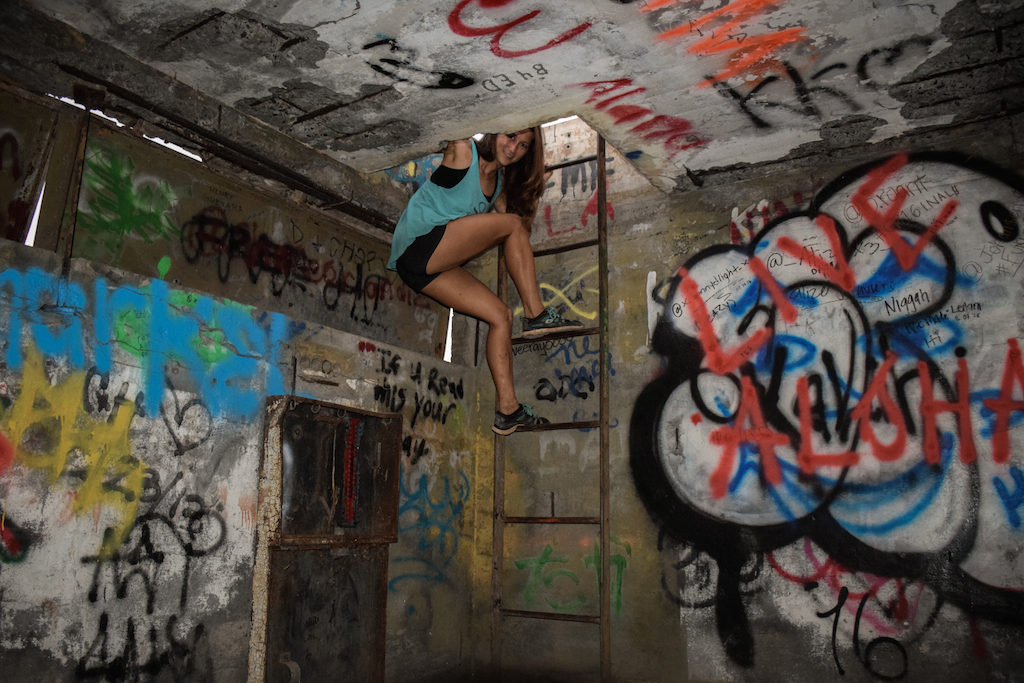 The interior was cozy and felt very safe with all that reinforced concrete around us.  Could be a cool place to camp…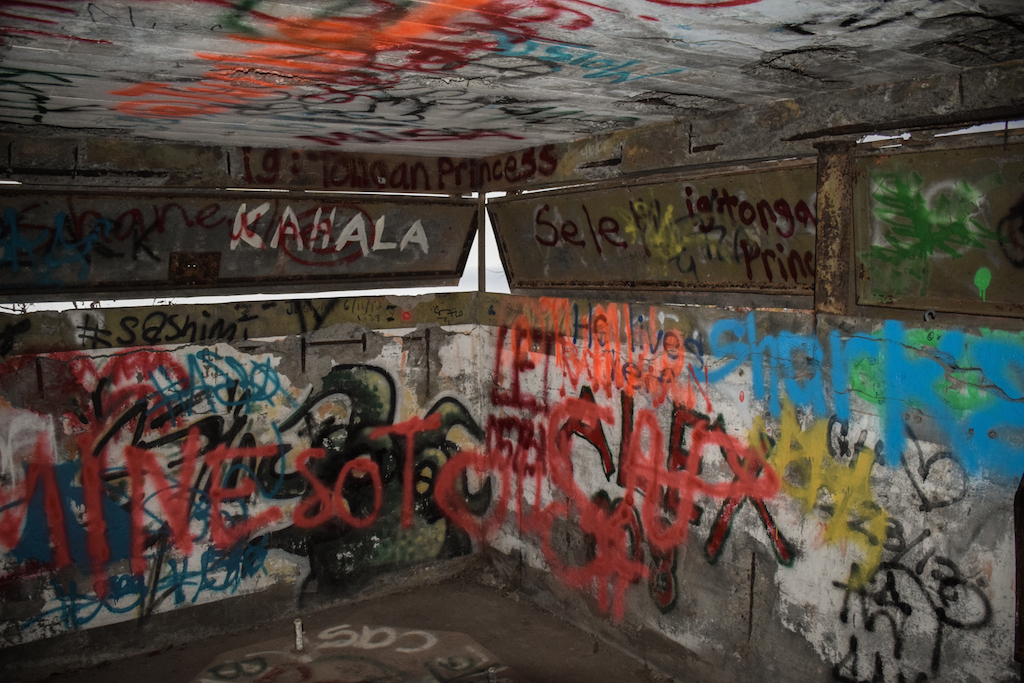 Although it would have been nice to see the view out the window, it was awesome to see the "intact" drop-down steel shutters still in place after nearly a century (this structure was actually built in 1924).  At 860ft above sea level, soldiers could see as far as 36miles into the horizon, on a clear day. As the bunker on Diamond Head is only 760ft high, Puu-O-Hulu may boast having some of the highest bunkers on island (aside from Battery Wilridge).  This hike ended up being super beautiful and interesting.  I'm pretty confident I've never seen so many bunker on a single mountain, or even a single trail.
After doing a bit more reading on this military reserve I found out that the guns outfitted to Battery Hulu were though of as being wholly inadequate for the effective coastal defense of Oahu.  With their measly 9 mile range, the 7-inch MkII naval guns would have never had a chance of firing against a Japanese Battleship, such as the Yamato, whose 18-inch guns could fire high-explosive or amor piercing shells over 26 miles.  The 7-inch guns outfitted to Battery Hulu had been salvaged from naval vessels which had been either damaged or sunk during the attack on Pearl Harbor.  It was reported that some of the guns issued to Battery Hulu had bores which were two worn to actually fire.  Towards the end of 1943, the commanding general ordered that Battery Hulu, along with a few other location, be outfitted with more contemporary seacoast armament.  The plan was to replace the 7-inch guns with two 6-inch 50-caliber M1903A2 guns.  Although the 6-inch gun fired smaller projectiles (90 lbs high explosive or 105 lbs armor piercing projectile), it could fire them much further, over 27 000 yards or 15 miles.  However, as the war closed in around Japan and the threat to Hawaii declined, the progress on construction/renovation of Battery Hulu began to slowdown in late 1944. By May 31st 1945, work was suspended. Although recommendation had been made to finish the outpost and mount the guns, it is believe that 6-inch guns they ordered were never actually mounted at Battery Hulu.  This would explain why everything looked unfinished while were were exploring  the underground chambers.  It would seem that Puu-O-Hulu military reservation functioned more effectively as a fire control station for other established batteries, than it ever did as an actual battery itself.
I hope you enjoyed the adventure and the historical tidbits.  If you are interested in more WWII history around Oahu check out Battery Arizona, Battery Wilridge and Fort Barrette.  Please be safe and stay on the proper trail!