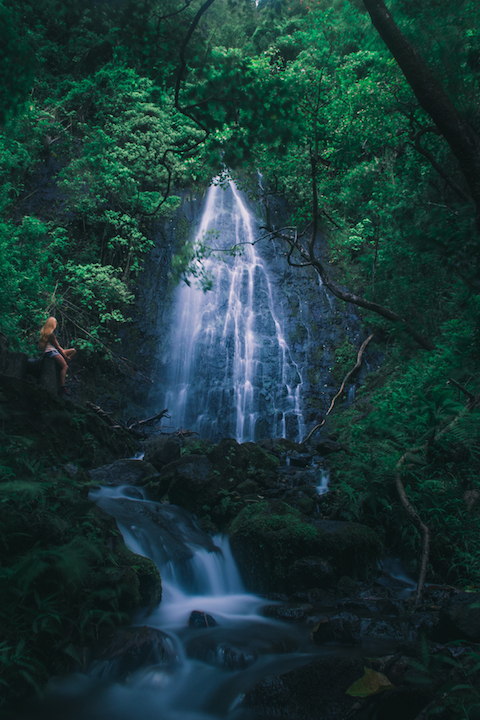 After being here for nearly a decade, I got really stoked when I discovered a new waterfall.  Despite having hiked to Hamama Falls dozens of times, I never realized that it was a different waterfall from Waihe'e Falls, as I heard both names thrown around and used interchangeably to refer to the same place.  I guess that was a rookie mistake on my end.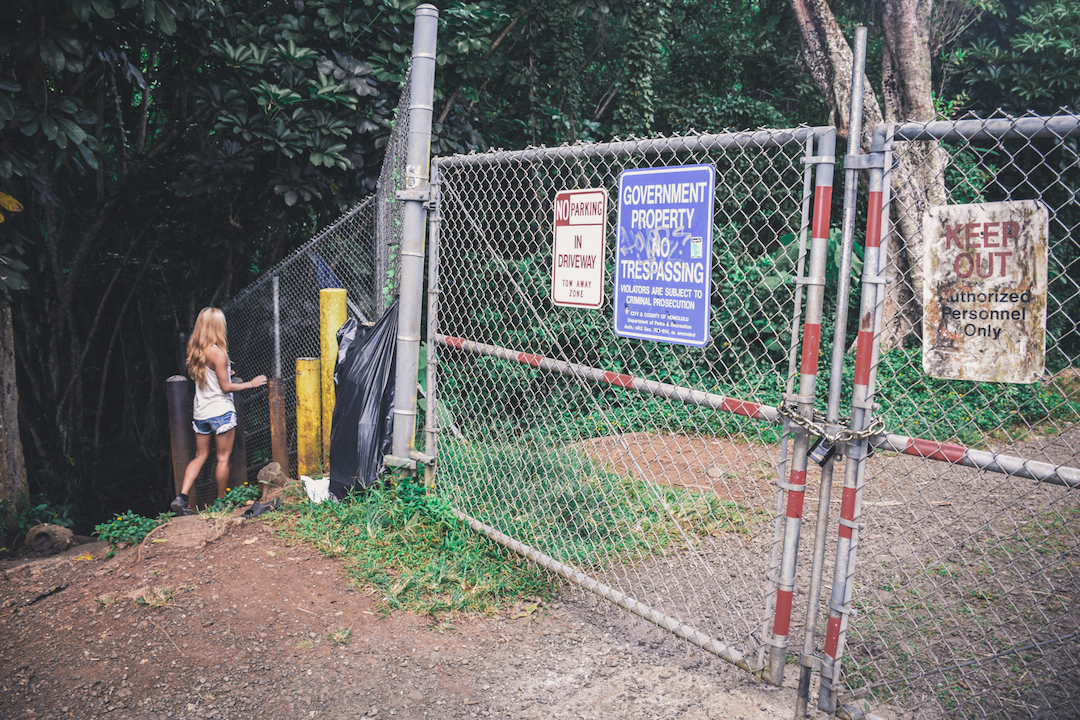 On Oahu, as I've mentioned before, most good hikes start by hopping over or contouring a fence.  It's unfortunate, but just comes with the territory…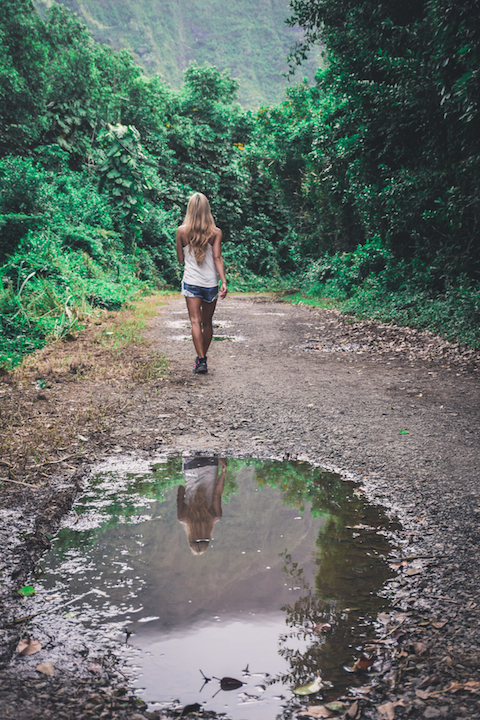 We had just had a big rain, but I was tired of sitting in the house all day. We decided to finish off our lazy day with super mellow hike.
The stream was flowing pretty good at the first crossing, which is a good sign when you are chasing waterfalls.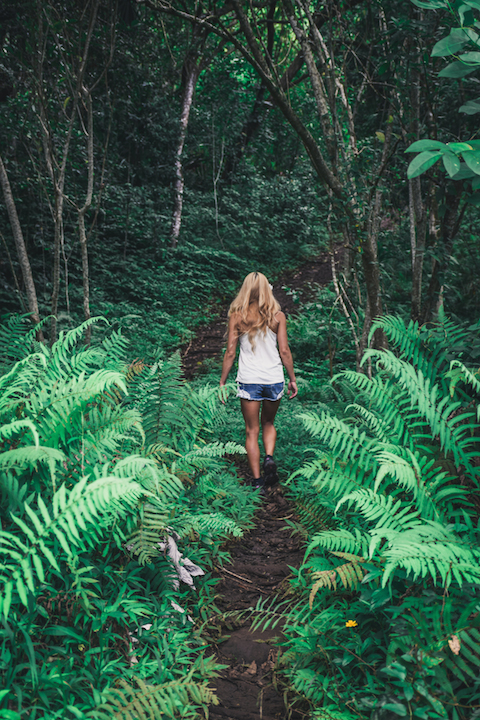 Through certain parts of the trail our legs would be tickled by the endemic Uluhe ferns.  Although the ferns can generally be avoided on this trail, if the feeling is uncomfortable to you then I would recommend long pants.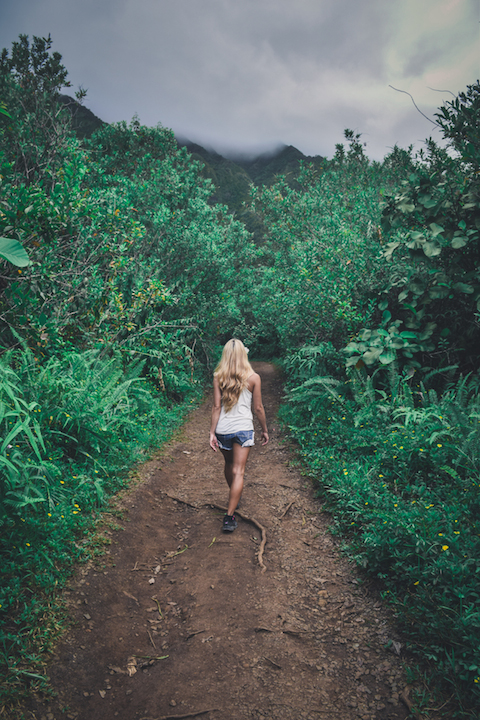 The majority of the gravel trail is very obvious and easy to navigate, making this an ideal adventure for young kids or people who just want a chill hike.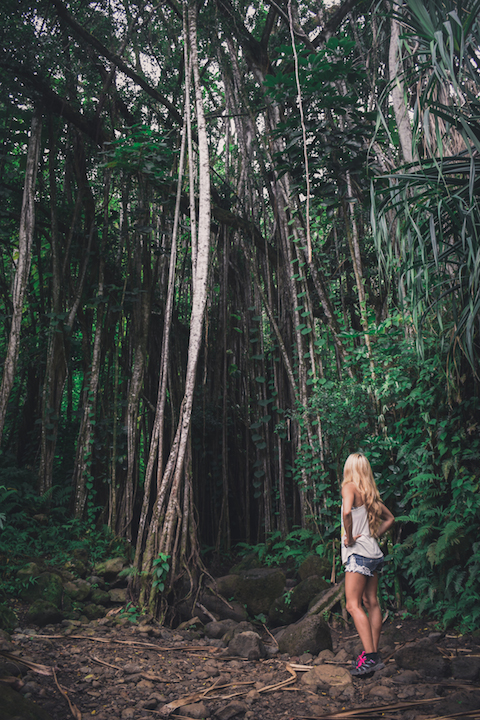 The trail passed by a few large banyan trees with very photogenic, aerial roots.  If you look hard enough there were even some hanging roots that could be used for a quick Tarzan swing…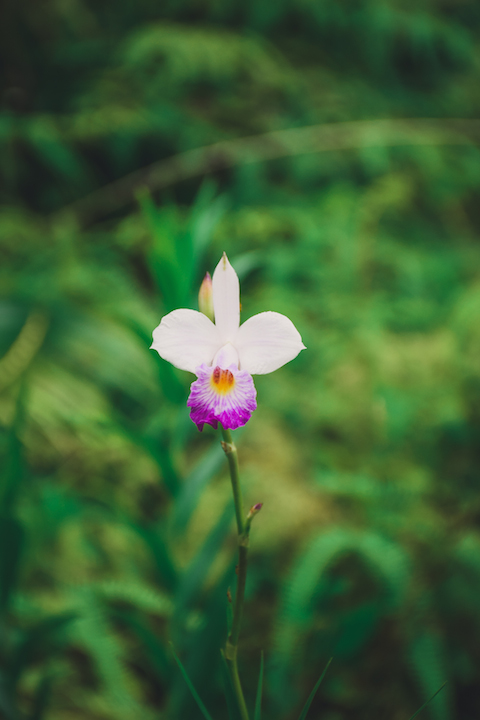 Bamboo ferns are a common site along this trail.  This hike was the first place I had ever seen orchids growing in the wild, but it was not the last.  These flowers are also found along many other valley and ridge hikes on Oahu's volcanic mountains.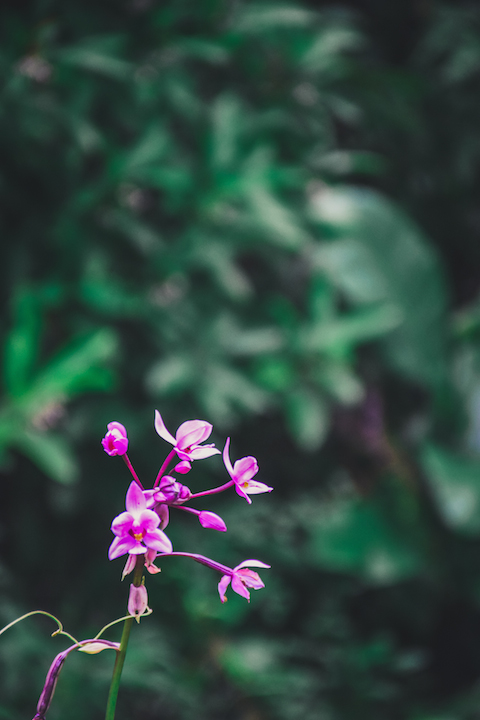 Philippine Ground Orchids also provided a vibrant splash of color amongst the dark green ferns that bordered the path.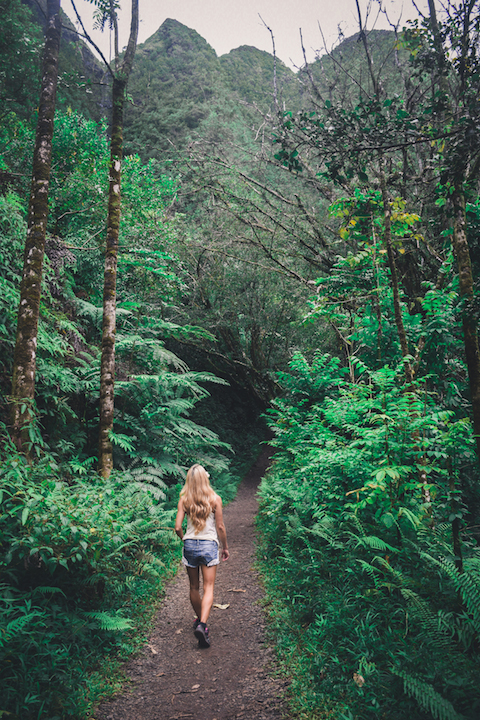 Going towards the end of the day had the added advantage of having the entire valley to ourselves.  We were the only souls in the woods.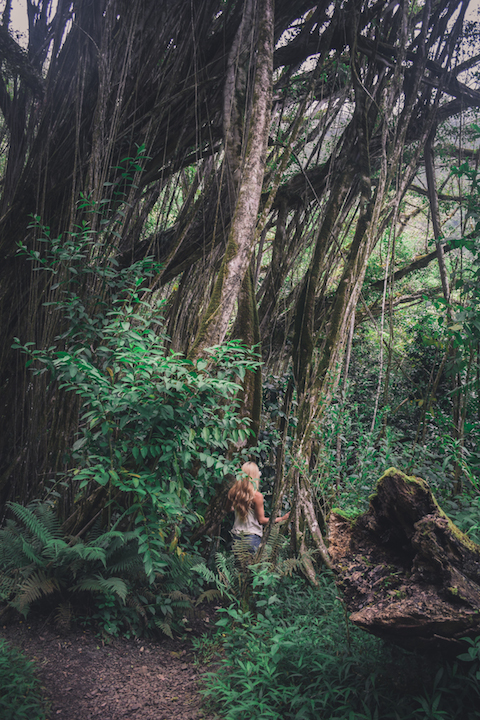 As you approach Hamama Falls, you will notice another Banyan tree to the right of the trail.  It's perhaps 2 or 3 minutes from Hamama Falls.  Going threw it will take you to the trail that leads to Waihe'e Falls.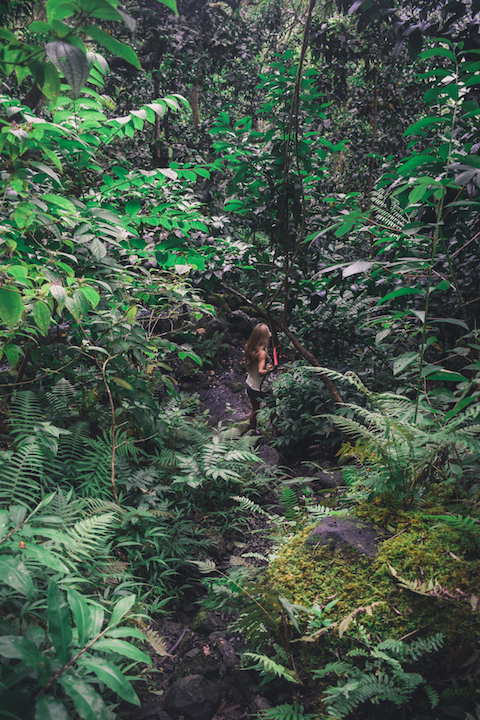 The trail was not as simple to navigate as the gravel road we had been on. But for the most part, it was well marked with pink ribbons.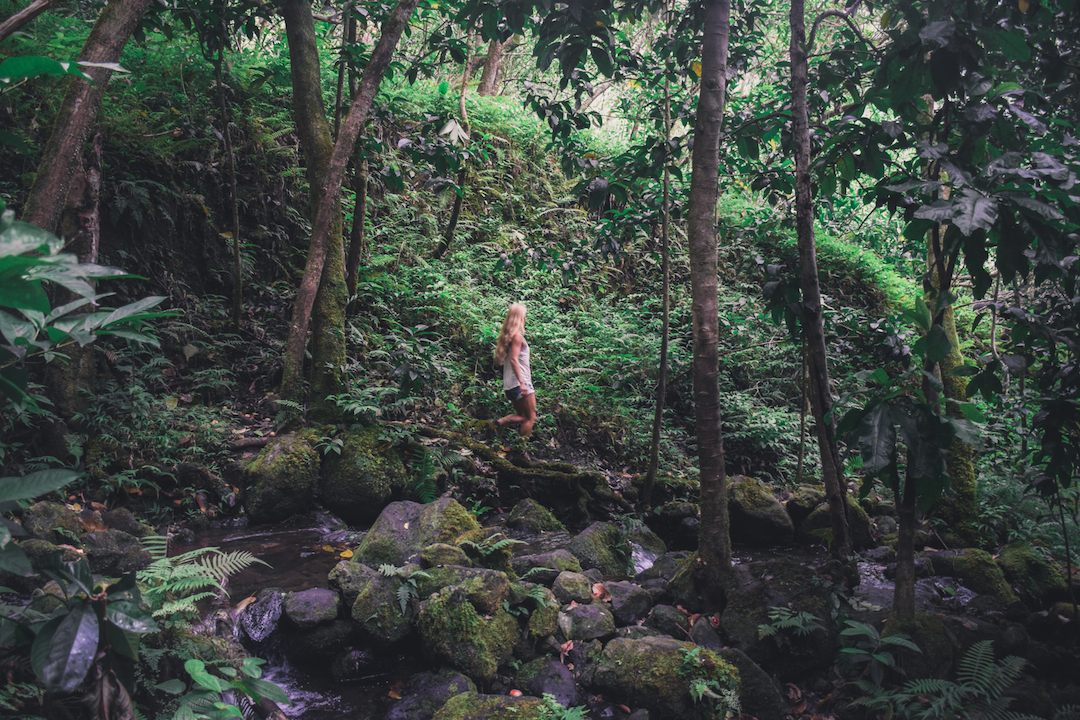 As you reach the stream, cross over it and follow the muddy path downstream.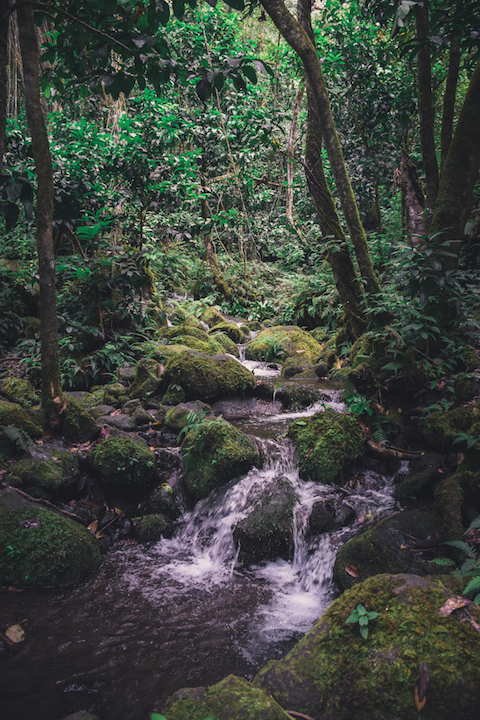 There were definitely some photogenic spots along the way, but we wanted to make sure we found the waterfall before we lost the light.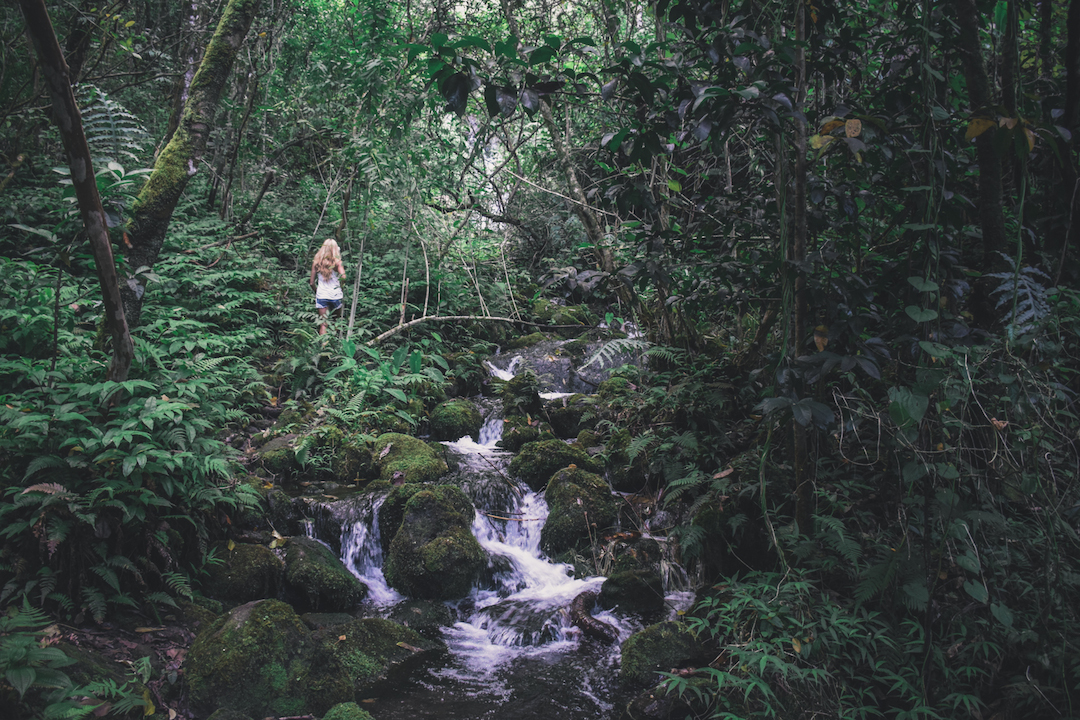 Within about 15-20min, we had gone over a short hill and found Waihe'e stream.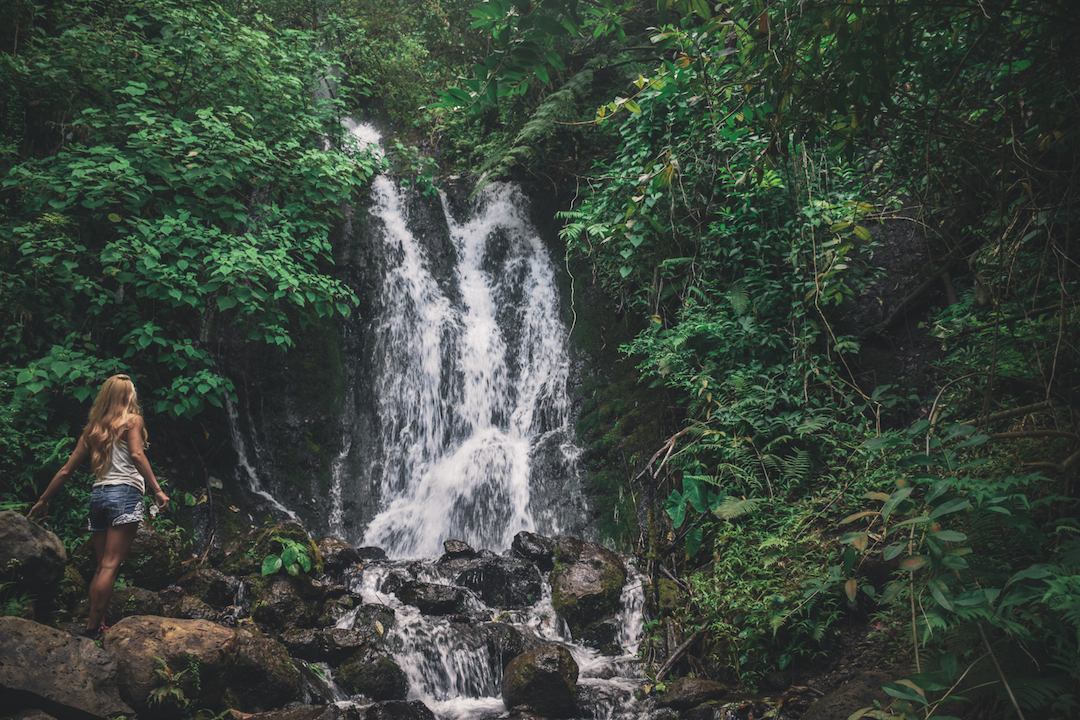 We were shocked at how quickly we had arrived at Waihe'e falls.  I couldn't believe that all those years of hiking to Hamama Falls, this beauty had been hiding just around the corner.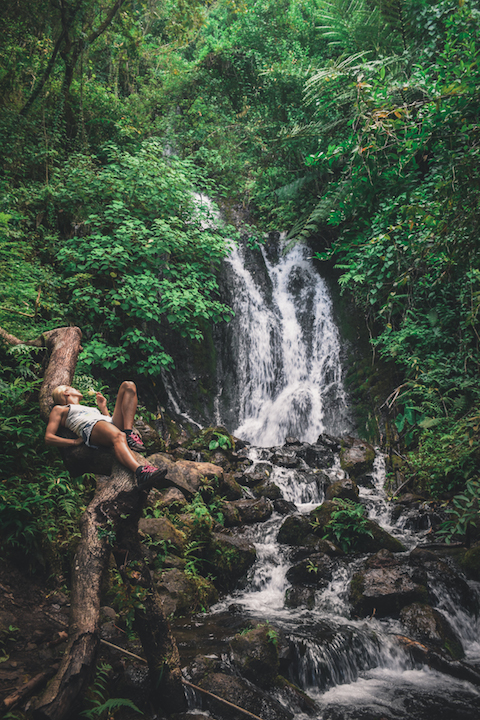 We spent a few minutes relaxing and just enjoying the plash melody of mother nature.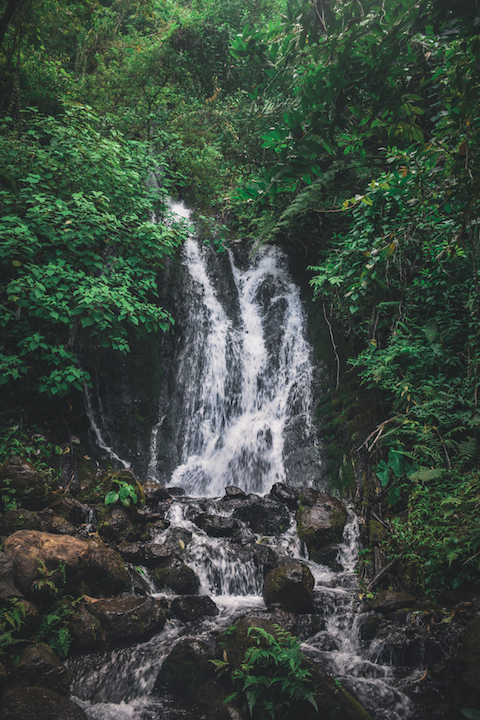 After looking around a little bit, we noticed that Waihe'e Falls was a multi-tiered waterfall, meaning it had multiple stages up above it (hidden here by the canopy).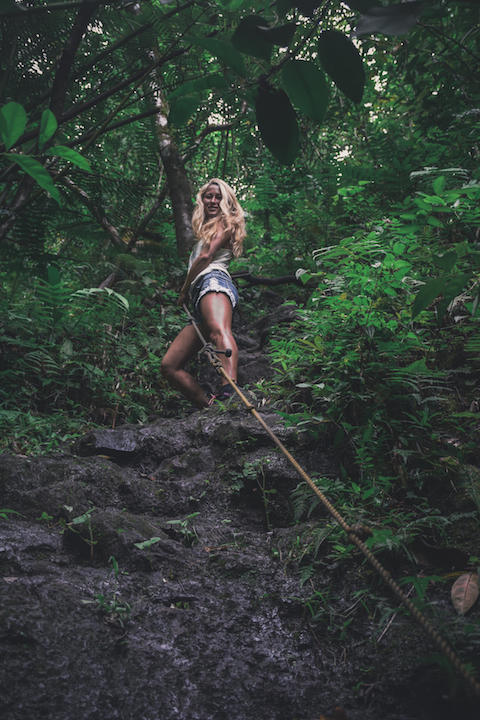 We found a rope and continued our assent into the unknown.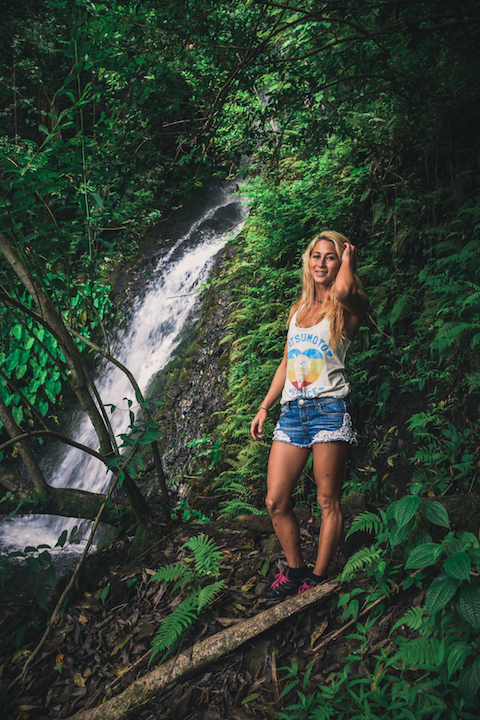 We quickly arrived to the second stage of the waterfall, which was gorgeous and had a shallow pool at its base.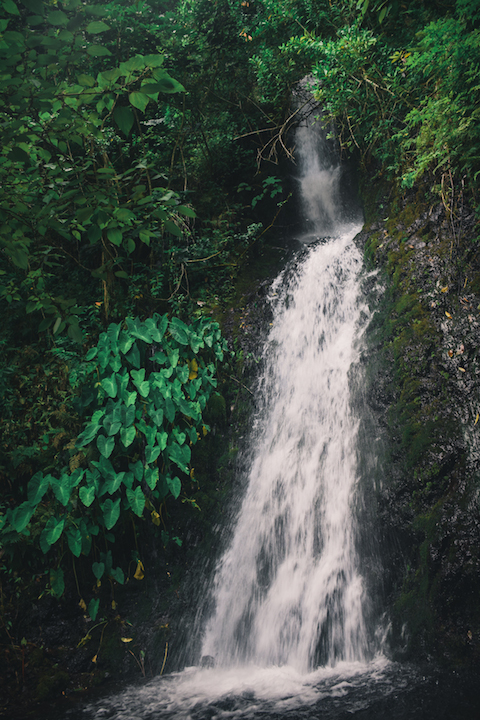 A beautiful patch of Taro was growing on the side of steep escarpment.  In it's totality, Waihe'e Falls is definitely taller than Hamama Falls.  We continued our climb up to the third tier, but it was much more sketchy.  The ground became quite loose at the top and the risk seemed to outweigh the view, so we turned around.  The one neat thing though was that there was not a 3rd waterfall above the second.  The water was coming straight out of the ground.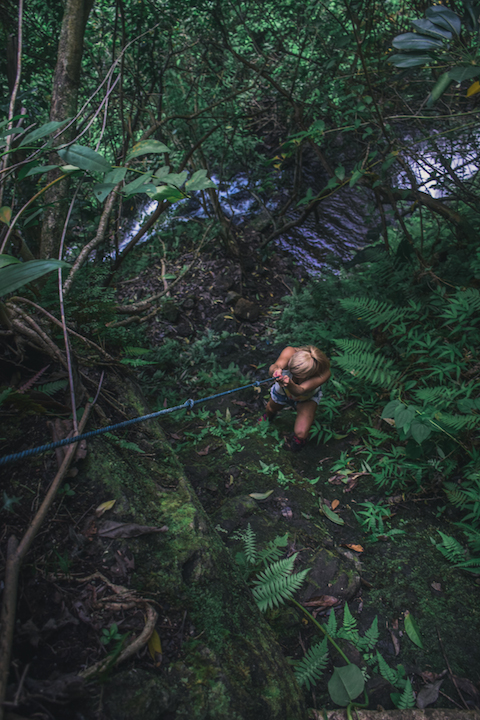 Unfortunately, was goes up must come down.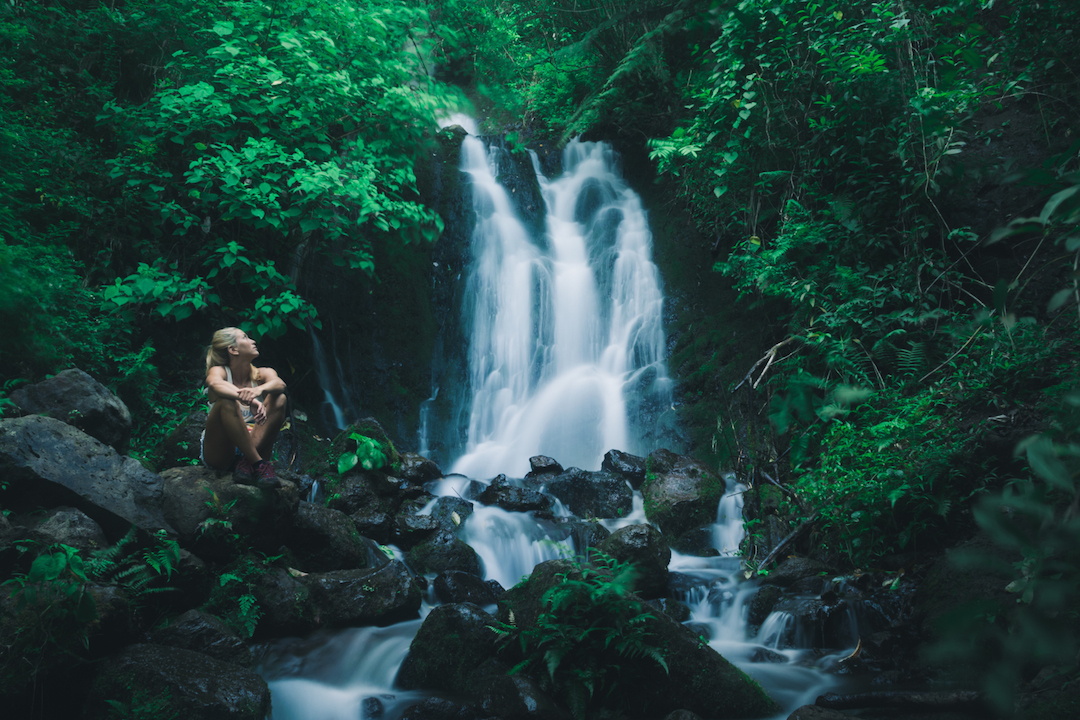 To think that such beauty was hiding from me all these years.  The thought really renewed my inner explorer and got me stoked to start adventuring on the mountains and in the valleys again.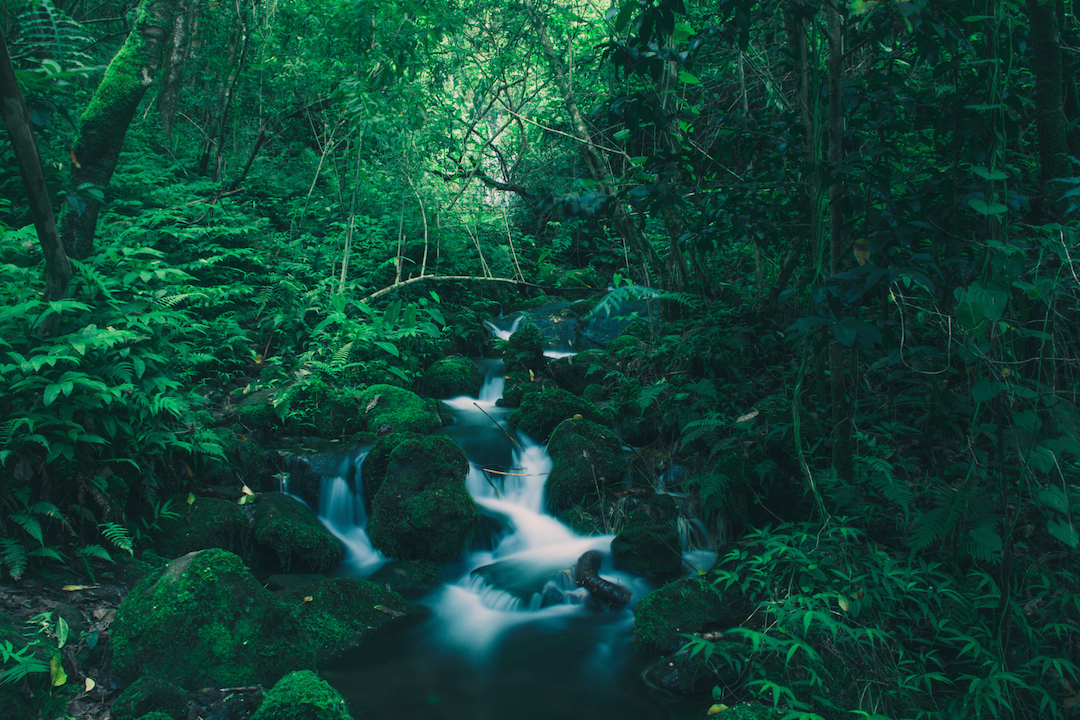 Luckily we had made really good time, so I took the liberty to bust out the old tripod and snap a few shots on the way back to Hamama Falls.
The dense canopy provided some super moody lighting as the sun was setting.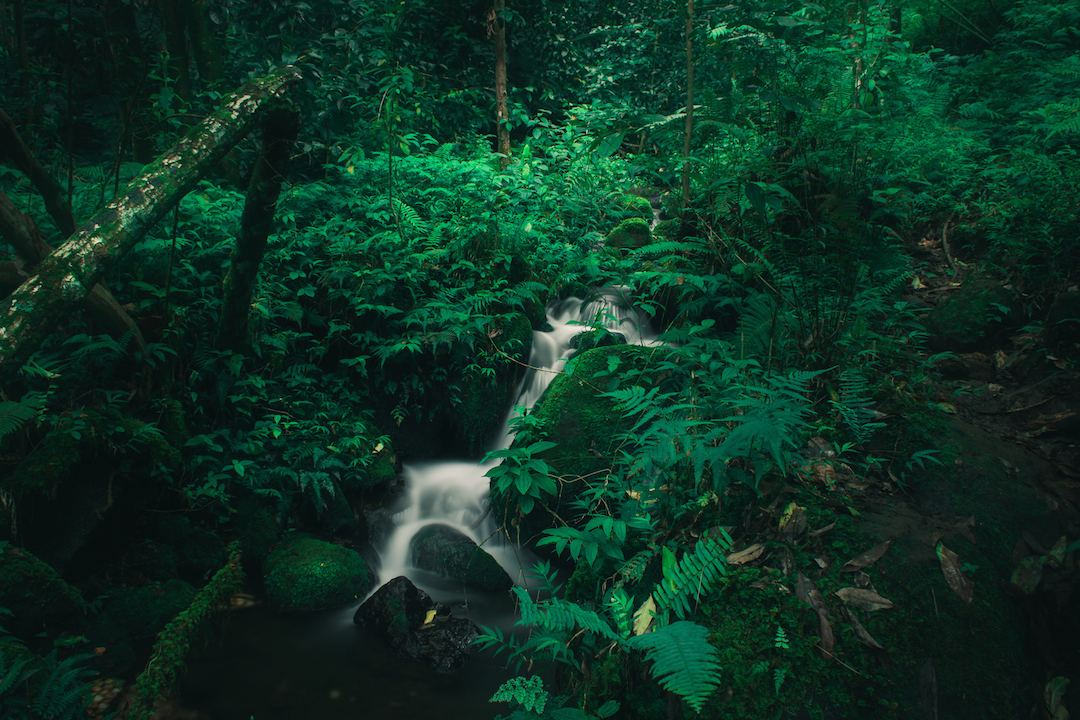 As the light began to fade, I was able to take these long exposure shots without even needing a neutral density filter.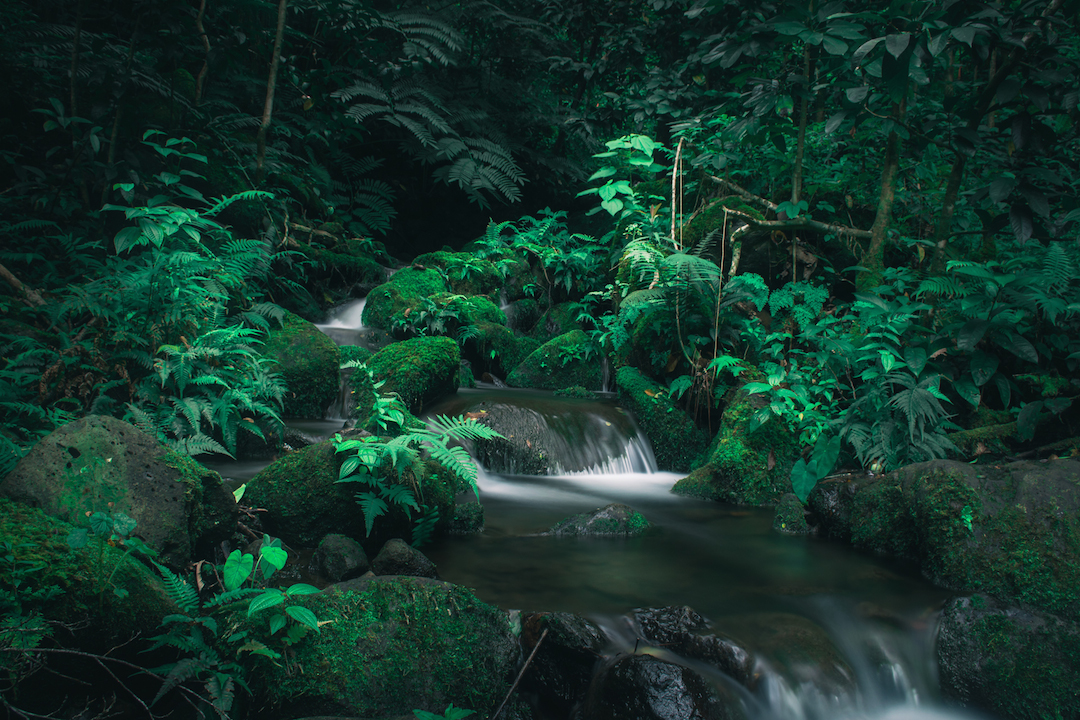 As we made back over the hill, we crossed  Hamama stream, then headed back up the main gravel path to the next waterfall.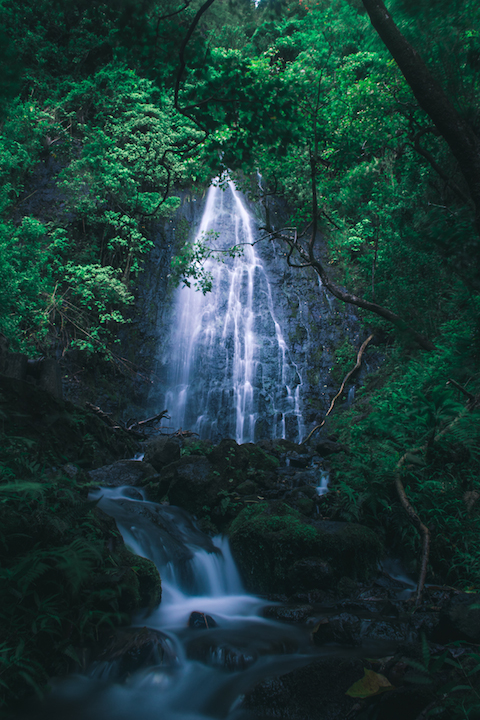 Hamama Falls was so beautiful and slightly hypnotic.  We sat there, alone and in silence for a moment that I wish would have never ended.  It is quite rare that such a place is not hosting hordes of other visitors, so this was particularly special for us.
The trailhead to this hike can be found at the end of Waihe'e Road in Kaneohe.  Please be respectful of the residents, by not crowding their driveways. Parking a little further away from the trailhead shouldn't be an issue for you, since you are going there to hike anyways…  Hamama Falls can be reached in 30-45min at a leisurely pace.  Waihe'e Falls takes an additional 20min to reach from the main trail.  In total I would say the entire adventure could be done in under 2 hours.  Have fun and stay safe!